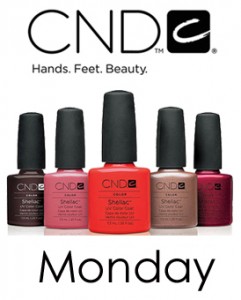 In this special edition of CND Monday, ALU contributor Christine shares her CND Shellac experience with us.

Last Monday Christine talked about the Shellac application process and now after a full four weeks of wear she's back to give us her verdict on how it held up on her nails and what the removal process was like.

I saw Christine about three weeks into her wear test and outside of the growth issue, her polish still looked flawless.  No nicks, dents or chips.  What makes that even more impressive is this is a girl who plays roller derby with Cleveland's own Burning River Roller Girls.  She takes a beating on the regular and still her Shellac held up.  ps remember when I wrote about seeing Whip It?  Christine was the friend I mentioned.

Let's see the final results, shall we?

The Final Verdict by Christine
Well, after four weeks of having Shellac'd nails and enjoying countless compliments on them, I finally broke down and began the removal process. My nails had grown way out, so there was a significant gap between the polish line and my cuticle, but other than that, they held up well.
CND Shellac Strawberry Smoothie over Fedora – Day 22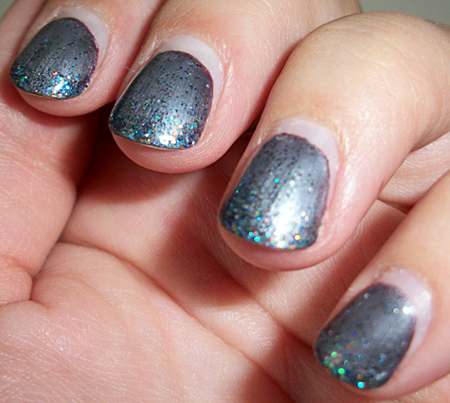 I had no issues with chipping at all, however, I noticed a few days right before I removed them, it seemed like a few of the nails had started to separate from the polish around the tips and sides. The reason I hadn't removed them sooner was mostly due to the fact that I was worried it would take a long time, and I wanted a span of several hours to make sure I could do it all in one sitting.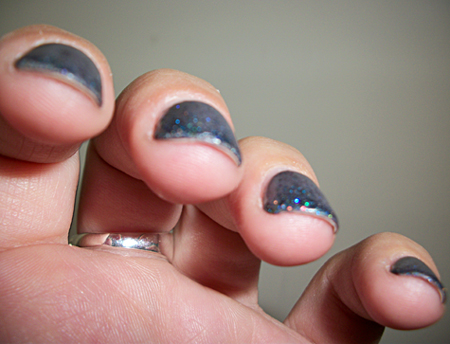 I used CND Shellac Remover Wraps and followed the directions on the package. Basically, they are little pads which you soak with acetone; then you wrap them around each finger letting the acetone break down the Shellac.
I wore the wraps for about 10 minutes on each hand.  I recommend doing only one hand at a time so you can still function with the other. Surprisingly, the polish came off fairly easily. It lifted from the sides of the nail, and I took the orange wood stick that was included with the wraps, and helped slide off the Shellac. If a few bits and pieces of Shellac remained, I would scrape them off with the stick, or go back and soak the stubborn pieces with acetone.
Since it is suggested that you visit a salon for Shellac removal, I do advocate letting the remover sit for longer than the recommended 10 minutes to make sure the polish lifts properly. A few times, I was in too much of a hurry and lifted the Shellac, and I think it also took off the top layer of my nail.  This whole process, by the way, was infinitely easier than removing your standard glitter polish.
For anyone who gets regular manicures, and likes them to last for a while, or for a special event, or even a long vacation, this is the product for you! You will have no chips, dents, nicks, etc. for a few weeks. What you will have is a worry-free mani that will remain glossy and perfect until you decide to remove it.
Editors note: While CND suggests having Shellac removed by a professional, some salons are charging an exorbitant amount for the removal service.  If you are going to remove at home and don't have access to the Shellac Remover Wraps, I suggest soaking a cotton ball in acetone, placing it on the nail and wrapping it tightly with aluminum foil, plastic wrap, etc.  The point is to snugly wrap the cotton so the acetone is in constant contact with the Shellac.

When I originally reviewed Shellac I mentioned that more colors were on the horizon.  Unfortunately due to the overwhelming demand for Shellac that horizon is a little further off than CND originally expected.  We're now looking at early 2011 before new colors launch.  Sad, I know.  It's the one thing that the other extended wear manicure brands have over CND; color range.  Though I got a sneak peek at the new shades during Cosmoprof and I have one word for you… PURPLE!  Think Rock Royalty, 'nuff said!
In the meantime CND has come up with some suggested layering combinations to extend the current twelve color lineup to suit the varied tastes and needs of the ever growing Shellac Nation.  The combinations were split up into three color families; Natural Nudes, Playful Brights and Rock & Roll Darks.  Can you guess which one is my fave?  Big surprise, it's the Rock & Roll Darks that use Shellac Fedora as a base.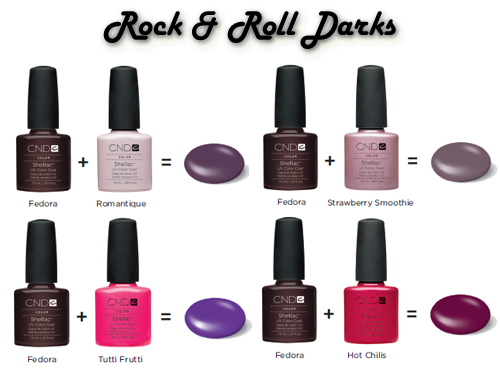 I'm dying over the Fedora/Tutti Frutti combo though I'm curious how bright it is in person.  And I'm thinking the Fedora/Romantique look will fit in perfectly with this whole Chanel Paradoxal "griolet" craze.  Of course I'm sure manicurists using Shellac have come up with even more ideas so make sure you ask your nail tech about layering to come up with your own unique look.
Have any of you tried these combinations?  How many of you have become Shellac converts since the product launched in May?  If you are standing your anti-extended manicure ground, tell us why.  Is it the cost?  The lack of color choices? Your desire to change your color every few days?  The pleasure you get from doing your own manicures?
Disclosure: Services were provided by CND free of charge for editorial consideration. For more info view my Disclosure Policy.