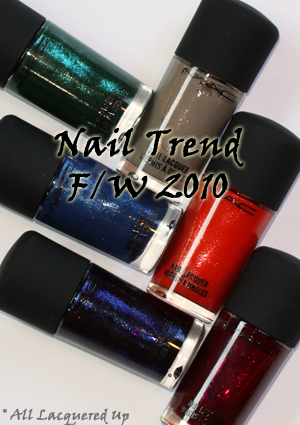 MAC Nail Trend F/W 10 officially launches today at MAC counters nationwide.  The polishes went up on the MAC website Tuesday and surprisingly they have not sold out.  Perhaps due to the craze over Fabulous Felines.

Speaking of Fabulous Felines, if you're like me and totally intimidated by liquid liner I highly suggest you try the Superslick Liquid Eye Liners in this collection.  I swear on my Helmers that they're so easy to apply, I just may give up my pots of Fluidline and I've been using them for YEARS.

On to the reason you're all here.  I wanted to give you some color comparisons before the Nail Trend colors sold out so thank you to everyone who submitted swatch suggestions.

Application tip: I mentioned in my initial review that I experienced some patchiness due to the stiffness of the brush.  I found that if I load up the brush with a little extra polish than normal and gently stroke the brush held horizontal to the nail, I get less dragging.  Use a very light touch.

The two main requests I had regarding Earthly Harmony were Sephora by OPI Under My Trench Coat and China Glaze Ingrid.  Look how brown Ingrid appears when photographed next to Earthly Harmony.  Crazy, right?  While Under My Trench is lighter and a bit warmer than Earthly Harmony they are much closer in color to each other than Ingrid.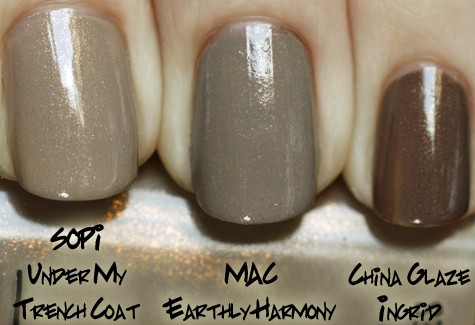 Originally I thought Imperial Flower looked like China Glaze Orange Marmalade but I had the polishes confused in my mind.  It was the other orange glass fleck from China Glaze I was thinking of, Orange-Pacific.  OP is a smidge darker, much more sparkly and leans a bit more red.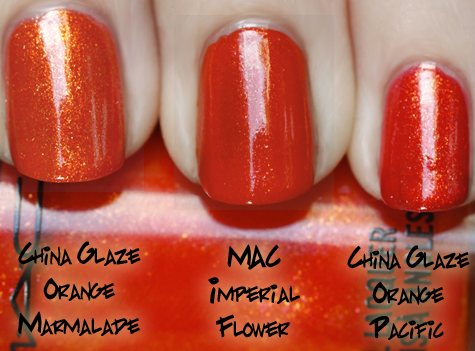 Those of you who suggested butter LONDON British Racing Green as a substitute for MAC Jade Dragon were definitely on the right path.  In the bottle I thought you all were crazy but on the nail, they're not that far off.  The shimmer in BRG is small and evenly dispersed while Jade's is more like a little sister to glass fleck. It's more subdued but still multi-sized.  Color-wise Jade Dragon is more green and a bit more intense.  OPI Cuckoo For This Color is nothing like the other two.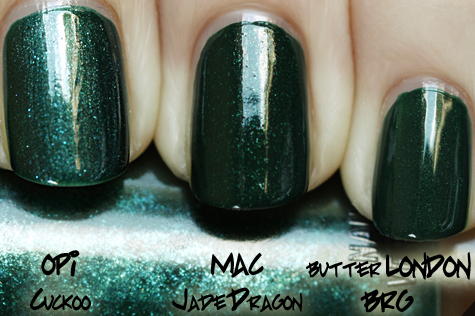 Ming Blue has no real substitute in my collection and none of the suggested comparisons made sense next to it so I chose to show two popular OPI's that are in the same color family to give you a good reference point.  OPI Dating A Royal has a similar, though lighter, base color and Yoga-ta Get This Blue has similar shimmer though it's darker and leans more towards navy.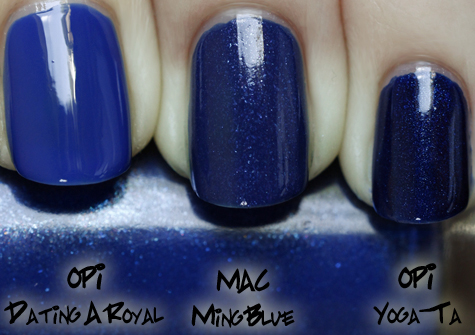 Rain of Flowers stumped me.  Even though I'm not a fan of this color because of how dark it is, finding comparisons wasn't easy.  The base is a deep red grape but the shimmer makes it look blue.  The color would be stunning if it wasn't so dark.  I may try mixing in some white polish to see if that makes it a winner.
I saw a request for OPI Ink and I mentioned I thought it might be an opaque Illamasqua Boo!.  We were both wrong.  I layered Boo! over Illamasqua Baptiste since it's a reddish purple and it's so off.  OPI Ink is way too light with too much blue in its base.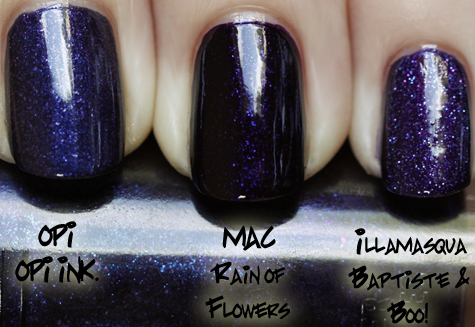 Bottom Line: While I found no true dupes for the Nail Trend colors, you may consider passing on Jade Dragon, even though I wouldn't, if you own British Racing Green. The finish is definitely different and the colors aren't identical but unless you are a green fanatic you might not find it necessary to life like I do. Ming Blue is still a definite must and Earthly Harmony is a great funky neutral for fall.
MAC Nail Trend F/W 10 created in collaboration with Jin Soon is on sale now in the US and launches Internationally in October. MAC polishes retail for $13/ea for a .34oz bottle and can be purchased online from MACCosmetics.com.
I hope these comparisons were helpful.  If you have any additional color questions, feel free to email me or post them in the comments below.
Have I helped convince you to purchase a color or has this saved your wallet from unnecessary expense?  What Nail Trend colors are on your shopping list? And if you already ordered, what did you get?
Disclosure: Product samples were provided to me by MAC.  For more info view my Disclosure Policy.