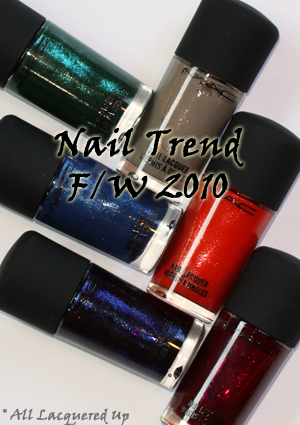 Jin Soon does it again! Following up her slam dunk sell-out collaboration with MAC last fall, they have teamed up again on Nail Trend F/W 10.

If you aren't familiar with the genius that is Jin Soon check out The Nail Files interview I posted last year. She's major in the editorial world and really on her game with color as evidenced by the nail polishes she created with MAC.

Mistress of the art of the sophisticated nail, Jin Soon was inspired this season by the sensual pleasures of the Forbidden City for Nail Trend F/W '10 – colours taken from the sculptures, tiles, architecture, fabrics, and decorative papers of Imperial China.

Jin synthesized this vision to arrive at a collection in exotic and ravishing combinations of orange, blue, taupe, green, purple and, of course, lacquer red.

Application and Formula: MAC polishes are 4-Free (including Formaldehyde Resin). The brush is firm and short and the cap is rubberized giving a sturdy grip. Normally I love the brush on MAC polishes but for some reason with this collection the stiffness caused a bit of patchiness with the darkest color.
I think my friend Heather Park said it best when she described the finish of the polishes as resembling "car paint."  The bottles are very deceptive as the micro fine glitter gives the impression that this will be one big glitter ball but it's not that kind of party.
As I mentioned in my review of the Alice & Olivia lacquers, MAC's formula has impressed me lately and for the most part this collection follows suit but there are a few problems as I noted in the individual color review.
I must advise that you be careful with removal.  With the exception of Earthly Harmony and Imperial Flower, they all stained my fingers in spite of putting cuticle oil on my skin prior.

Jade Dragon – um can we pause for just a second and stare at this beauty?  I mean really, this color is ridiculous.  The shimmer is subtle but captivating, the shade of green is a vivid evergreen and it glides on in a flawless two coats.  I honestly wasn't expecting much from Jade Dragon.  As much as I love greens I've become a bit jaded, no pun intended, and find it hard to be truly wowed but this one reeled me in.  I'm telling you, go swatch this at your MAC counter the day it comes out and you won't be able to walk away without it.  If you do, I seriously question your judgment.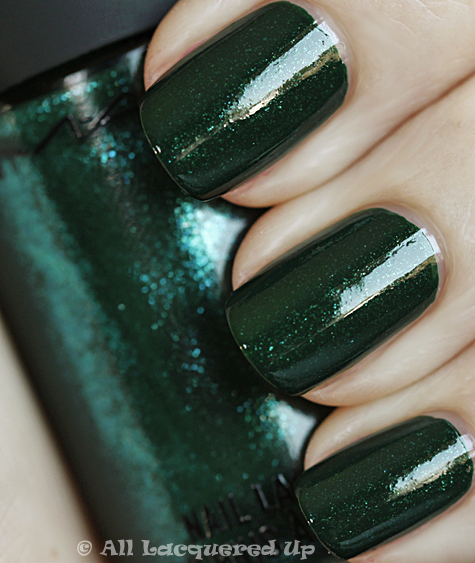 Rain of Flowers is a deep purple that looks more indigo when dried.  The mass amounts of blue micro-glitter are to blame.  In the bottle I thought this would be the opaque version of Illamasqua Boo but it let me down.  It's really dark and even though up close and in bright light you can see the shimmer it looks like a vampy creme from far away.  My other issue is that it went on patchy thanks to the stiff brush so I needed three coats.  No bueno!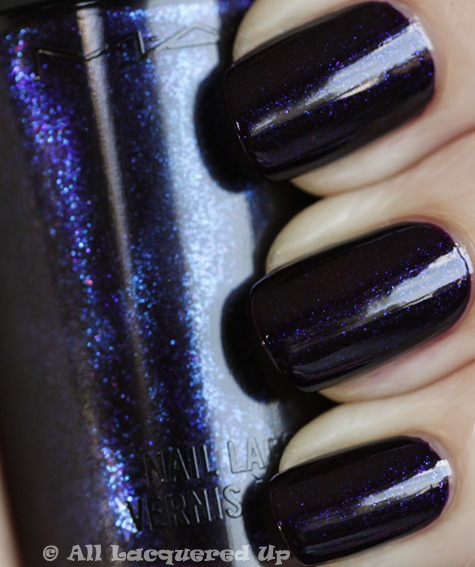 Ming Blue is inspired by the shade of a Ming vase.  Okay don't judge me but I play Farmville on Facebook and the first thing I thought of when I saw this was the morning glory flowers you can plant in the game.  I said don't judge.  Anyway, this color is achingly gorgeous with its flecks aqua shimmer.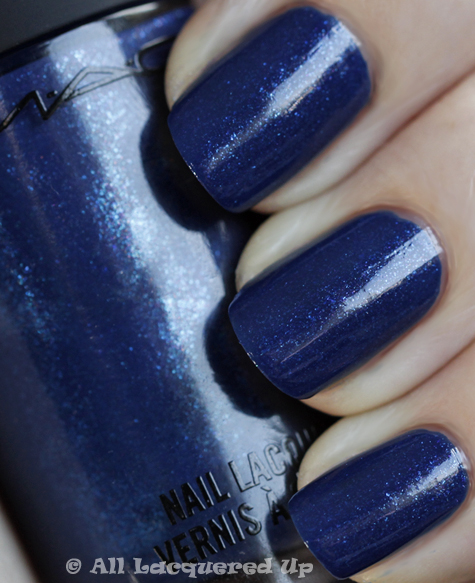 Earthly Harmony fits in well with the whole neutral trend happening right now.  This warm taupe with bronzey gold shimmer reminds me of SOPI Under My Trench Coat.  I'll have to dig that one out and see for myself. I must say that I was impressed that in spite of its creamy light base, this one flowed easily and provided full coverage in two coats.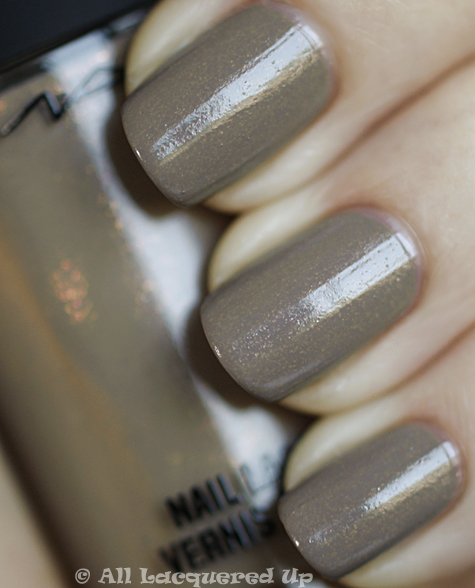 Concubine is a sexy dark cherry red with light red sparkle.  The base has a jelly-ish feel and look to it so this one applied a bit on the sheer side.  I'm showing it with only two coats which looks just about perfect outside of a touch of VNL (visible nail line).  I must admit that while I get that the name fits in with the theme, I'm not really on board with it due to the negative connotation associated with the word.
Imperial Flower is a bright juicy orange with some red-orange leanings due to the red shimmer.  It's like a more subdued version of China Glaze Orange Marmalade.  I love this type of shade for summer but it doesn't necessarily say fall to me.  Like Concubine, this color had some VNL issues but the jelly look makes up for it.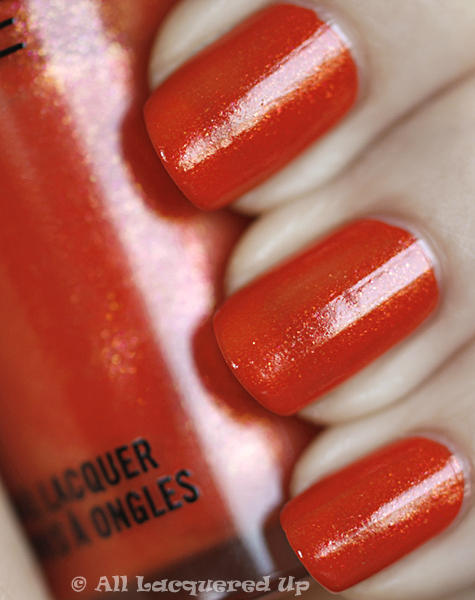 Bottom Line: With so many brands embracing the glitter this fall it's somewhat refreshing to see a collection with exciting colors that are little more low key on the finish. I know a lot of you are anti-glitter for many reason so this is a way to add some glam without going all out.
Obviously Jade Dragon has my heart and it's an ALU must-have but Ming Blue and Earthly Harmony are definitely worth checking out.  Rain of Flowers gets a pass from me and while Concubine and Imperial Flower aren't uber-unique I don't doubt they will sell out.
MAC Nail Trend F/W 2010 launches on August 26th, 2010 in the US and October 2010 Internationally.  The polishes will be available at MAC counters nationwide and online at MACCosmetics.com, Nordstrom.com and Bloomingdales.com.  They typically appear online a couple days before the official launch date.  MAC Nail Trend polishes retail for $13/ea.
Thoughts on the collection?  Which colors do you intend to pick up?  What do you think of the finish?  Any comparison requests?
I know I'm behind on the whole comparison thing but you all had so many great suggestions, it's hard to get through them all.  I'll try to post the MAC ones before they go on sale.
Disclosure: Product samples were provided by MAC. For more info view my Disclosure Policy.