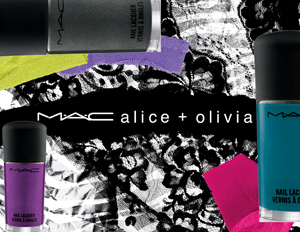 If Alice fell down the rabbit hole and met a Makeup Artist instead of the Mad Hatter, M·A·C alice + olivia is the curiously gorgeous collection she'd be rocking!
Hip, playful, unpretentious and unabashedly fun, M·A·C is thrilled to announce the latest collaboration with the most adorably fabulous fashionista we know, designer Stacey Bendet of cult-fave line, alice + olivia.  Celebrities, socials and all-around cool girls from coast to coast are obsessed with a + o's uptown-meets-downtown aesthetic and colourful, playful vibe, so the inspiration for the makeup collection was a cinch!
Fun, playful and hip all come to mind when I think of MAC and their consistently inventive collections so teaming up with Stacey Bendet of alice + olivia seems like a perfect fit.  When asked why she became involved in a makeup collection Bendet said, "Well, to me it's all about colour, whether it's a crazy pair of striped bell-bottoms or the perfect purple nail polish. It's about a girl having a great time when she dresses up; and who dresses up without makeup?"Ah, a girl after my own heart.  The fact that she appreciates a good purple polish instantly endears her to me. Including a teal in her collection is icing on the cake.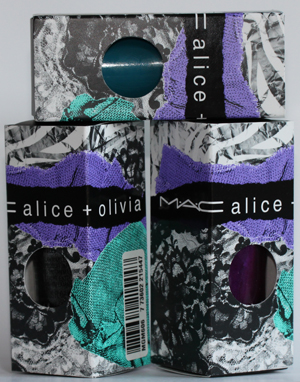 Formula and Application: MAC polishes are free of the Big 3 and Formaldehyde Resin.  The brush is firm and short and the cap is rubberized giving a sturdy grip.I have to admit that when I was applying Morning. After I sounded like Mia Michaels talking to Alex Wong last week on SYTYCD.  I was all, "Who ARE you?"  Seriously this polish applies like a dream and is so easy to control.

It's not that MAC polishes have sucked lately or anything but I think I set myself up for disappointment with their cremes because of their past history of being streak fests.  My MAC mantra has always been that they do glitters & darks best so I was happy to be proven wrong.

Now if they could get a harness on the pigmentation their polishes would be the complete package.  All three of these required three coats.
Morning. After is a deep sea blue-green that definitely has enough green in its base to categorize it in the teal family.  I know MAC describes it as a turquoise but it seems too dark for that.  The polish dries to a high gloss shine and even though I've been wearing this shade since Saturday it's still super shiny with very little tip wear.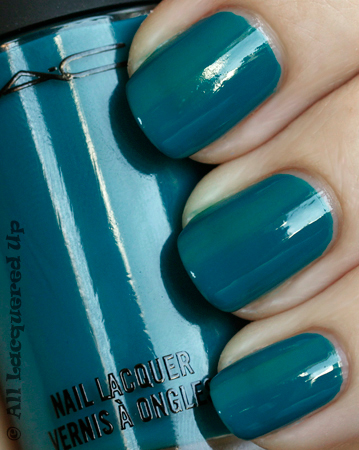 Is Morning. After the most original polish on the block?  No, but it doesn't have any true dupes in my collection.  There are some definite close calls in China Glaze Shower Together and Barielle A Bouquet For Ava.  You could probably skip out on the MAC if you own the Barielle but Shower Together is quite a bit lighter.  In fact ST looks like a brighter version of ABfA.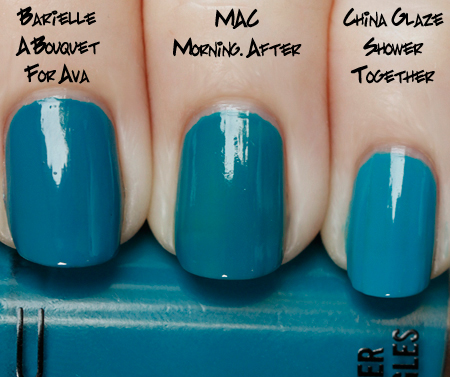 Based on promo pics I was expecting So Rich So Pretty to be a true purple shimmer.  Another in the long line of purples that have come out this season (Funkey Dunkey, Grape Pop, etc.) but it's so not that.  Instead it's a punched up red-violet, like magenta and violet had a baby.  The shimmer in this one is tonal so you don't get flashes of any other colors.  Just pure color.  I wish my camera could have captured the glassy finish on this one.  Even dry it looks dripping wet.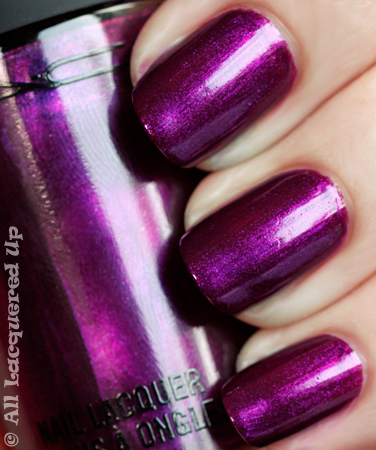 Military is the blackened sister of last winter's Studded from the Riveting collection.  They are both glittery mattes that dry to a crepe paper-esque finish.  You know I love mattes for their quick dry time but I prefer the shimmery/glittery shades like this one as opposed to flat wall paint.  The only thing that threw me off was the application.  Normally mattes show every imperfection and even though Military applied a bit lumpy and bumpy it dried smooth and even.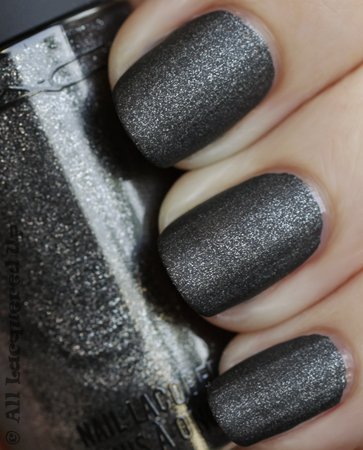 I know Studded is completely different but I thought showing them side-by-side would be beneficial.  I also found a somewhat close match in Nubar Midnight Matte.  Midnight Matte has a lot more glitter in its base so it dries a bit lighter but you really only need one of these.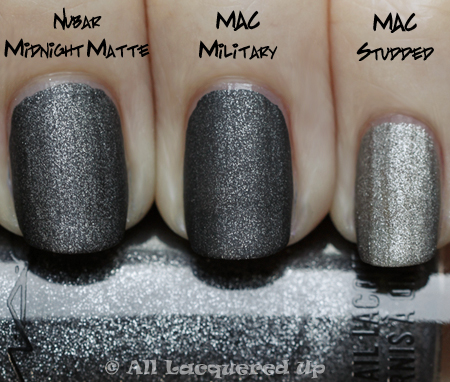 Bottom Line: Are any of these essential to life as a polish fanatic? Not in my opinion. Though I see teal as being the next big thing this Fall after a Turquoise-drenched Summer so if you're at all into trends, it wouldn't hurt to pick Morning.After up if your budget allows. MAC packaging collectors (raises hand) will appreciate the a+o themed boxes.
The MAC alice + olivia collection is available now at MACCosmetics.com and is set to hit MAC counters nationwide on July 8th.  MAC Nail Lacquers retail for $12/ea for a .34oz bottle.
What do you think of the color choices?  Do you think they're a good fit for the alice + olivia brand?  Are you a packaging collector like me?  What products from the collection are you planning to pick up?  Do you have any dupe suggestions for Morning. After or So Rich So Pretty?
Disclosure: Product samples were furnished to me by MAC. For more info view my Disclosure Policy.