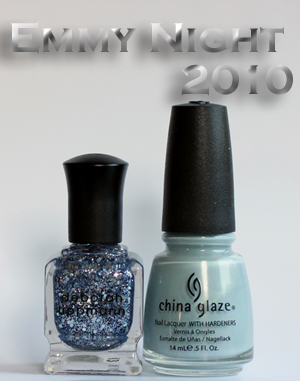 After a long weekend in Michigan celebrating the boyfriend's birthday I returned home last night to attend a fabulous Emmy Awards party hosted by Pauline (aka OHmommy) of Classy Chaos. Pauline invited a few local bloggers and frequent blog commenters to her home to indulge in some delish food and salon treatments courtesy of Suave.

A local salon, Salon Blu, treated us to manicures and hair styling while we watched the show, imbibed wine and munched on yummy eats from Maggiano's Little Italy.  Needless to say, it was a great night.

I usually watch the Emmys on my own so it was a fun twist to tune in with other TV fanatics and mingle with my fellow CLE bloggers.  Of course the big question was what do I wear on my nails?

I ended up layering Deborah Lippmann Today Was A Fairytale from her upcoming Holiday 2010 collection over China Glaze Sea Spray, one of the shades in the Spring 2011 collection strong>, Anchors Away.

I wanted the perfect mix of glitz and glam and Deborah Lippmann Today Was A Fairytale was the perfect fit. Made with Virgin Diamond Powder it just screams Emmy worthy. With its sheer blue base I needed the perfect greyed blue base and China Glaze Sea Spray was just meant for the job.
Sea Spray is a an icy pale blue creme.  The polish has a hint of sheen in the bottle from the microscopic pearl which adds to the color's depth and shine.  The formula is a a bit on the thicker side but it lays down beautifully, self leveling to a flawless finish.  The pigmentation is spot on requiring only two coats with no dragging or streaking.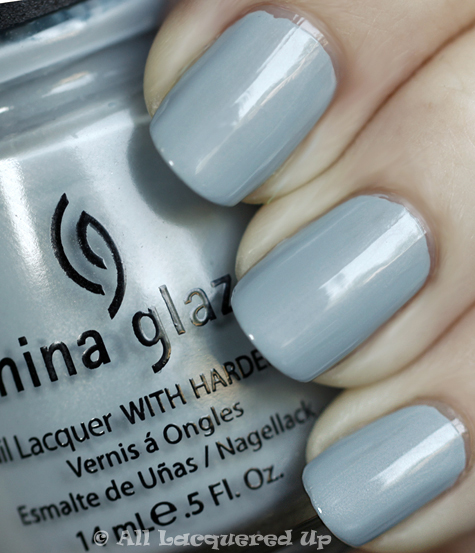 Adding a layer of Today Was A Fairytale makes this manicure a standout.  The sheer base has just a kiss of blue to it that I'm guessing is caused by the virgin diamond dust.  Packed into the jelly-ish base are tiny square silver glitter particles and large octagonal silver sequins.
I didn't use any special technique when applying the polish, I just made sure I only wiped off one side of the brush and the sequins and glitter laid down with ease.  There was no need to dot the sequins on individually.  I used one coat and it added an ideal smattering of bling.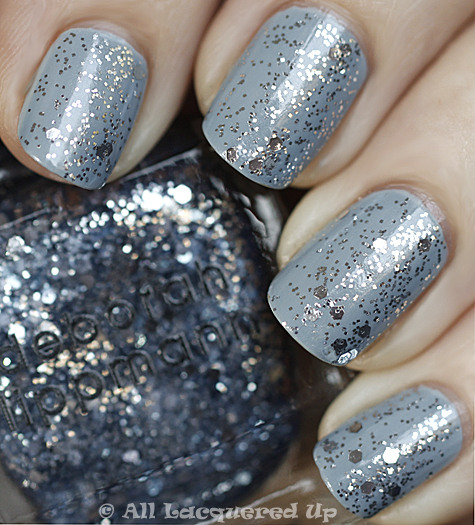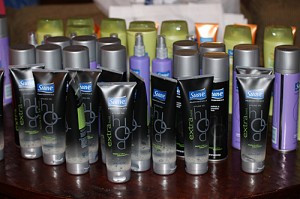 With my mani all set, I headed to Pauline's for the night's festivities.  Obviously since Suave was the sponsor there was a selection of products provided for us to take home.  Though upon hearing that Pauline was donating any extra product to a local woman's shelter I chose to leave my goodies behind.
The bloggers in attendance Heather from Domestic Extraordinaire, Charity from I Heart Cleveland, Moi, Michelle from Managed Chaos, our hostess Pauline and Katy from Ka-Ka-Ka-Katy.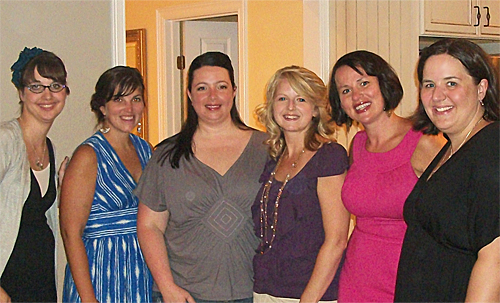 The manicurist from Salon Blu brought a selection of OPI polishes including the new Swiss collection shades. The big hit of the night was Lucerne-tainly Look Marvelous.
Michelle having her nails prepped for polish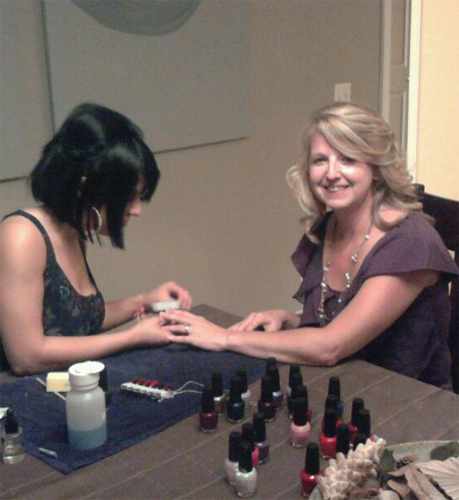 Katy getting her Lucerne-tainly manicure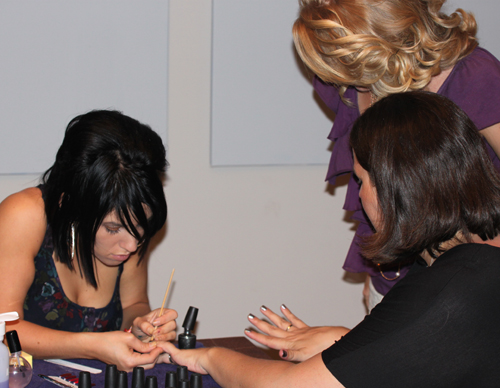 Charity (pictured below) got all crafty requesting one hand polished with Lucerne-tainly and one with Glitzerland. I suggested she swap the ring finger colors and she ended up with a funky, metallic multi-colored mani.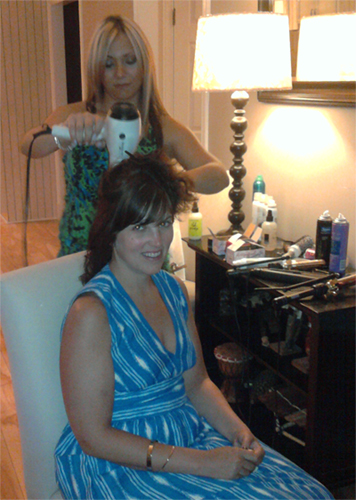 Salon Blu owner Tiffany giving Heather a curly updo

Now I'm pretty much an idiot when it comes to styling my own hair. I can give myself one hell of a blowout but anything more complicated than that and I'm clueless. So I let Tiffany go to town. I've never had my hair teased, at least not that I can remember, so that was an odd feeling but the final result was polished and classic.
Yours truly with Pauline sporting my half up style.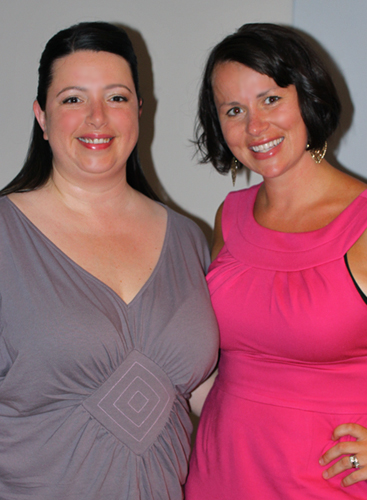 A backside shot where you can see how Tiffany added a fun twist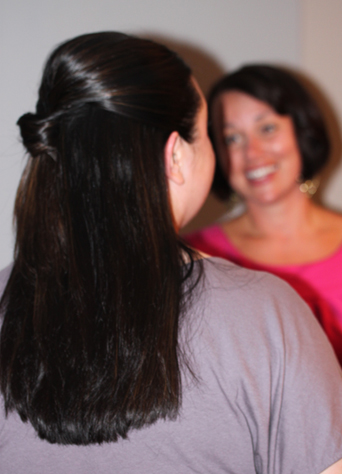 As for the show itself I found myself torn between Modern Family and Glee in the comedy categories. I adore both shows and wanted them both to win. And even though I watch Nurse Jackie I couldn't help but wish someone other than Edie Falco had won. Say birthday girl Lea Michele.
But how amazing was it to see Jim Parsons (aka Sheldon) from The Big Bang Theory win?  I love that show so much I can't even begin to tell you.  Also, I was really touched by Claire Danes and Emily Gerson Saines when they accepted the Best Actress and Best TV Movie awards for Temple Grandin. And I could just die over Claire's dress.  Gorgeous!
What did you think of the show last night?  Did you put on a special polish for the occasion?  Did you spy any standout manicures on the red carpet?  Stay tuned for my Emmy Awards nail coverage.
Disclosure: Product samples were provided by China Glaze and Deborah Lippmann. For more info view my Disclosure Policy.