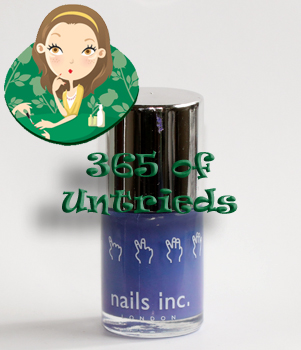 365 of Untrieds is my personal challenge to weed through the polishes in the ALU stash that I've been wanting to try but just haven't gotten around to.
While I had heard of Nails Inc for quite some time from international Fanatics, it wasn't until I went to Cosmoprof in Las Vegas a couple years ago, that I actually got to see the polishes in person.  At the show I met reps for the brand, drooled over their limited edition, crystal encrusted caps and discovered their amazing Kensington Caviar 45 Second Top Coat.  However, until now I haven't really worn their polishes.
Before last summer Nails Inc were pretty hard to acquire here in the US.  Unless you found a British e-tailer willing to ship here (ASOS no longer does) or had a friend overseas, it wasn't happening.  While you still can't find the brand sold on a US website, you can get your hands on Nails Inc polishes at Henri Bendel stores, so that's something.
For today's 365 I decided I wanted to wear a fun pop of color since I'm going to see Jo Koy, from Chelsea Lately, tonight and I'm wearing mostly black.  Nails Inc St John's Wood is the perfect choice.

Formula & Application:  Nails Inc nail polishes are 4-Free (includes formaldehyde resin).  The round glass bottles are topped with a thick, round, smooth cap of the same width.  The brush is round and pretty thick with bristles that give some resistance when you try to fan it out.  I'm not a huge fan of the brush.  Mine had some wonky bristles that I needed to cut and it didn't give me a lot of control in laying down the polish.  I made more application errors than I have in a long time due to the brush.
The formula itself is AH-MAZING!  In spite of the brush issues this color is so pigmented I only needed one coat.  No, that's not a mistake, I said ONE COAT!  Fabulous, right?  Plus it leveled out perfectly.  The only odd part was that it dried with a satin finish so you definitely need a top coat.

Nails Inc St John's Wood walks the line between blue and purple.  It's like a deep violet hue but it has too much blue in its base for that.  It's a hard color to describe.  If violets and cornflowers cross pollinated, this would be the result.  At first I thought I might be looking at a RBL Purple Haze dupe because in sunlight it's very purple but next to each other, St John's Wood looks incredibly blue.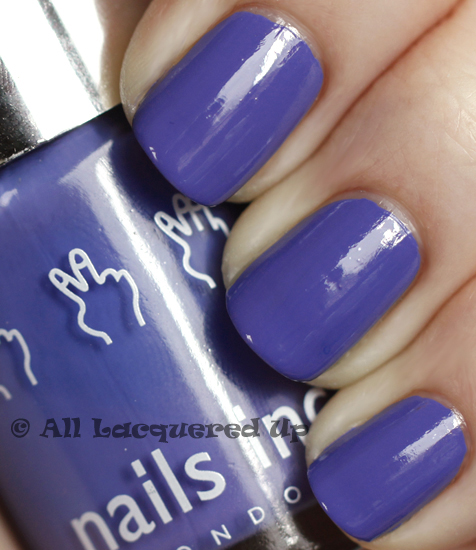 Bottom Line: A cool toned, one coat purple or should I say burple?  Um, sign me up.  I hate hate hate the brush but the color and formula are so good, I can almost forgive it for sucking so bad.  If you have the means, this one won't disappoint.
365 of Untrieds Stash/Share Verdict: An easy decision.  STASH!!
Nails Inc nail polishes are available in the US exclusively at Henri Bendel.  International Fanatics can find their polishes online NailsInc.com and ASOS.com.
Thoughts on St John's Wood?  If you had easier access to it in the US would you buy a bottle?  What has your experience been with Nails Inc polishes?  Are they all this pigmented?
Disclosure: A sample was provided to me by reps for Nails Inc. For more info view my Disclosure Policy.