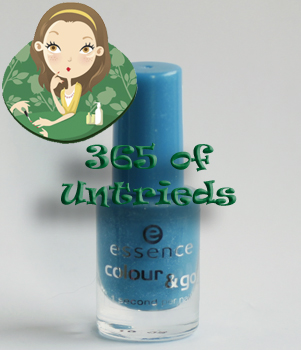 365 of Untrieds is my personal challenge to weed through the polishes in the ALU stash that I've been wanting to try but just haven't gotten around to.
Have you ever spotted a nail polish line that is so inexpensive you can only assume that it has to be a waste of money?  Well, that's what I thought the first time I heard of the Essence Colour & Go line carried at ULTA.  I mean, how great can a nail polish be when it's priced UNDER A DOLLAR?!?
Well, I finally bit the bullet and decided to order some colors from the line last Summer but even after they arrived, the bottles looked so cheap and tiny that I felt no immediate need to try them.  Today I put this budget brand to the test when I took Essence Pool Party for a spin.

Formula & Application: Essence Colour & Go nail polish is 4-Free. For a full ingredient list, visit Essence.eu.  The bottles are small and round with a sizable smooth, plastic cap.  The brushes are wide, flat and long considering the bottle size.  The bristles are somewhat stiff (think MAC) which can lead to some dragging so use a light touch.
The polish itself isn't that pigmented but it builds nicely.  I used three coats of Pool Party to achieve full opacity but given the price point, it's not something I will complain about.  In fact, if you consider how inexpensive the brand is, the formula proves the whole "you get what you pay for" adage wrong.  This particular polish applied very well and dried with a high level of glossiness.

Essence Pool Party is so much more vivid in person.  The actual color must not be "web safe" as it uploaded much lighter and more washed out than it appears in real life.  If you think of what a turquoise swimming pool liner does to the water, you have a good idea of what Pool Party really looks like.   It's pretty fantastical and I REALLY don't want to take it off tomorrow.  I'm absolutely mesmerized. The silver micro-glitter floating throughout is apparent but not over-the-top.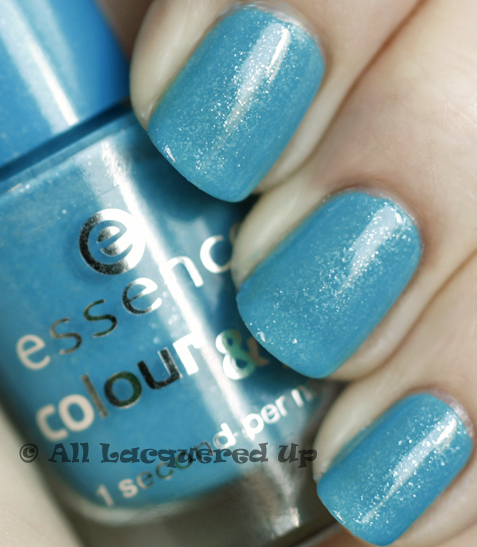 Bottom Line: Consider me impressed.  If Pool Party is an indication of how the entire Essence line performs than sign me up for the fan club.  I'm a smitten kitten and can't wait to try some more colors from the line.  For a buck can you really resist trying it for yourself.
365 of Untrieds Stash/Share Verdict: Not only will I STASH it but I'm considering buying a backup.
Essence Colour & Go nail polishes are available at ULTA stores nationwide, availability can vary, and online at ULTA.com.  Essence nail polishes retail for 99¢ and some are on sale for 49¢ for a .1oz bottle.
Have you tried Essence polishes before?  Thoughts on the line?  What are your favorite colors?  What do you think of Pool Party?  What other budget lines do you think buck the "you get what you pay for" concept?
Disclosure: I purchased Essence Pool Party.  For more info view my Disclosure Policy.