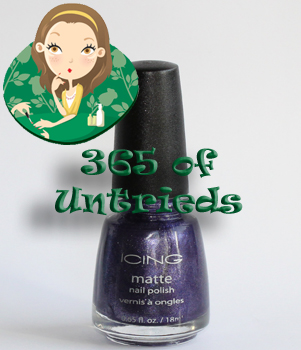 365 of Untrieds is my personal challenge to weed through the polishes in the ALU stash that I've been wanting to try but just haven't gotten around to.
I rarely make it to an Icing accessory store since we moved a few years ago which is a shame because I really love their polish.  The closest one to me is a hual and in a pretty unremarkable mall.  With the Cleveland shopping mecca, Beachwood Place, so close, I never see the purpose in traveling to other malls.
However, last summer I found myself visiting friends near Detroit and had an afternoon free so I FINALLY got to meet up with K. from Pumps and Gloss for some retail therapy. I introduced her to the wonderful world of Icing nail polish and discovered that they had joined the wonderful world of mattes.
Now I know that mattes are "so 2009″ and all but they're still a great last minute manicure option due to their quick dry time. Besides, the metallic mattes look fantastic with a glossy top coat so polishes like Icing Bet Me And Lose aren't just one trick ponies.

Formula & Application: Icing nail polishes are 4-Free (includes formaldehyde resin).  They come in bottles that look identical to China Glaze polishes only the brush is different.  The Icing brush flat and long but not necessarily wide.  You would almost think it was a typical brush if you didn't twist it around.  The bristles aren't overly flexible but they easily fan out across the nail.
While a lot of metallic mattes can be goopy or streaky, Bet Me And Lose flowed on the nail with ease.  It is bursting with pigment and gives great coverage even on the first coat.  What impressed me is that, unlike some mattes, it levels out nicely so you don't have to be overly precise with your strokes.  Even when I left what could be a considered a decent size ridge of polish on my nail from an over loaded brush, the polish dried nice and flat.

Icing Bet Me And Lose is an indigo metallic matte.  The silver micro glitter dispersed throughout the polish keep the color from looking like flat wall paint when dried.  It adds depth and texture with a hint of sheen in spite of the matte finish.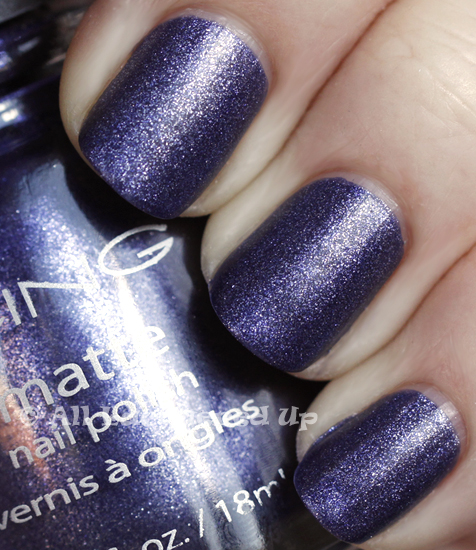 Adding a layer of top coat jolts the polish to life allowing the metallic glitter to dance and playfully reflect the light.
With Oh So Wet! top coat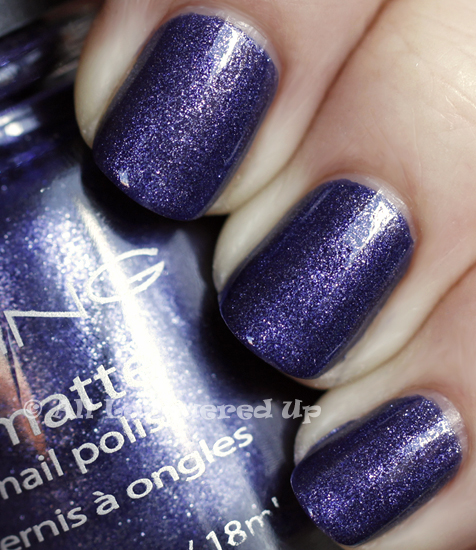 Bottom Line: Given the quality of the pigmentation and application, there's no way this one doesn't get my approval.  The color is cool and beautiful, even when matte.  The addition of top coat makes it sparkle like a jewel.  Even if you don't like mattes, this one is worth checking out.
365 of Untrieds Stash/Share Verdict: I'm most definitely STASHing it.
Icing nail polishes are available at Icing accessory stores nationwide.  Icing nail polishes retail for $4.50/ea for a .65oz bottle but are usually part a multi-purchase discount, like 3 for $10.
Are you still wearing mattes?  If so, are you wearing them straight up or with top coat?  Thoughts on Bet Me And Lose?  What has your experience been with the Icing Mattes or Icing polishes in general?
Disclosure: For more info view my Disclosure Policy.