There's been a lot of buzz recently around a J.Crew ad that depicts the company's president, Jenna Lyons, with her son who has neon pink nail polish on his toes.  It includes the quote, "Lucky for me, I ended up with a boy whose favorite color is pink. Toenail painting is way more fun in neon."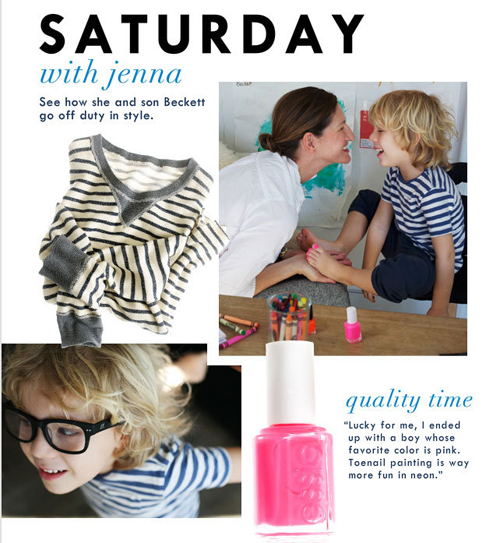 Why there is such an uproar about this escapes me. Granted, I don't have, or plan to have, children so I can't really see this from a parent's perspective but I've always felt that if you aren't hurting anyone or breaking any laws, do what you damn well please.
We've discussed men wearing nail polish in the past and to this day it is still one of my most popular posts, continuing to receive new comments. While there are people against the idea, the majority of us Fanatics seem to be okay with men wearing polish on their hands or feet. So why shouldn't this apply to little boys? Would we even be talking about this if the color was more "masculine" like gray or black?
When I looked at the ad, I thought, "Oh this is a way to pimp the Essie polishes J.Crew will be carrying this summer.  Using her son will be sure to draw attention." Not that civilization as we know it is ending because of how she colored her son's toenails.
Yes, it is eye catching to see a male with neon pink toes. Yes, it obviously got the press to take notice. But how did I learn of this whole controversy? From a reader asking me on Twitter if I knew the name of the polish used in the ad. Enough said!
What are your thoughts on this ordeal? Is it something we should be talking about? Do any of you have young boys in your life that like to polish their nails?  Does it make a difference whether the color is a "girly" pink or "masculine" dark?
ps To answer the reader's question… I don't know the shade name but when I find out I will update this post. The Essie polishes used in J.Crew ads are usually for sale on the website but the only pink I is see currently is Forget Me Nots which is not neon.