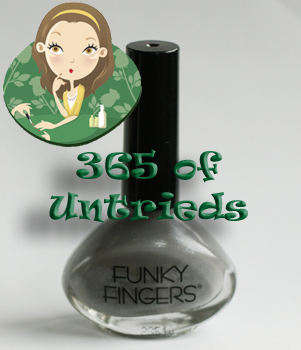 365 of Untrieds is my personal challenge to weed through the polishes in the ALU stash that I've been wanting to try but just haven't gotten around to.
I don't know when the Five Below stores first opened but it's only been within the past year that I've noticed them popping up all over Northeast Ohio.  Geared towards tweens and teens, the $5 and under retailer is the new dollar store.
While the dollar stores, like Dollar Tree, have been a great source for hard-to-find nail treasures, it seems that Five Below carries brand new product in addition to closeouts.  One brand they carry is Funky Fingers, which is produced by Forsythe Cosmetics, a private labeler and owner of Color Club and Art Club.
I first spotted Funky Fingers a few years back at a hair store in Chicago on my way back from a MUA Nail Board meetup and I picked up a couple of greens but still haven't worn them.  Today I'm finally taking the plunge Funky Fingers Elephunk.

Formula & Application: Funky Fingers is a 4-Free brand (includes Formaldehyde Resin). The bottle looks like a squashed teardrop with a long, thin smooth plastic cap.  The brush is short, thin and round with somewhat stiff bristles.  This made the application a little tricky as I couldn't fan out the brush to cover the nail well.
The formula is pretty thin and watery so I ended up needing three coats to achieve full coverage.  The polish doesn't look super glossy on its own so you definitely need a top coat to help it look its best.

Funky Fingers Elephunk is a medium grey with silver micro-glitter.  The glitter is what truly sets this color apart.  It's not a subtle shimmer yet it's not super glitzy.  It's like a grey version of OPI I Vant To Be A-lone Star with its obvious flecks of silver.  Since Funky Fingers is produced by Forsythe, it's no surprise that there would be a kissing cousin in the Color Club line.  We've seen dead on dupes with the Massini line carried in Meijer stores but in this case we're not talking identical twins.  Color Club Wild Orchid is very similar only it has red in its base as compared to the cool blue tone in Elephunk.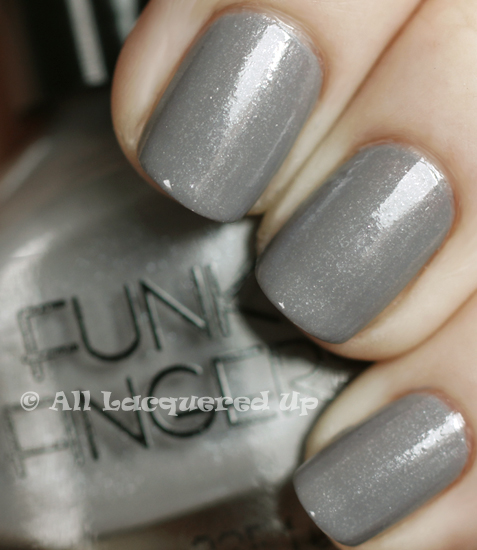 Bottom Line: I would never kick a grey shimmer out of bed for eating crackers so I certainly won't be kicking it out of my collection.  Given the uber-affordable price point, even the lack of opacity doesn't bother me.  It's a great mid-tone grey but the micro-glitter is stellar.  I suggest you hunt down a Five Below ASAP.
365 of Untrieds Stash/Share Verdict: To borrow a phrase from the over-publicized train wreck Charlie Sheen… Duh, STASHing.  I know, I know, that was BAD.
Funky Fingers nail polishes can be found at Five Below stores in addition to random beauty supply stores.  At Five Below they retail for $2/ea or 3 for $5 for a .5oz bottle.
Have you tried Funky Fingers before?  What do you think of the line?  Have you found them somewhere besides Five Below?  Are you digging Elephunk?
Disclosure: I purchased Elephunk myself.  For more info view my Disclosure Policy.