Funky Fingers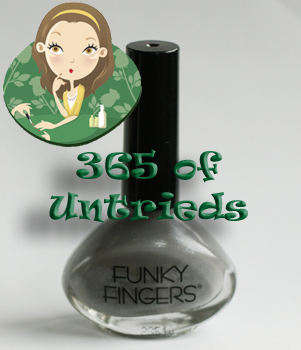 365 of Untrieds is my personal challenge to weed through the polishes in the ALU stash that I've been wanting to try but just haven't gotten around to.
I don't know when the Five Below stores first opened but it's only been within the past year that I've noticed them popping up all over Northeast Ohio.  Geared towards tweens and teens, the $5 and under retailer is the new dollar store.
While the dollar stores, like Dollar Tree, have been a great source for hard-to-find nail treasures, it seems that Five Below carries brand new product in addition to closeouts.  One brand they carry is Funky Fingers, which is produced by Forsythe Cosmetics, a private labeler and owner of Color Club and Art Club.
I first spotted Funky Fingers a few years back at a hair store in Chicago on my way back from a MUA Nail Board meetup and I picked up a couple of greens but still haven't worn them.  Today I'm finally taking the plunge Funky Fingers Elephunk.