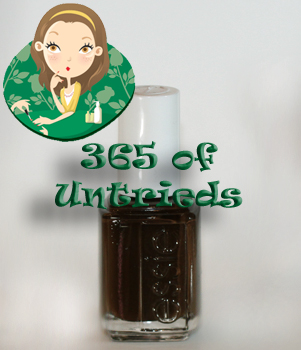 365 of Untrieds is my personal challenge to weed through the polishes in the ALU stash that I've been wanting to try but just haven't gotten around to.
Today made me realize why the Bangles sang a song called "Manic Monday." This was one CLUSTER (as my friend Nancy would say) of a day.  I spent my morning aiming a hair dryer at the wall of ice in our beer fridge so I could save the two kegs inside from spoiling.  The rest of my afternoon included getting prices on garage door openers since mine decided to die over the weekend while the boyfriend was away at a hockey tournament, of course.
By the time I got around to removing my Inglot 646 manicure, I should have expected to find that it STAINED my nails Smurfy blue.  After all everything comes in threes, right?  Even though my precious Orly Cutique removed most of the staining I was so not in the mood to even think about applying a light colored polish.  Instead I decided to itch the brown nail polish scratch that Estee Lauder Chocolate Crave started.   I went hunting for an untried brown and stumbled upon Essie Little Brown Dress.

Formula & Application: Essie is a 3-Free brand. The square bottles are embossed with the essie logo and the smooth plastic caps include an embossed e on top.  The brushes are thin, round and shorter than most. The bristles are very flexible, allowing you to easily fan out the brush to cover your nail width.
While Little Brown Dress has the somewhat squishy texture I've come to expect from Essie, the polish was heavily pigmented giving flawless, opaque coverage in two coats.  Normally squishy, watery or jelly indicates a low level of opacity so I was pleasantly surprised to see this color go on so well.  The finish was so glossy that I really didn't need a top coat but I applied one anyone just to make sure it dried quickly.

Essie Little Brown Dress is a muddy coffee bean creme.  It's as if you made a paste with cocoa powder.  It's not deep enough to be considered a dark chocolate yet it's nowhere near milk chocolate either.  It has a bit of black in its base so it's not an overly warm brown and I think that's what drew me in.  I love a true brown creme but this one has a bit of edge to it.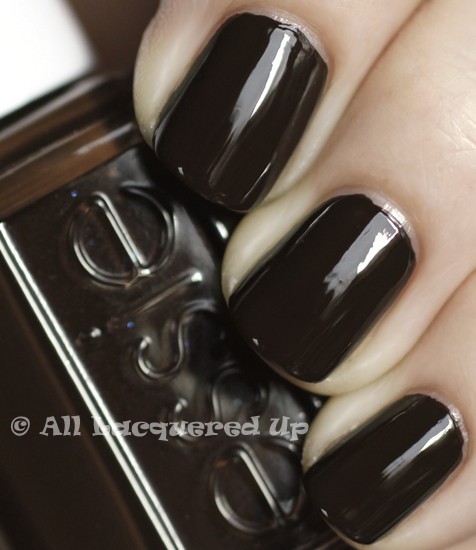 Bottom Line: It may be Spring but I'm all about non-traditional colors this season, especially browns.  Given its perfect formula and pigmentation and the fact that I can't find a dupe for it in my collection, I consider Little Brown Dress a win.
365 of Untrieds Stash/Share Verdict: STASH it!
Essie Little Brown Dress was released as part of the Fall 2010 collection but it's still available on Essie.com and TransDesign.com.  Essie nail polishes retail for $8/ea for a .46oz bottle.
Who's in on my current brown polish obsession?  Thoughts on Little Brown Dress?  If you own it, have you discovered a dupe?  If you don't, will it make your shopping list?
Disclosure: For more info view my Disclosure Policy.