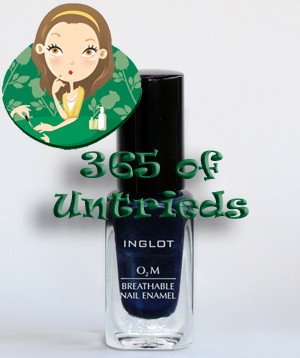 365 of Untrieds is my personal challenge to weed through the polishes in the ALU stash that I've been wanting to try but just haven't gotten around to.
The Inglot store in Times Square and I were never meant to meet.  I first spotted it over a year ago while on a late night walkabout in the city.  I was happy to see that, like most stores in the area, it was open til midnight. Except I pulled on the doors only to find them locked, leaving all the pretty nail polishes within eyesight but out of my reach.
A few nights later I returned with a friend only to be rebuffed, yet again,by locked doors even though there were employees inside who refused to look our way.  I was BITTER.
Then last May I attended The Makeup Show in NYC where Inglot was exhibiting and I finally got my hands on their polishes.  Their booth was a madhouse and you had to fight hoards of makeup fiends to get near the table but I exited victorious, three new Inglots in hand.  Today I'm giving Inglot 646 from the O2M Breathable Nail Enamel line a try.

Formula & Application: Inglot does not provide an ingredient list on their bottle or website.  The corporate site states that the O2M line is 3-Free and does not include Camphor though it doesn't mention anything about formaldehyde resin.  Those of you with allergies should contact the company before purchasing.
The O2M line is touted as "breathable nail enamel" and according to the website it uses a polymer designed for contact lenses to increase the oxygen permeability of the varnish films, improve the permeability to water vapour, facilitate the varnish spreading and reduce the film tightness.
The tall rectangular bottles have a smooth plastic cap and a thin, long, round brush.  The bristles are pretty flexible but the brush doesn't fan out easily and the length made it more difficult to control the polish.  I ended up with a lot more polish on my skin than usual.
The formula applies pretty thin and streaky though it does lay down a decent amount of pigment.  I only needed two coats to get full coverage.  My issue is that I ended up with a TON of bubbling.  I used the same base and top coat combination as usual and I applied 646 to all my nails since I was going out this afternoon.  I photographed it dry before I left and within the hour it was bubble city.  I don't know if it's the product combination or the polish so I'll have to give it further testing before completely writing it off.

Inglot 646 is a navy blue shimmer.  It has a hint of denim to it but I would classify it as a jewel tone.  The color looks vibrant, like OPI Yoga-ta Get This Blue, in sunlight but appears more like Russian Navy indoors.  It doesn't ever approach the "almost black" zone but it's pretty deep.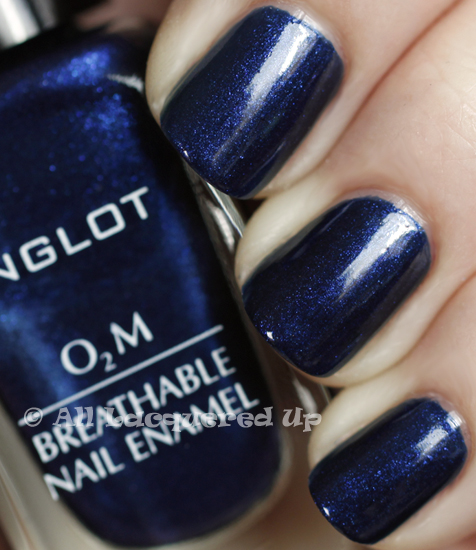 Bottom Line: 646 isn't the most unique blue I've ever seen.  In fact, it's pretty ordinary.  Considering the abundance of navy blues on the market, the price tag, the odd application and the bubbling issue, this one gets a big fat PASS from me.
365 of Untrieds Stash/Share Verdict: If you hadn't guessed already, this one goes in the SHARE bin.  Hopefully someone else will have better luck with it than I did.
Inglot recently opened its online doors to the US.  In addition to their NYC & Vegas brick & mortar locations you can order Inglot products at InglotUSA.com.  Inglot O2M Breathable Nail Enamel retails for $14/ea for a .37oz bottle.
Have you tried Inglot nail polishes?  What has your experience been with the O2M line?  Thoughts on 646?
Disclosure: I purchased this nail polish.  As an attendee of The Makeup Show NYC I received a 20% discount on my purchase. For more info view my Disclosure Policy.