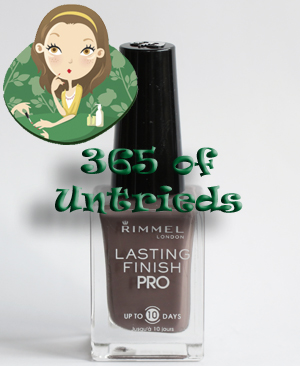 365 of Untrieds is my personal challenge to weed through the polishes in the ALU stash that I've been wanting to try but just haven't gotten around to.Back when Chanel Particulière was making nail polish headlines, there was talk of a potential dupe in Rimmel London Steel Grey.  Of course, at the time, whenever I would remember to look for it at my local drugstore it was sold out.  Then a few months back I picked up a bottle and I"m just now getting around to trying it out.

Formula & Application: I can't find an ingredient listing for this specific formula on the bottle or on Rimmel's website.  The US and UK sites both offer links to ingredient lists but neither one includes the Lasting Finish PRO formula.  I hope to update this section with ingredient information.
The bottle is identical to the retired Sally Hansen Salon line only the rubberized cap has been replaced with tapered, smooth plastic.  The brush is a flat paddle style with a curved brush similar to the ones you find in the Sally Hansen Complete Salon Manicure and Insta-Dri bottles.  Coty owns both Rimmel London and Sally Hansen so this isn't surprising since the Lasting Finish PRO line touts the same 10 Day wear claim as the SH CSM line.
The polish applied pretty watery and somewhat sheer.  It isn't as pigmented as the CSM line so they definitely have different formulas in some respect.  I have found that the curved brushes can be inconsistently shaped and I happened to get a janky one so I cut the protruding bristles with my nail scissors.  After three medium coats I was able to get the polish opaque and it dried quickly to a glossy finish, no top coat required.

Rimmel London Steel Grey falls into the taupe-y grey category.  It's a pretty spot on match to Sally Hansen Commander In Chic which I raved about when I wore it for 10 Days straight with amazing results.  I would say the only real difference between them is that the Sally Hansen is a bit more pigmented so after three coats it looks a bit darker than Steel Grey but they have the same base color.  Neither one is a match to Chanel Particulière but they are a great affordable substitution for a similar look.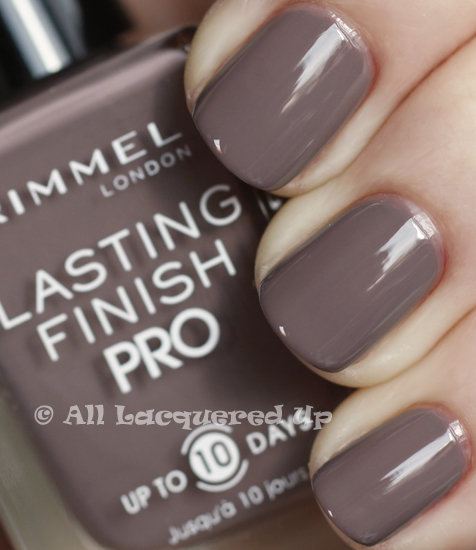 Bottom Line: Even though the funky neutral trend has passed its prime, I don't see this type of shade going out of style any time soon.  Depending on which brand is offering a sale I would say that either the Rimmel or Sally Hansen version of this shade would make a great addition to your nail wardrobe.  I prefer the Sally Hansen but only because it's a tad more pigmented.
365 of Untrieds Stash/Share Verdict: There's no point in owning two of this color and since I had such great results with Commander In Chic, Steel Gray will go in the SHARE bin.
Rimmel London Steel Grey is available at drugstores nationwide.  To find a retailer near you visit RimmelLondon.com.
Thoughts on Steel Grey?  Have you given the Lasting Finish PRO formula a 10 Day wear test of your own?  How did it fare?  If you own both Steel Grey and Commander In Chic did you see any major differences between them?  Which do you prefer?
Disclosure: For more info view my Disclosure Policy.