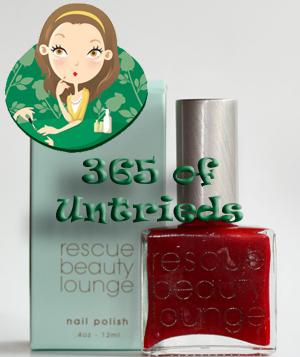 365 of Untrieds is my personal challenge to weed through the polishes in the ALU stash that I've been wanting to try but just haven't gotten around to.I decided to follow up yesterday's post about RBL Drifter with another contender in the Bring It Back vote, Rescue Beauty Lounge Glamourpuss.

You may remember that back in October, just before the big RBL sale, that I mentioned wanting a bottle of Glamourpuss in my sale order.  Well, you naughty little minxes beat me to the punch and the color was sold out before I could get my order in.  Fortunately, a friend was kind enough to gift me with a bottle and it's taken me until now to use it.  Let's take a gander, shall we?

Formula & Application: Rescue Beauty Lounge nail polish is 4-Free (includes formaldehyde resin).  The square glass bottles are thick enough to feel sturdy but thin enough to properly show off the color. The smooth brushed metal cap is easy to hold and polish with while the brush is round, of average length and on the thicker side. It's a bit more flexible than most which makes application a breeze.
What surprised me about Glamourpuss is that it's not a typical RBL opaque creme. It doesn't have that creamy texture, in fact it's syrup-esque and more sheer than I was expecting. The first coat went on like a Stila Lip Stain and it took me three good coats to get it completely opaque. Not something I would expect from RBL, unless it was meant to be worn semi-opaque. I photographed Glamourpuss with top coat when it was completely dry.

Glamourpuss has a 40s, Dita Von Teese, pin-up type feel to it.  It's a shade that was made for the moon manicure.  It's not quite blood red but not exactly cherry either.  It falls somewhere in between.  I don't know if it's due to how enamored I was with Drifter yesterday but this one doesn't wow me or seem to do my skin tone any favors.  Also, it doesn't seem to have the same depth and richness as the traditional RBL opaque cremes.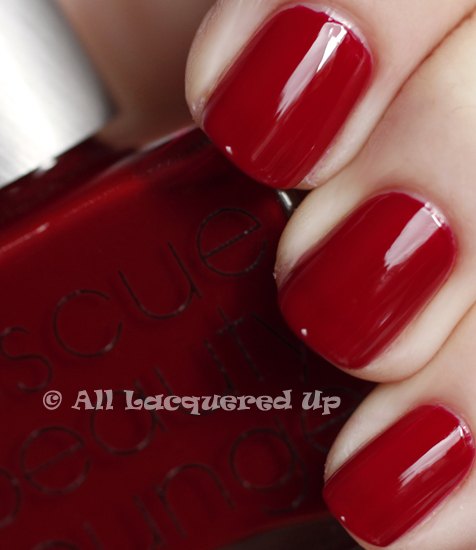 Bottom Line: While I normally gush over RBL's cremes, this one doesn't curl my toes.  It's a pretty color but nothing special and when it comes to RBL the bar is set pretty high in terms of uniqueness.  Given that it took me three coats to get this one opaque and I'm not one for translucent polishes, Glamourpuss won't be getting my vote for the Bring It Back.
365 of Untrieds Stash/Share Verdict: Unfortunately, this one is a SHARE but I know exactly where it will end up.  My friend who adores RBL and red polish is going to be over the moon to get her hands on this baby.
Again, like Drifter, RBL Glamourpuss is a sold out, discontinued color.  If you are into it, throw your support its way in the Bring It Back vote and it could be yours.
Thoughts on Glamourpuss?  Those of you who own it, did you have the same opacity issue or is it just my bottle?  Did you end up loving/hating the color?  If you missed out on Glamourpuss the first time around will you be voting for its return?
Disclosure: RBL Glamourpuss was gifted to me by a friend.  For more info view my Disclosure Policy.