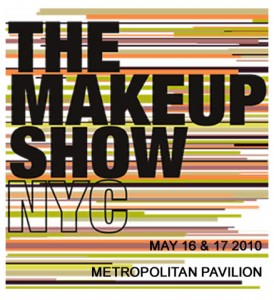 Last weekend The Makeup Show came to NYC and I was there for a long three-day weekend to take it all in.  The Makeup Show was founded by The Powder Group for makeup artists to discover new products and learn new techniques and trends.  This is the fifth year for The Makeup Show and next year they're planning to expand to a European destination.  It's an amazing trade show and I was honored to have been invited to attend.

As always, I pack every trip to NYC with meetings and outings and basically run myself ragged.  But I figure I should make the most of it and I certainly did that on this trip.  Between the show, meet-ups with fellow bloggers and meetings with a few brands I had a blast.  Read all about my adventure and check out what I brought home after the jump!
Day 1
I landed in NYC bright and early at 10am and hit the ground running. After dropping off my bags at my hotel I headed to Chelsea to see some of my fave beauty pals for brunch at the Rocking Horse Cafe.  I met up with Dina from eye4style, Paula from Older Girl Beauty, Sarah from StyleIT, Karla aka The Arm from KarlaSugar, Carla from Product Girl, Heather from SeoulDiva and Lesley aka LesleyKat. The food was delicious and affordable, the company was fantastic and the chips were the size of a human head, as modeled by Dina below.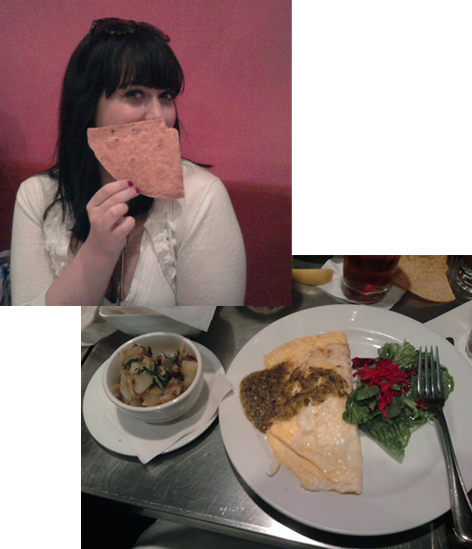 Since I haven't been drinking much post-cleanse, the margarita at lunch left me a little tipsy as we walked to the Makeup Show NYC Blogger Preview but I quickly recovered. At the preview James Vincent, Director of Artistry for The Makeup Show, talked us through some of the brands that would be exhibiting and highlights from each line.  We also heard from Kevin-James Bennett aka Blenderella the Director of Artistry & Development for Make Up For Ever. If you've seen him on HSN you know what a big, fun personality he is.
After the presentation we had a chance to mingle with the other bloggers at the event and meet with reps from some of the brands. I ran into Stila's Sarah Lucero who was there setting up the Stila booth and I was flattered that she remembered me from doing interviews backstage during Fashion Week.  There were so many bloggers at the preview, it was overwhelming.  I wanted to chat with everyone.  They're such a great group to  hang with.  It makes me wish I was in NYC more often.
I spent the rest of the day wandering the city with a small group who wanted to go fragrance sniffing. Being that my fragrance knowledge is pretty amateur, I was geeked to spend time with Diane from The Beauty Alchemist and my roomie for the weekend, Meredith from Retrodiva's Beauty.  They astound me with their olfactory know-how.  We stopped by Aedes de Venustas and Bond No. 9 and thanks to Meredith I may have found a new Bond to purchase, Spring Fling.  I brought a sample home to test out since my skin reacts oddly to a lot of scents.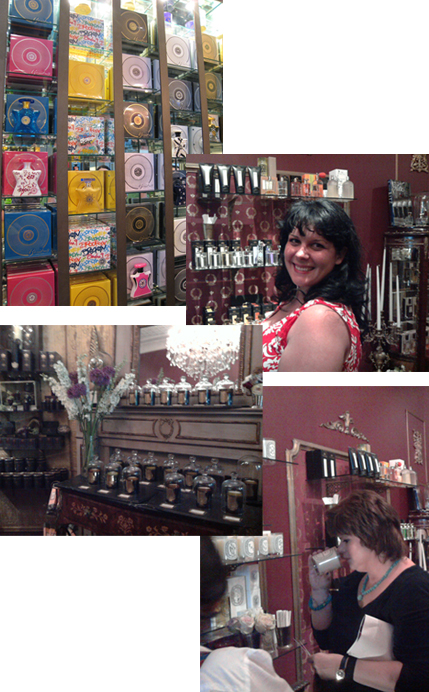 Meredith (above) and Diane (below) sniffing a Diptyque candle at Aedes de Venustas.
Reality Star Spotting – While standing outside of Aedes I recognized Top Chef Season 1 Winner Harold walking towards us. Apparently I was the only one to notice but when I said something to Paula, she chased after him, iPhone in hand to snap THIS and say "good job!" That girl kills me, I love it!!
Day Two
I started off my morning meeting Jane Schub, founder of StrangeBeautiful at City Bakery for breakfast.  I've heard of City Bakery because of Sex and The City but never been.  Jane had me try their maple bacon biscuit which was phenom but I completely forgot to order the hot chocolate they are famous for.  Next time!  Jane showed me her Volume 4 colors which are so utterly gorgeous (I'll be reviewing them soon) and shared with me a special project she's launching that I'll tell you about next week.
Next stop – The Makeup Show.  Holy crowds batman!!  I swear, every makeup artist in the city and surrounding areas must have been there.  To give you a picture, there were like 7 rows of booths and each brand has a booth to sell their products at a discount.  Surrounding each booth were crowds at least two deep, trying to purchase.  The discounts varied by brand but MUFE, Becca and Stila were all 40-50% off so you can imagine why there was such a frenzy.
As soon as I walked in, I couldn't help but notice the Inglot Cosmetics booth.  It was a madhouse.  Inglot is a Europe based brand with one store in the US.  It's right in the middle of Times Square and the last time I was in NYC, it was closed.  The main draw was their Freedom System palettes that you can customize with any of their 320 shadows, 29 blushes or 21 face powders.  Girls were going crazy creating their own palettes and the employees must have worked into the night building them.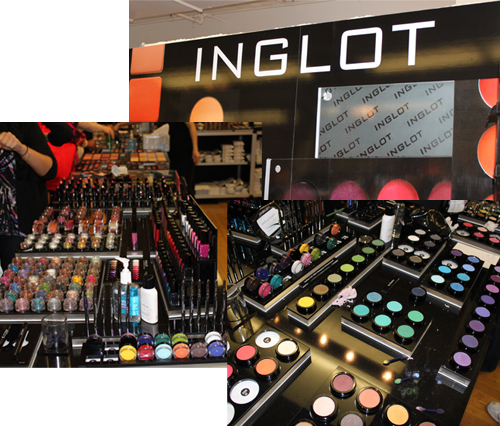 Of course, the draw for me was the nail polish. As of right now you can only purchase Inglot at their NYC location but let's hope they add an online store soon!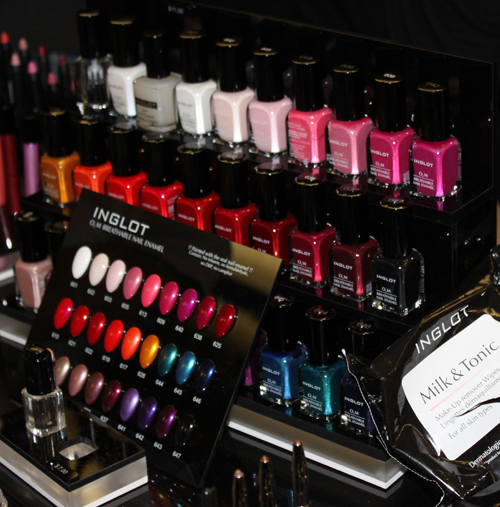 I also made my way to the Obsessive Compulsive Cosmetics booth to check out the product bloggers have been raving about for over a year now, Lip Tar.  I purchased Memento with a portion of the proceeds going to CancerCare.  I didn't pick up any polishes because I have some at home to review but I did come home with their matte top coat to try out.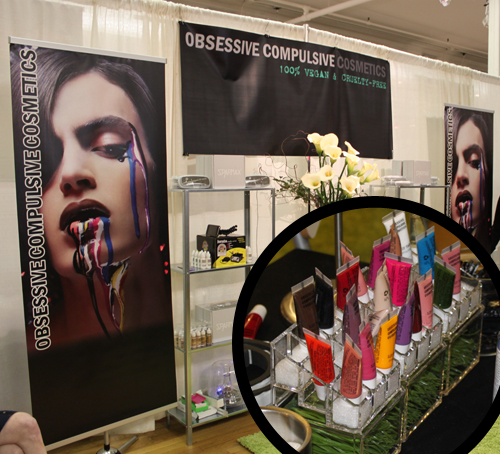 On my way out, I stopped by the Eve Pearl booth to meet Aina from Lacquerholic. Aina is a professional makeup artist and works with Eve Pearl, who is known for her work in TV and her current gig as Meredith Viera's makeup artist.  Eve's booth was so packed with people it was hard to chat much but I was so happy to finally meet her.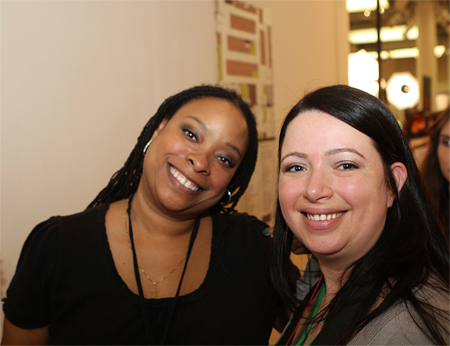 At that point I was over fighting to buy product so I decided to wait until Monday for any more purchases hoping it would be less busy on a weekday. Instead I headed over to Union Square to meet the ladies behind Ginger & Liz for lunch. We had a wonderful time chatting about some of their upcoming colors and the inspiration behind them. Get ready for Swagger's foil metallic sisters to hit their online shop soon. I had a chance to see them both and let me tell you, they're gorgeous. They also have some fun brights coming out for summer and more tricks up their sleeve come fall.
To end my day, I went on my first adventure off the island of Manhattan to meet up with some friends in Astoria, Queens at Studio Square Beer Garden. I've been seeing Heather's beer garden pics for a while now and wanted to experience the BIG BEER.  Thankfully the weather was in my corner all weekend so it was the perfect day to chill outside.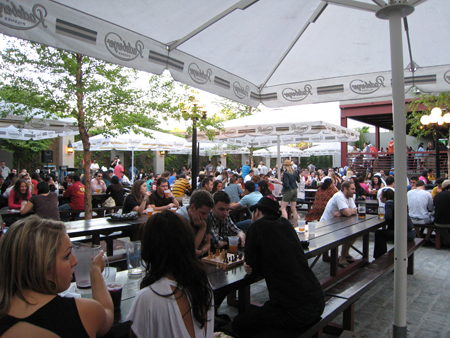 Me with my big beer. Yes, I finished it all by myself. And I was very thankful for the dinner that followed at Omonia to soak up all the booze.
Day 3
I spent the majority of Day 3 shopping at the show and watching seminars. That's the beauty of The Makeup Show, it's not just about products it's about education. All day long they have technique and trend seminars going in two locations on the show floor and special hands-on classes upstairs. Here are some pics I snapped while wandering around the show floor.
Meredith getting airbrushed with Luminess Air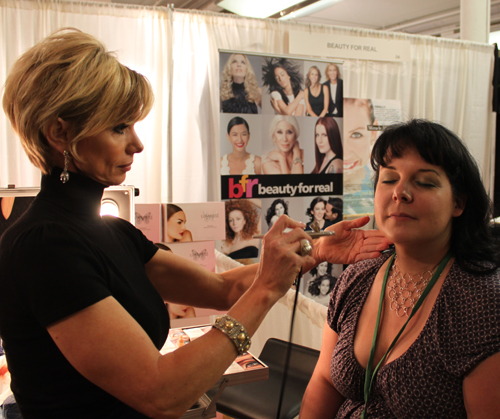 Body Painting by MAC Pro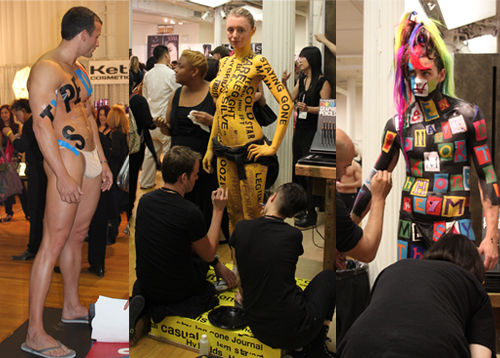 Rouge Cosmetics Eye Lashes. Lady Gaga wore their Marlina lashes on a recent cover of Cosmo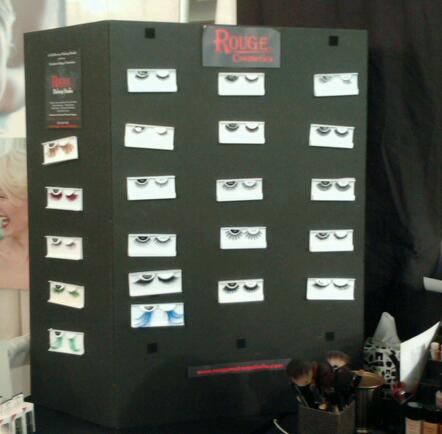 Meredith wearing Rouge Cosmetics Gwen lashes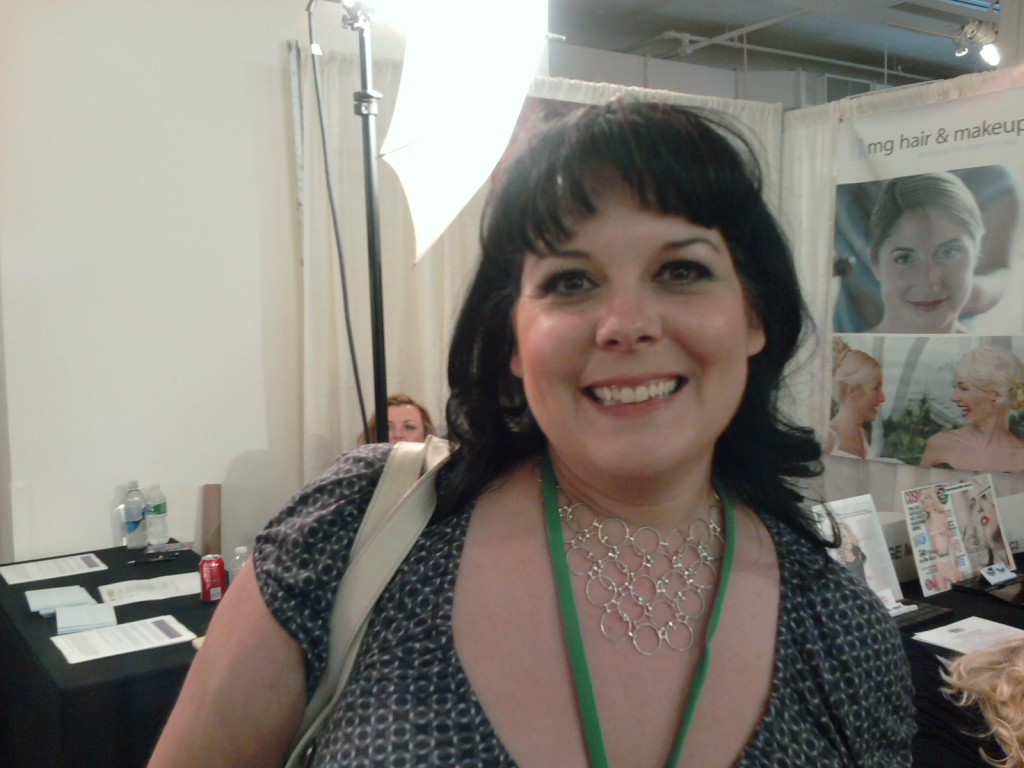 One of the seminars that I was most excited for was the MAC Fall Trend presentation by MAC Artists Keri Blair and Romero Jennings.  During the seminar they both completed a look on their models with Keri focusing on a dark lip and Romero doing a heavily sculpted/contoured face with blanked out eyebrows.  My fave quotes from the session include Keri telling us that if we don't own MAC Smolder Eye Kohl, "you better check yourself," and Romero raving about the new Superglass gloss stating it's so fabulous, "it comes with a cape!"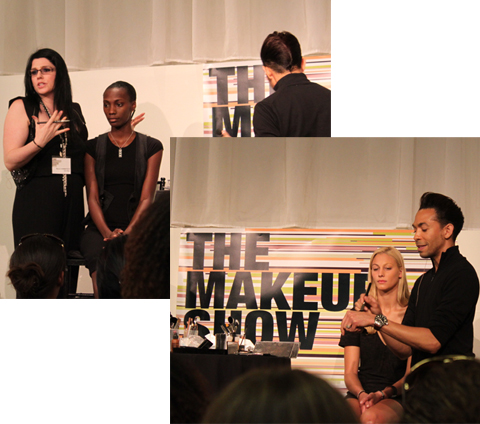 Reality Star Spotting – I saw Alexa "The Glam Fairy" from Jerseylicious going into The Makeup Show and while she wasn't rocking the overly contoured cheeks I see each week on TV, girlfriend needed a deep conditioning treatment in the worst way. Her hair is crying for moisture.
My Haul
I didn't go overboard on purchases because I kept thinking about how I have no room to put them away at home. So I kept my shopping in check which is more than I can say for my blogging-partner-in-crime Meredith. I can't wait till she posts the rest of her haul because she went all out.
Thanks to some fool at UPS who ripped open the package I shipped home, I'm missing a few things and receipts (GRR!!) but here's the majority of my haulage with a few of my fave beauty treats from the Blogger Preview goodie bag.
Luminess Air (I've been dying to try this!), Beauty For Real gloss (it lights up), Inglot polishes & matte top coat, Temptu Concealer Wheel, Knock Out Cosmetics matte polishes and top coat, OCC Lip Tars, Crown Brush brushes and Eve Pearl Kisses of Pearl lip gloss combo.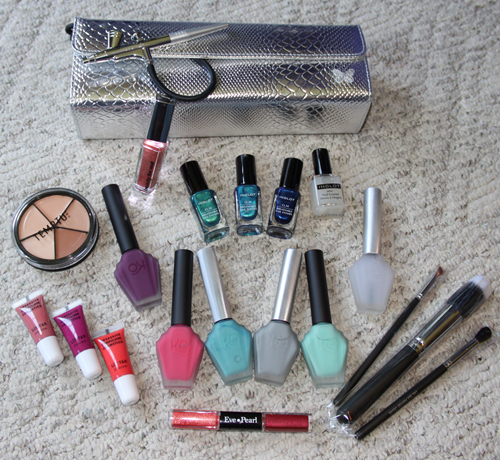 How did I do?  If you were at the show, what did you buy?  Reviews of all the polishes are in the works so stay tuned!
Disclosure: Tickets to the Makeup Show NYC and Blogger Preview were furnished by representatives for The Makeup Show NYC. Product samples from Beauty For Real, Eve Pearl, Luminess Air, OCC Cosmetics and Temptu were provided by representatives of the brands.  For more info please view my Disclosure Policy.