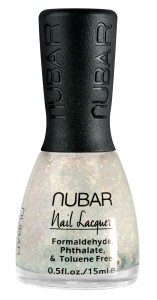 To celebrate 10 years of creating beautiful 3-Free polishes, Nubar has released a special edition color called Nubar 2010.  A clear polish filled with iridescent flake glitter, this lacquer will make those of you who have yet to hunt down Sally Hansen Hidden Treasure very very happy.

Not only does Nubar continually put out collection after collection of gorgeous colors, they have some of the best treatment products on the market.  Their Foundation Base Coat has achieved "holy grail" status in my book and the Diamont top coat is one of the few quick drys in my arsenal that isn't thick or tricky to apply.  In my opinion, that's more than enough reason to celebrate their 10th Anniversary in style.  And Nubar 2010 has plenty of style.  Check it out after the jump!
As I mentioned above, Nubar 2010 is a glitter polish that is best appreciated layered over another color.  On its own, you just don't get the same fire out of the flakes.  Like Hidden Treasure, the flakes of glitter look like fish scales in the bottle and while they flash different colors, the main hue that comes through is burning embers copper.  Inspired by Barielle Falling Star, I chose to show Nubar 2010 over Illamasqua Force from the Body Electrics Collection.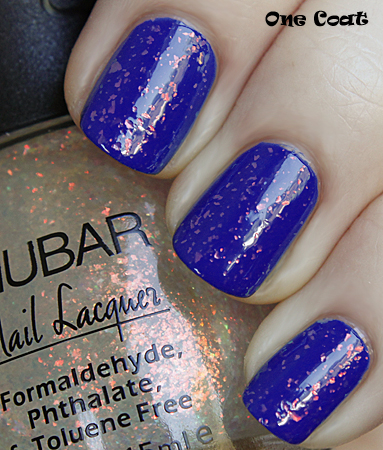 Two coats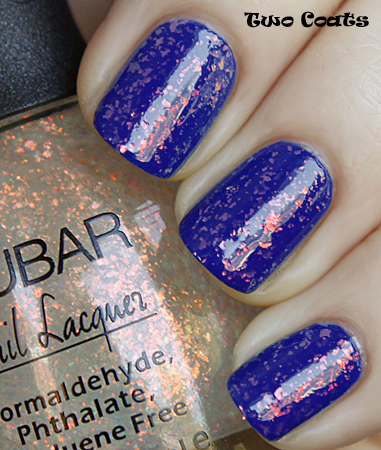 I think what really sets Nubar 2010 apart from Sally Hansen Hidden Treasure is the density of the glitter.  Nubar 2010 is packed with flakes so you end up getting more value from it than the SH since you only need one coat to get the same looks as two coats of Hidden Treasure.  Shown over Orly Wandering Vine.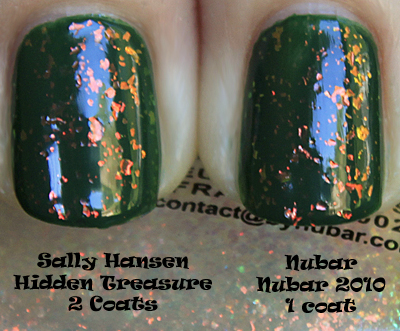 Nubar's Nubar 2010 nail lacquer is available now at ByNubar.com. Nubar nail polishes retail for $7.49/ea and they offer free shipping on orders over $75.  While you're at the Nubar site, be sure to sign up for their newsletter to be notified of any upcoming promotions.
So between Nubar 2010 and Sally Hansen Hidden Treasure, which do you prefer?  Do you intend to pick up Nubar 2010?  Are you a flakie fan?
Disclosure: A sample was furnished to me by Nubar.  For more info view my Disclosure Policy.