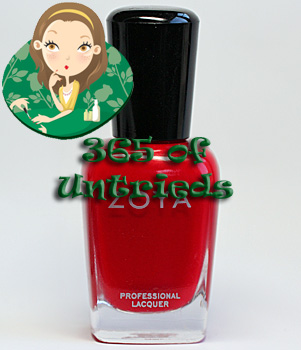 365 of Untrieds is my personal challenge to weed through the polishes in the ALU stash that I've been wanting to try but just haven't gotten around to.
Untried Day #118: This past Tuesday I was invited to the Cleveland Indians game for a special women's event. I had the opportunity to sit in the Social Suite on Wahoo Women night which benefits the American Heart Association's Go Red for Women campaign.
Even though I've always been more of a football fan, there's nothing quite like spending a beautiful summer night at a baseball game, sipping on a beer and snacking on peanuts (Cleveland's own Peterson's naturally). It's the picture of Americana.
And I have to give it up to the Tribe's marketing team. They have really created something special with their Social Suite. Anyone who is active in social media can apply to sit in the suite, like the fancy people, for a night. The view and the accommodations in the suite are pretty spectacular.
So what's a nail girl to do on a night that is dedicated to both women and the Indians? A red, Tribe-themed manicure of course!  I wanted the perfect Indians red so I looked to my untrieds and found Zoya Sooki and I paired it with CND Midnight Sapphire from the upcoming Fall 2011 "The Look" launch. It is a pretty good match to the team's blue color. Keep reading to see how it turned out.

Formula & Application: Zoya is a 4-Free brand (including formaldehyde resin) plus they leave out camphor, which can be an irritant.  Their signature Italian glass bottles have a tapered, shiny black plastic cap that rests comfortably between the thumb and index finger while polishing.  The brush is short, round and medium in girth with flexible bristles that allow for ease of control.
Sooki has a smooth, creamy formula that glides on the nail. I had no trouble creating clean lines at the cuticle as the lacquer was so easy to control. The pigmentation is pretty good though I do notice a bit of VNL (visible nail line) with two coats but my free edge seems to stand out more than most.

Zoya Sooki is a cherry red creme though what I find interesting is that in natural light it's pretty rich and cool toned but under a warm light, like the OttLite, or direct sunlight it leans more towards tomato. Obviously this shade was named after Sooki from True Blood, which is one of my favorite guilty pleasures, so it's just an added bonus that it also went with my theme for the night. Though how much does this season suck? No pun intended. I want the old Eric back and I'm over these witches, literally!!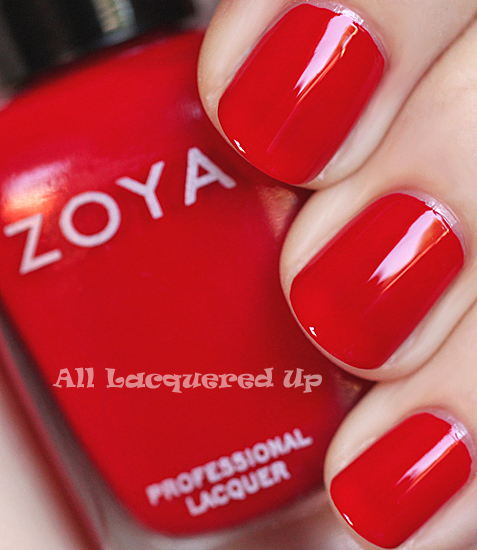 To create my Tribe themed manicure I alternated Sooki with CND Midnight Sapphire, which I will review in full at a later date, skipping the middle fingers on each hand. On my middle nail I applied China Glaze White Out as a base for some fun polka dots. Using my dotting tool, I placed dots in a somewhat organized pattern.
Application Tip: Drop the polish on a piece of card stock or aluminum foil and let it to rest for a few seconds to thicken. It will make it easier to place the dots. Just don't wait too long or it will get stringy. It's akin to the "magic hour" for photographers. You have a brief moment of time when the polish is just the right consistency for dotting.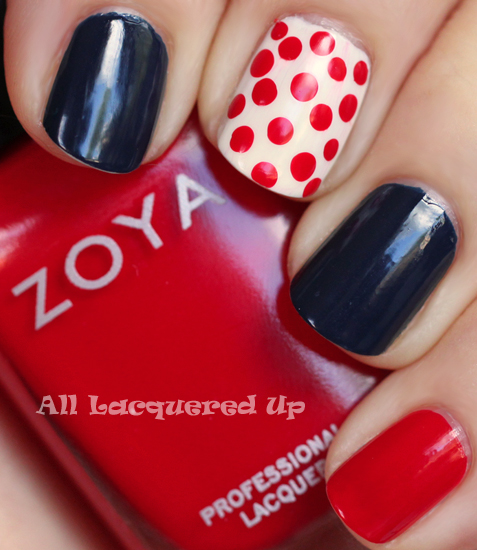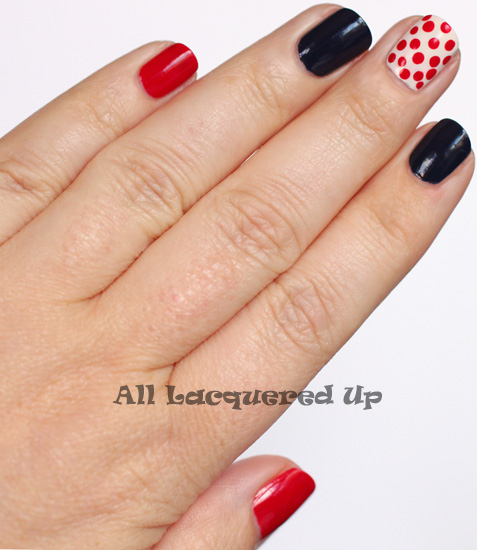 I reversed the pattern on my other hand and, of course, I forgot to take a pic of it before I left for the game so this cell phone shot will have to do.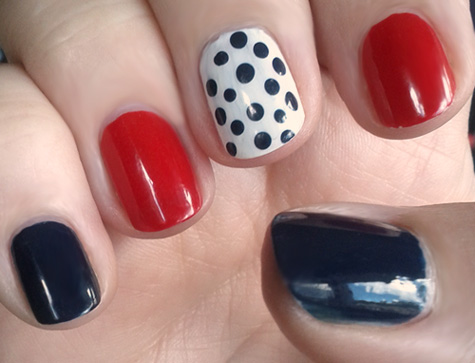 The view from the Social Suite. Which was phenom until…..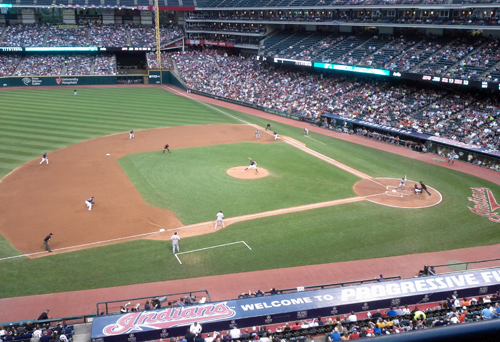 The rains came! When I arrived, one of the other Wahoo Women said she received a tornado warning call from her city, west of Cleveland, so we knew we were in for a storm. We  just had no idea how insane it would be. At one point there was hail coming down and you couldn't see across the stadium. But, we had lovely distractions during the downtime.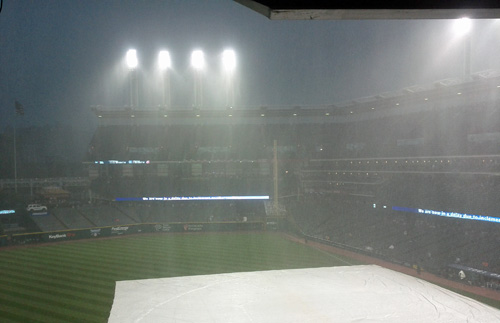 Ketchup paid us a visit in the suite. He wears a pair of bad-ass glasses a la Wild Thing in Major League and runs a nightly race in the stadium against his competitors Mustard and Onion. Even though I only like onions when they're caramelized or battered and deep fat fried, I root for Onion since she's the only lady in the race. And surprisingly, she won on Wahoo Women night. Who would have guessed?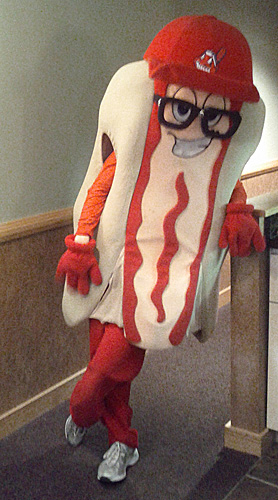 Thanks to the generosity of Time Warner Cable of Northeast Ohio we had yummy snacks to feast on and a visit from the DESSERT CART! I had no idea such a thing existed so you can imagine how my eyes lit up. Actually, if you check out Alexa's post on Cleveland's a Plum, you'll see a group shot with many a shock and awe reaction face. As hard as it was to choose, I couldn't resist a chocolate and mint brownie-like concoction that I was very thankful to have extra Weight Watchers points to splurge on.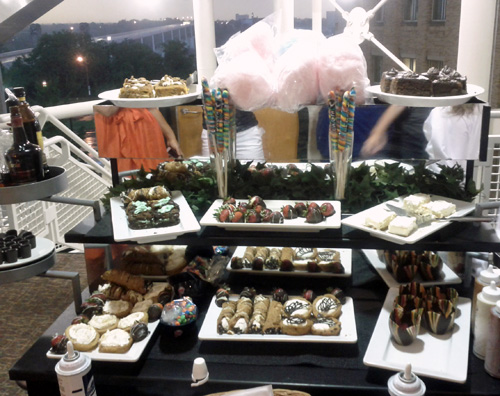 The game ended up going until past 2am, which none of us could stay for, but in the end the Tribe pulled out a win against Detroit. Clearly the rain didn't dampen the players' spirits. GO TRIBE!

Bottom Line: Sooki is a well formulated red and a great nail polish wardrobe staple. It doesn't set my heart on fire but it certainly served my purpose. I'm sure the red lovers out there will hate me for saying it but a lot of times I feel like a red is a red is a red. I know that's not at all true but it takes a lot for a red to wow me so I'm unintentionally hard on them.
365 of Untrieds Stash/Share Verdict: Considering how little I actually opt for reds, I'm sure this will get more love with a friend. SHARE.
Zoya Sooki is available now as part of the Summertime collection at salons and spas nationwide including ULTA and online at Zoya.com. Zoya nail polishes retail for$8/ea for a .5oz bottle. Don't forget, you can try before you buy with the Zoya Color Spoon program.
Thoughts on Zoya Sooki? Do you approve of my Indians themed manicure? Are you excited to hear more about Midnight Sapphire? Do you have any dotting tips to share with the group?
Disclosure: A product sample was provided by Zoya, CND and China Glaze. For more info view my Disclosure Policy.