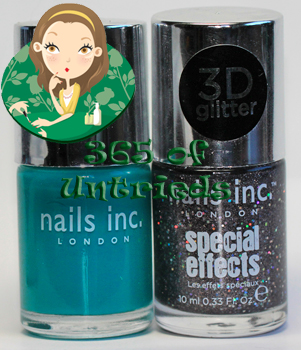 365 of Untrieds is my personal challenge to weed through the polishes in the ALU stash that I've been wanting to try but just haven't gotten around to.
Happy Hump Day Fanatics!  My nails were dying for a break and in need of some major TLC so while I am apologizing for the delay in posts my nails aren't. I made the switch to non-acetone remover a few months ago to help prevent drying and I obsessively apply cuticle oil but sometimes my little buddies just need a rest. btw, Nubar's Cucumber remover is the business.
So getting back to my untrieds, we're on Day #119 and I'm digging into my Nails Inc stash. I wanted something bright and fun but I was also curious about the 3D Glitters so I paired the creamy Warwick Way with Special Effects Sloane Square. Let's see how it turned out.

Formula & Application: The Nails Inc formula varies in terms of ingredients.Warwick Way is 3-Free and Sloane Square is 4-Free (including formaldehyde resin) and free of camphor, which can be an irritant. The round glass bottles are topped with a thick, round, smooth cap of the same width.  The brush is round and pretty thick with bristles that give some resistance when you try to fan it out.
Warwick Way was a dream to apply. The formula is thin and easy to control yet rich with pigment. It flows on the nail effortlessly and levels out nice and even, drying with a high gloss shine. Two coats delivered perfect coverage. Since Sloane Square is a semi-sheer glitter and I used one coat of it to add some glitz to my manicure.

Nails Inc Warwick Way is a BRIGHT, almost neon, teal creme. It's one baby step away from neon, that's how bright it is. What's interesting is that indoors, it looks really green but in sunlight it looks more aqua, though not as blue as China Glaze Aqua Baby. I photographed it in the sun because capturing this color in anything but direct sunlight is a CHALLENGE. That's why I'm not showing a comparison, it's too hard to translate this color's vibrancy to a screen. Though if you're looking for a color reference, Hard Candy Frenzy has the same base color. It's just a lighter version.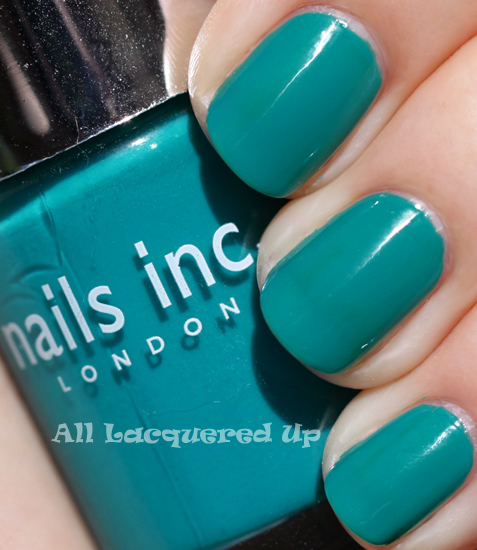 I thought adding a coat of Nails Inc Sloane Square would make for a fun combo but I'm not sold on it as a pair. Sloane Square has a smoky grey semi-sheer base that is filled with graphite micro-glitter and holographic sequins. The base color darkens Warwick Way, making it a murkier and the sequins look out of place. Indoors it looks really sea-green.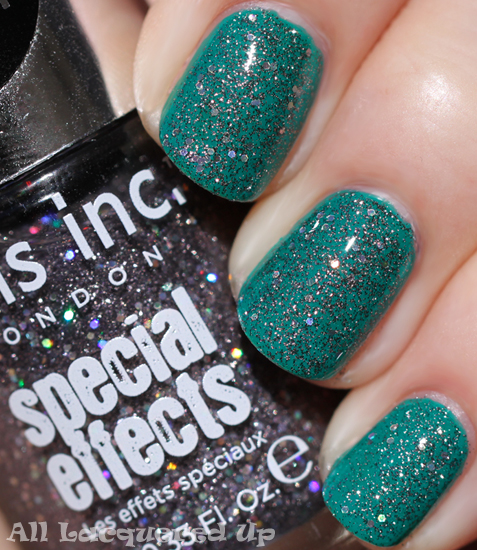 Bottom Line: This is one manicure where the whole is not greater than the sum of its parts. I love how bold and vivid Warwick Way is and that I don't have any almost-neons quite like it. I really dig the gunmetal glitter party that is Sloane Square but together, I'm not feeling it. I think Warwick Way would look much better under a Nfu Oh flakie and Sloane Square would be phenom over one of the sapphire blues or concrete greys that will be making waves this fall.
365 of Untrieds Stash/Share Verdict: I'm STASHing them both but making a mental note not to wear them together again.
Nails Inc Warwick Way and Special Effects Sloan Square 3D Glitter are available exclusively in the US at select Sephora stores (see full list) and online at Sephora.com. Nails Inc nail polishes retail for $9.50/ea for a .33oz bottle.
Thoughts on these colors? What do you think of them layered together? What would you put Sloane Square over? Have you discovered a new Nails Inc fave since the line launched at Sephora?
Disclosure: Product samples were provided by reps for Nails Inc. For more info view my Disclosure Policy.