The hit UK nail polish brand, Nails Inc, is FINALLY easily available to US Fanatics thanks to their launch at Sephora. Select Sephora stores, including CLE's own Beachwood Place location, and Sephora.com are now carrying the Nails Inc. line.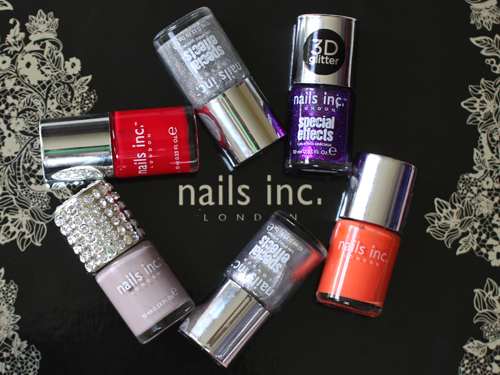 Fourty of Nails Inc most popular nail polish colors along with their Special Effects Crackles & 3D Glitters, Crystal Colours and treatments are headed Stateside and I couldn't be more ecstatic. I've been a fan ever since I fell for their Kensington Caviar Top Coat at Cosmoprof a couple years ago and I'm so happy the line will be more accessible to us.  Keep reading for a closer look of which Nails Inc products are coming to Sephora.

Crystal Colour ($19.50) – Each season, four new colors in the line receive luxurious crystal caps. Each shade is packaged into a
beautiful box, making them the perfect gifts. Current Crystal shades include: Porchester Square (pictured), Charring Cross, Regents Palace, The Thames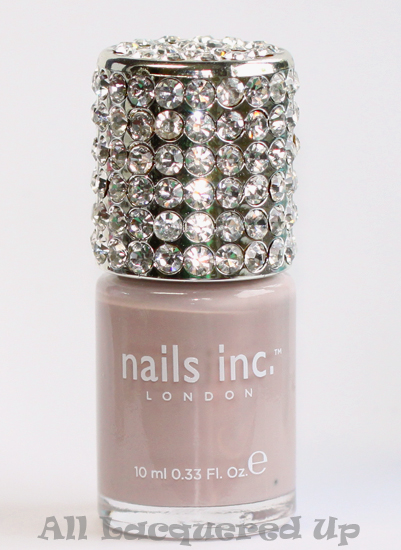 Electric Lane Holographic Top Coat ($10) – This silver holographic glitter shade creates an electrifying look over any shade of nails inc polish.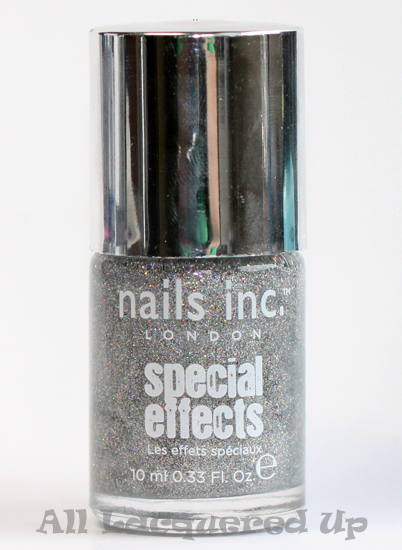 Special Effects 3D Glitter ($9.50) – Three glitter-tastic nail polishes create a show stopping finish.
Sloane Square, Fitzroy Square, Connaught Square, Bloomsbury Square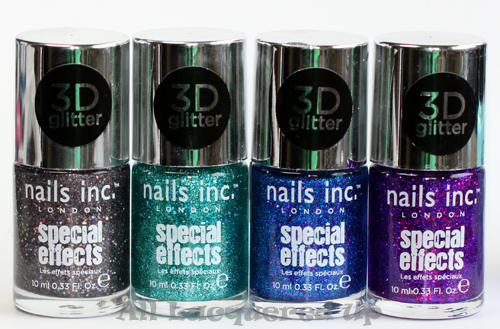 Special Effects Crackle Top Coats ($9.50) – Create a gorgeous nail art effect using our innovative new crackle polishes. Simply apply crackle over your favorite nails inc polish and watch the magic happen. Your base color will appear through the cracks. Shades include: Camden – black crackle, Hoxton – purple crackle, Islington – pink crackle, Clapham – teal crackle, Farringdon – gold glitter crackle, The City – purple glitter crackle, The West End – blue glitter crackle, Hackney – silver crackle
Top Row: Farringdon & Hackney Bottom Row: Islington, Hoxton & Clapham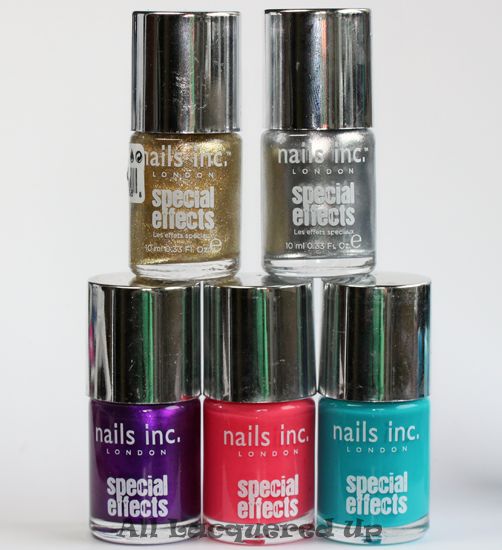 Nails Inc Nail Polish ($9.50) – Professionally formulated, catwalk inspired colors with an exceptionally glossy long lasting finish. All nails inc polishes are named after iconic UK destinations.
Gatwick Matte Nail Polish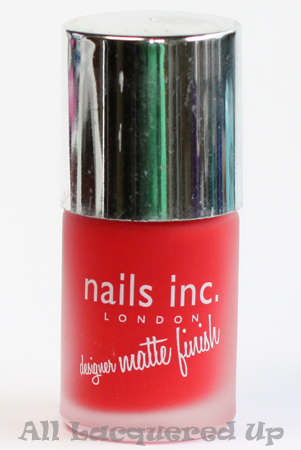 Shoreditch, Brompton Place and St James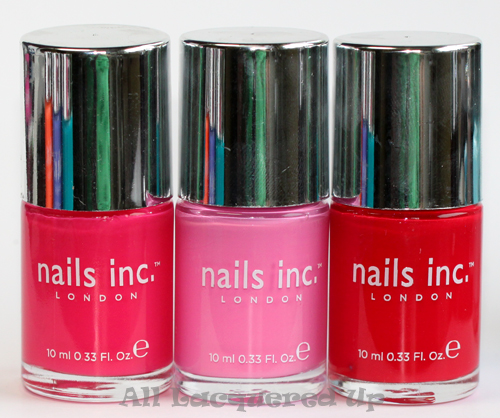 Porchester Place, St John's Wood and Warick Way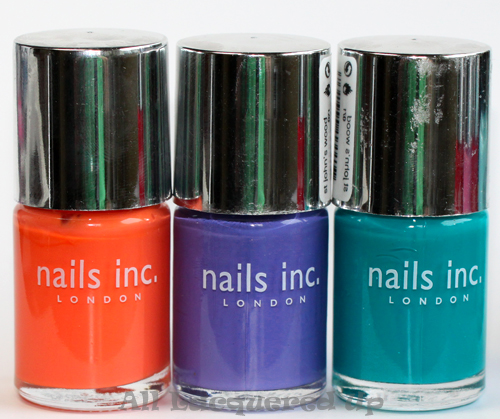 Victoria, Foubert's Place and The Thames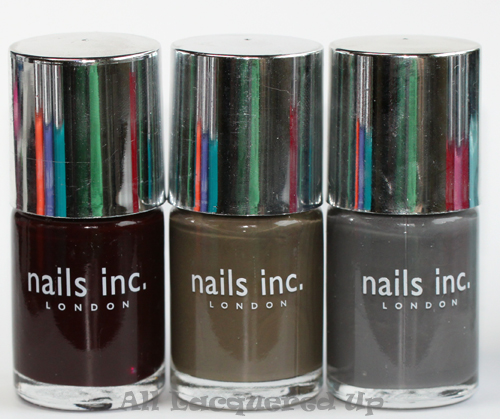 And how cool is this? Sephora is the first to launch the Fall 2011 collection.
The Nails Inc Autumn Winter 2011 Collection includes: Charing Cross – brilliant pure red gloss, Paddington – deep khaki grey, St Pancras – deep red brown and Fenchurch Street – russet cream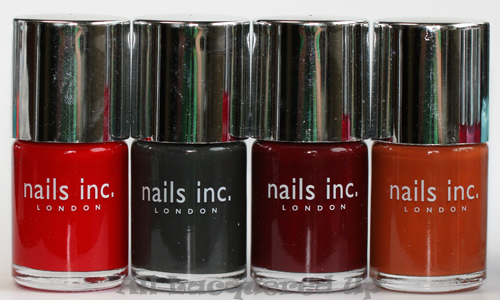 Here is a full list of the shades being carried at Sephora
Basil Street – pale soft toffee
Lanesborough Place – liquid gold
Belgrave Place – deep violet
Lowndes Square – muted grey/lilac
Brompton Place – bubble gum pink
Maddox Street – darkest metallic grey
Brook Street – vibrant classic coral
Old Park Lane – copper liquid metal
Bruton Street – lilac beige crème
Piccadilly Circus – dark pink cerise
Buckingham Street – glitter cerise
Porchester Place – fabulous orange
Cadogan Square – glossy camel
Porchester Square – muted mushroom
Cambridge Terrace – silver shimmer      

.

Savile Row – glossy plum
Carnaby Street – shocking yellow
Shoreditch – hot pink
Chelsea Enbankment – gold glitter
South Molton Street – natural pink
Chelsea Square – rose glitter
St James – pillar box red
Devonshire Row – vibrant lilac
St Johns Wood – soft powder lilac
Electric Avenue – silver glitter
Tate – rich warm red
Elizabeth Street – nude cream
The Boltons – glossy satin red
Floral Street – brilliant white
The Hurlingham – vibrant tomato red
Fouberts Place – cool khaki
The Thames – cool classic grey
Franklins Row – metallic purple
Westminster – true purple
Gatwick – matte red
Victoria – deep dark cherry
Haymarket – duck egg blue
Warwick Avenue – nude pink peach
Heathrow – matte camel
Warwick Way – vibrant teal
Jermyn Street – perfect taupet
Wellington Square – perfect peach
Of course we can't forget treatments. My beloved Kensington Caviar 45 Second Top Coat ($10) and its matching Base Coat ($10) are coming to Sephora along with the Westminster Bridge Matte Top Coat ($10), Kensington Hand Cream ($18) and Vitamin E Cuticle Oil Pen ($10).
Kensington Caviar Base & Top Coat, Westminster Bridge Matte Top Coat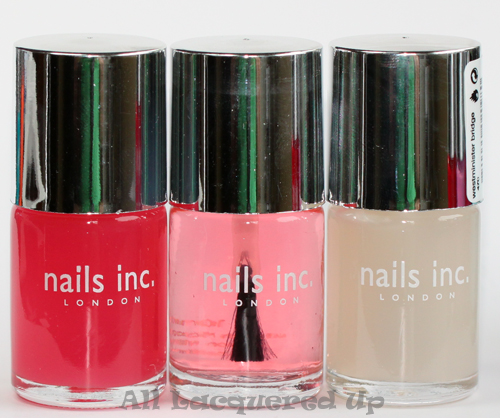 The press information I received included a mention of a special top coat that will launch in October 2011 and it sounds pretty cool. This is the description:
Overglaze Top Coat ($10) - These top coats create a theatrical effect on the nails. Each contains hand cut holographic particles that look spectacular once painted over a solid base shade. Shades include: holographic red and green, holographic electric UV blue and holographic blue and green.
Per a reader request, here is the list of stores that are carrying Nails Inc: SANTA MONICA, ANAHEIM, HOLLYWOOD, FASHION VALLEY, VENETIAN, MIRACLE MILE, STANFORD, BEVERLY CENTER, POWELL STREET, MANHATTAN VILLAGE, BREA, TOWN SQUARE, 86TH AND LEXINGTON, PEARLRIDGE, SANTA ANITA, WASHINGTON SQUARE, DOWNTOWN SEATTLE, MENLO PARK, MALL OF AMERICA, POLARIS, KENWOOD, SOMERSET, COLONIE CENTER, BEACHWOOD, MALL OF LOUISIANA, CHESTNUT ST, FLAT IRON, PRUDENTIAL CTR, 5TH AVE, WATERTOWER PLACE, NATICK, 42ND AND MADISON, WALDEN GALLERIA, SOUTH BEACH, BOCA RATON, AVENTURA, FLORIDA MALL, COLUMBIA MALL, LAKESIDE, EATON CENTRE TRON, RIDEAU CENTRE, PACIFIC CENTRE, 5 TIMES SQUARE, CHERRY CREEK, FASHION PLACE, STONESTOWN, SOUTH SHORE, CHRISTIANA, APPLETON, AMERICANA-GLENDALE GALLERIA
Nails Inc is available now at select Sephora stores and Sephora.com in addition to their home site NailsInc.com.
Are you as jazzed about this launch as I am? Which products do you plan to pick up first? If you're already a Nails Inc fan, share your favorite colors and products with the newbies out there. And make sure you check out my past reviews of St John's Wood and Kensignton Caviar Top Coat with Tate.
Disclosure: Product samples were provided by reps for Nails Inc. For more info view my Disclosure Policy.