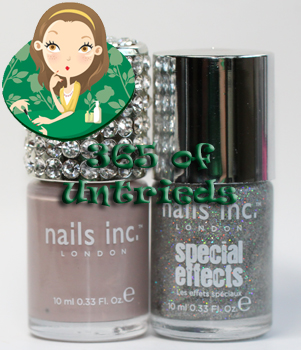 365 of Untrieds is my personal challenge to weed through the polishes in the ALU stash that I've been wanting to try but just haven't gotten around to.
Given my love for all things sparkly I couldn't resist popping open Nails Inc Crystal Colour in Porchester Square. I'm sure there are some who feel an embellished cap is a waste of money but I love having bottles I'm proud to display. It's one of the reasons I adore the shape of Lippmann's bottle. The design is so high end and vanity table worthy that you just want to show it off.
Since I'm leaving for Cosmoprof Saturday morning I'm already in Vegas mode so I blinged out Porchester Square with Nails Inc Electric Lane Holographic Top Coat. Check it out!

Formula & Application: The Nails Inc formula varies in terms of ingredients. Porchester Square is 3-Free and Electric Lane is 4-Free (including formaldehyde resin) and free of camphor, which can be an irritant. The round glass bottles are topped with a thick, round, smooth cap of the same width.  The brush is round and pretty thick with bristles that give some resistance when you try to fan it out.
Porchester Square is thick with pigment but it spreads out easily on the nail and is self leveling, giving great coverage in two coats. Electric Lane contains holographic glitter so it dries with a bit of texture. I used one coat of the Kensington Caviar Top Coat and it wasn't perfectly glassy so I added second coat. I'm sure a thicker top coat would only require one layer.

Nails Inc Porchester Square is a pale mushroom taupe creme. It's a cool toned neutral, like a lighter version of the "greige" hue that has been so big the past couple years.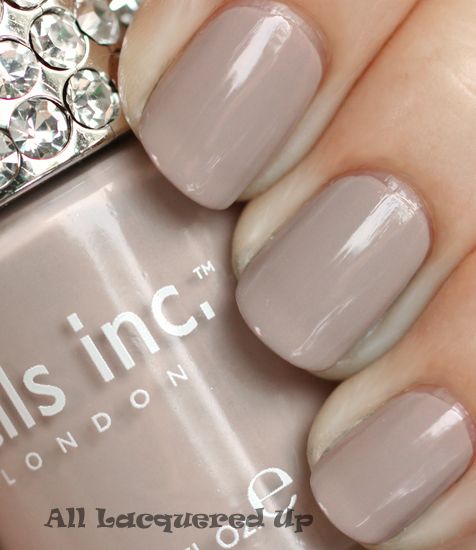 Adding a coat of Electric Lane Holographic Top Coat is like sprinkling the surface with tiny multi-colored twinkle lights and the best part is, the glitter shows up in most lighting. This combo is what I hoped the glitter in Butter London All Hail McQueen The Queen would look like. The particles are "scattered" so they don't create a prismatic or "linear" pattern on the nail. The particles are much larger than China Glaze Wireless but smaller than OPI Paris Couture For Sure, two popular holographic top coats.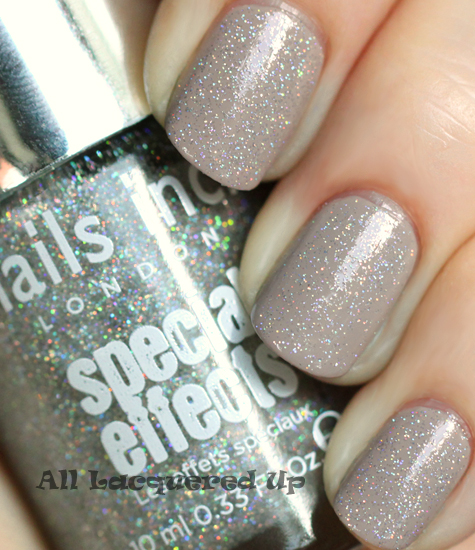 Bottom Line: I have quite a stash of these "new neutrals" but very few of them offer the coverage and ease of application of Porchester Square. Even if it wasn't in special packaging I would want this shade. I can't even begin to describe how full of win Electric Lane is. It's not a super holo so it's a great way to amp up an everyday color without going over the top. The fact that you can see the sparkles indoors in poor lighting makes it even better.
365 of Untrieds Stash/Share Verdict: You can't hear it but I'm chanting "STASH STASH STASH" at home.
Nails Inc Crystal Colour Porchester Square and Electric Lane are available exclusively in the US at select Sephora stores (see full list) and online at Sephora.com. Nails Inc nail polishes retail for $9.50/ea for a .33oz bottle. The Crystal Colour polishes retail for $19.50/ea & the Electric Lane Holographic Top Coat retails for $10/ea.
Thoughts on Porchester Square? Do you like it better with or without Electric Lane? Will you pay more for an embellished bottle? What is your favorite holographic top coat?
Also, if you have any questions you want me to ask your favorite nail brands at Cosmoprof, hop on over to the ALU Facebook Page and leave a comment.
Disclosure: Product samples were provided by reps for Nails Inc. For more info view my Disclosure Policy.