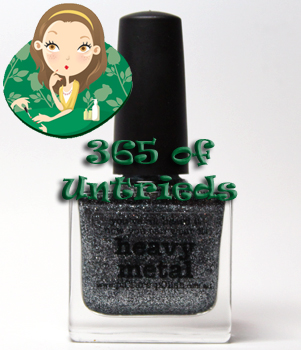 365 of Untrieds is my personal challenge to weed through the polishes in the ALU stash that I've been wanting to try but just haven't gotten around to.
I always feel pangs of guilt when I review a really amazing nail polish that all my international fanatics don't have access to so I love when I'm able to get my hands on polishes from outside the US. piCture pOlish is an Australian nail polish brand and they have quite a diverse color range to choose from.
Thanks to the generosity of the piCture pOlish girls I was able to select three shades from their line to try and the glitter fiend in me was instantly drawn to Heavy Metal.

Formula & Application: piCture pOlish is 3-Free and the stout bottles are topped with rubberized tapered caps. The brush is long, thin and round with flexible bristles that easily fan out flat.  Due to the chunkiness of the glitter, the brush on Heavy Metal felt a bit heftier and didn't flatten out as well as the ones in the other finishes.
In spite of the high level of glitter power, the polish actually flows on the nail relatively smooth delivering great coverage. I only needed two coats. You will need some extra layers of top coat to battle the texture but the finished product makes it all worthwhile.

piCture pOlish Heavy Metal is a burnished silver glitter that appears to have a sheer, silvery grey base but it's so packed with sparkle that it's hard to tell. This reminds me of the Milani One Coat Glitters in terms of coverage and particle shape/size though the color of Heavy Metal is much lighter and brighter than the graphite hue of Milani Silver Dazzle.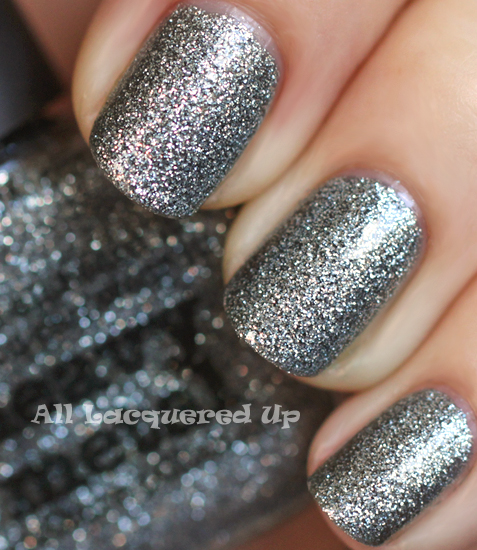 I honestly have nothing to compare this polish to as all my silver glitters are either really sparse and chunky or foils. Misa Dance Fever was the only other actual silver glitter I could come up with and it looks more like the color of aluminum foil than silver.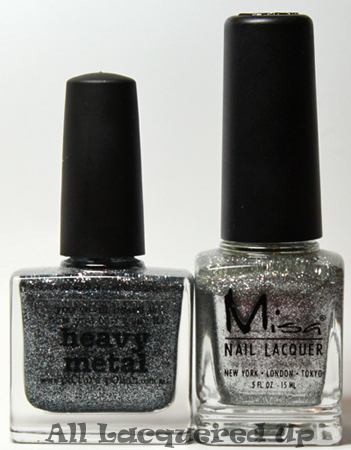 Bottom Line: I have a soft spot for glitters even though I moan about the removal. And please don't tell me about the foil method again. The soak-off/foil method does work but it's time consuming and still leaves me with glitter in my hair, on my face, etc. so I will continue to bitch throughout my glitter usage. Regardless of the downside of glitter, Heavy Metal is gorgeous and will be a standout in my silver drawer.
365 of Untrieds Stash/Share Verdict: In case you haven't already guessed… STASH
piCture pOlish Heavy Metal is available online at piCturepOlish.com.au where they also sell Ozotic Pro. Nail polishes retail for $9.90 AUD which is approximately $11 US for a 11ml bottle. The international shipping cost is the only real bummer as it's not cheap to get the polishes here but I hear the same thing from non-US fanatics who order from our favorite e-tailers so I guess it's all even.
Have you tried piCture pOlish before? Thoughts on Heavy Metal? What are your favorite colors from the brand?
Disclosure: A product sample was provided by piCture pOlish. For more info view my Disclosure Policy.