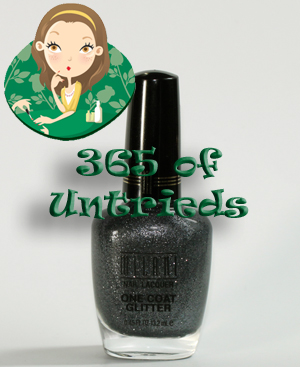 365 of Untrieds is my personal challenge to weed through the polishes in the ALU stash that I've been wanting to try but just haven't gotten around to.
A few months ago actress Marilu Henner appeared on just about every talk show on TV to discuss her amazing memory.  She can remember every day of her life, down to the most minute details.  It's absolutely fascinating to watch her speak about it.  While I've always considered myself to have a good memory, my ability to recall events doesn't even compare.
So what's my point?  Well as I was digging around for my next 365 of Untrieds nail polish, I discovered a CVS bag filled with Milani One Coat Glitters and as soon as I laid eyes on them, I flashed to the night I bought them.  It was unreal how I could picture everything about that night the instant my hand touched the bottle of Silver Dazzle.
It was a Friday in December, the night Black Swan opened in Cleveland and I had just left the theater to get gas.  As I waited at the gas station for my tank to fill I checked Twitter only to see a local Fanatic mention that CVS had displays of the One Coat Glitters out already.  There JUST happens to be a CVS next to the gas station and even though they were about to close I hightailed it over to scoop up one of every shade on display, including the Jewel FX glitters.

Formula & Application: Milani nail polishes are 4-Free (including formaldehyde resin).  The bottles have a tapered, black shiny plastic cap with a long, thick, round brush.  The brushes on Milani polishes are bigger than most and combined with the flexible bristles they allow for optimal coverage of the nail plate.
The only downside here is that the One Coat Glitter formula is pretty thick so it kind of plops on the nail which doesn't really allow for phenomenal control.  Thankfully glitters are pretty forgiving so any uneven brush strokes around the cuticle aren't noticeable from an average distance.
Regarding the "one coat" coverage promise, Milani comes close but doesn't quite hit the mark.  The first coat definitely covers better than most glitter polishes but it's not completely opaque.  I would imagine to get it done in one coat you'd need to apply the polish pretty thick which is usually a formula for chiptastic nails.  Applying two thin-medium coats will give the best results.

Milani Silver Dazzle is a mesmerizing graphite sparkler.  A mixture of silver, charcoal and black micro-glitter in a clear base, the finished result looks like you dipped your nails in black sand or coated your tips in pulverized black diamonds.  As much as I bitch about glitter removal, even when doing soak-off method, this one is worth the trouble.  Love love love it!
One Coat (no top coat)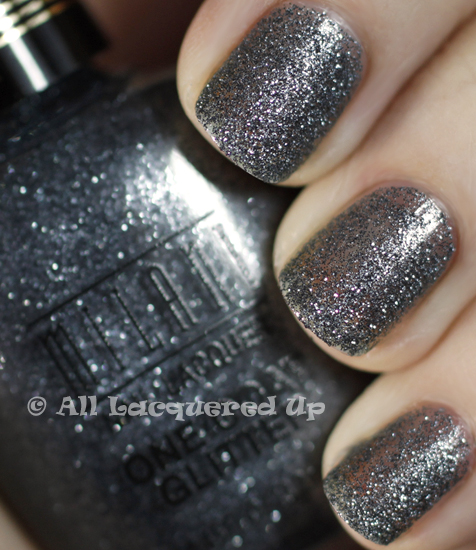 Because the polish dries with a bit of texture I recommend using two layers of top coat.  I used two coats of Prolana Quick & Slick (formerly Olan Labs) and I can still feel the glitter but the shine is amazing.  With one layer of top coat it looks a bit dull.
Two coats with two layers of Prolana Quick & Slick top coat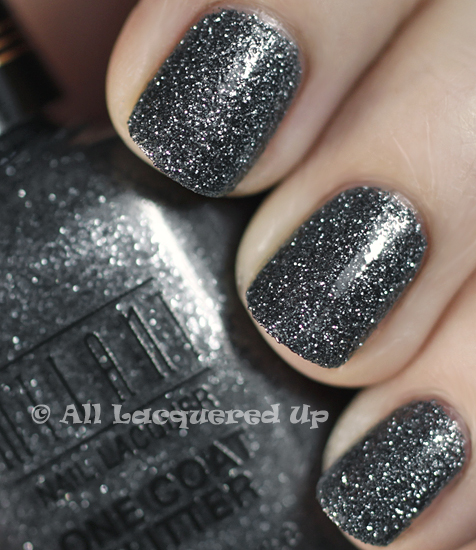 Bottom Line: I have to say, Milani hit a home run with the One Coat Glitters, even if they don't necessarily live up to the name, and Silver Dazzle is definitely my fave color in the five shade lineup.  I'm already planning on using it this summer for a pedicure.  The edginess of the color keeps it from feeling too immature.  Glitters can be hard to pull off but I feel like this one can be worn by more than just tweens without garnering a sideways glance.
365 of Untrieds Stash/Share Verdict: STASH, for sho! (I'm so street) While the other One Coat Glitters may not take up residence in my collection, Silver Dazzle is a no brainer.
Milani is sold in drugstores and mass retailers nationwide including CVS, Kmart, Target and Walgreens. To locate a retailer near you visit MilaniCosmetics.com.  Milani nail polishes retail for $4-5/ea depending on the store but can often be found on sale BOGO 50% off.
Thoughts on Silver Dazzle?  After the barrage of glitters in 2010 are you still at the glitter party or have you moved on?  Have you tried the One Coat Glitters?  What was your experience with them?
Disclosure: I purchased Silver Dazzle at my local CVS.  For more info view my Disclosure Policy.