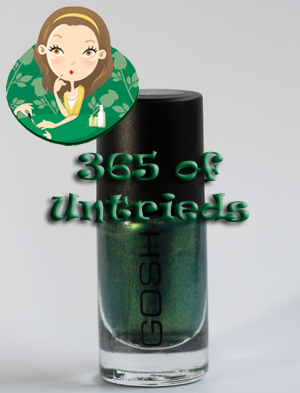 365 of Untrieds is my personal challenge to weed through the polishes in the ALU stash that I've been wanting to try but just haven't gotten around to.
My friend Steph is married to a Canadian so they travel across the border quite often visiting family and since she is a fellow polish fanatic she asked me a while back if there are any brands she should look for.  I immediately said GOSH.  GOSH is a drugstore brand out of Denmark that I had only read about but never seen in person.
At the time, probably a year ago, I had no clue GOSH shipped to the US and with no plans to visit Canada I asked Steph to pick me up a bottle of something "fun."  Knowing my penchant for green polishes she brought back this beauty, Golden Dragon.

Formula & Application: GOSH nail polishes are 4-Free (including Formaldehyde Resin).  They are also a cruelty-free brand.  The bottles are round with a matte black plastic cap.  The brush is thin and round, similar to Essie's.  I found the formula to be a bit thick and goop-y.  Considering that it felt like I was laying down a Nfu Oh holo, without the Aqua Base, I expected the finish to appear lumpy but it dried smooth and flat.  The polish itself was well pigmented going completely opaque with two thin coats.

GOSH Golden Dragon photographs terribly.  In person it is vibrant, a technicolor blue-based green with golden shimmer.  Staring at it, I am immediately transported to our last cruise, looking out on the Caribbean Sea drinking in the beauty of the deep, murky water with sun rays dancing along the waves.  In direct sunlight the green pearl and golden glints take the stage while indoors, the turquoise base dominates.  My only complaint is that when you aren't in direct sunlight, the color falls flat.  The depth isn't there and the polish feels a little boring.

Bottom Line: The gold veining on the bottle drew me in and because I'm a sucker for all things green, the color is a win.  I love its chameleon-esque characteristics though I wish it had a bit more personality under everyday indoor lighting.  The gold really is the star here but I hate that it only peeks its head out in the sun.
365 of Untrieds Stash/Share Verdict: I'm torn.  Because it's a gift from a good friend I feel compelled to keep it but I don't know that I would wear it again so maybe it would be happier in another home.
GOSH nail polishes are sold online at GOSHAmericas.com though Golden Dragon is not listed.  My pal Eileen from Miss Whoever You Are reported that GOSH is now being sold in Duane Reade in NYC so I'm hoping that means it's coming to drugstores nationwide.  To locate GOSH in your country visit GOSHCosmetics.com.  GOSH nail polishes retail for $9.50/ea.
Have you tried GOSH polishes before?  Thoughts on the colors and formula?  Have you found GOSH at other US retailers?  Do they have Golden Dragon on shelves?  If you have Golden Dragon would you suggest I "stash" it or "share" it?
Disclosure: Golden Dragon was gifted to me by a friend. For more info view my Disclosure Policy.