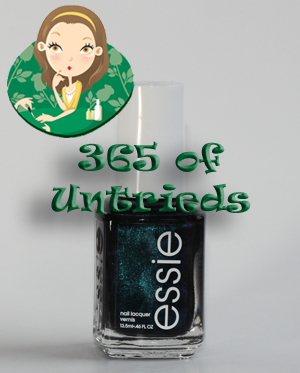 365 of Untrieds is my personal challenge to weed through the polishes in the ALU stash that I've been wanting to try but just haven't gotten around to.
In December we talked about Essie entering the mass retail market with an edited selection of their core collection colors and new retail exclusives.  "Retail exclusives" made my ears perk up so I was curious to see what kind of colors the mass consumer would get versus what Essie offers to salons.
To be honest when the L'oreal buyout of Essie became public I was skeptical of how this type of change would be received.  Unlike a lot of salon brands that have ended up filtering into mass retailers via the gray market, Essie was one that I rarely came across.  At least in my tiny piece of the universe.  But I have yet to hear a big uproar from the salon community about L'oreal bringing Essie to the mass crowd.
Anywho, as soon as I spotted my first Essie retail display I zeroed in on the blues and greens and came home with Dive Bar and Trophy Wife.  Of course I rush to buy these colors and where do they end up?  Good question.  This past weekend I was cleaning out a drawer looking for receipts (oh joyous tax season) when I found the polishes still in the drugstore bag.  I must have hid them in a fit of de-cluttering before they made their way to the polish room.  I decided to give Essie Dive Bar a whirl first.

Formula & Application: Essie nail polishes (including the retail line) are 3-Free.  The formula hasn't changed even though the packaging has.  The bottle still includes the Essie molded logo on two sides but there is now a clear sticker with white lettering on one of the smooth sides.  Also, the cap doesn't include the embossed "e" on top.  Everything else seems the same with the exception of the volume of polish.  Salon Essie bottles list the volume as .5oz and the Retail Essie bottles say .46oz.  Even though the bottles look the same size there a difference of 1.5mL.  Hmm…
***UPDATE: I was informed by a representative for Essie that there is no difference in the fill amount between Retail and Salon packaging. Due to a change in regulations brands are now required to list fill levels using 2-digits instead of rounding to a single digit. Essie bottles have always contained .46oz of polish and the bottles stating .5oz are being phased out.
Dive Bar had that somewhat watery feel that I've come to expect from Essie.  It kind of slides on the nail and feels a bit squishy but, not to worry, the pigmentation is all there.  It's an easy two coater.

Essie Dive Bar has an oil spill-esque look to it in the bottle.  The tinge of purple on the edge of the bottle is a great indicator that there's more going on in this party than one would expect.  At its core, Dive Bar is a blackened teal with metallic shimmer.  It teeters on "almost black" territory but I'd say it's just light enough to avoid that moniker. I love that it can lean either blue or green depending on the light.  And that hint of purple, you can see it hovering around the edges of the nail like a frame.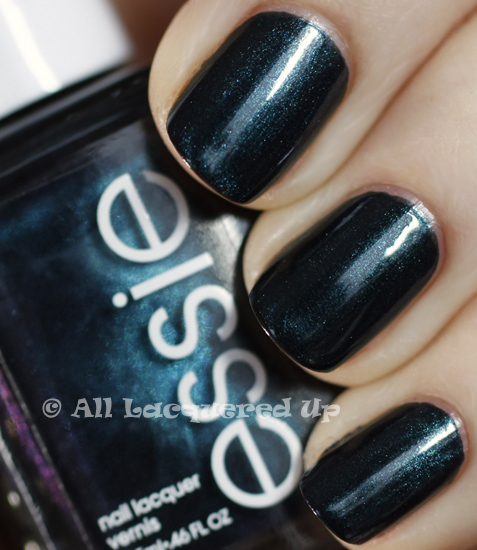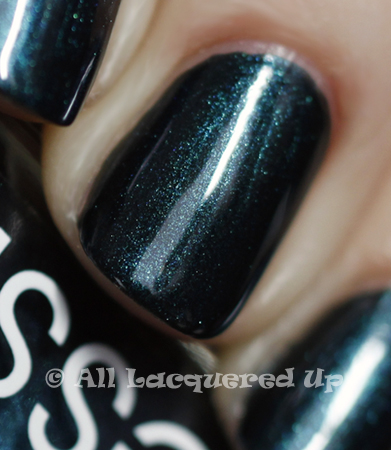 Bottom Line: I'm a bit puzzled by the polish volume discrepancy between the salon and retail bottles but that's not enough to turn me off.  I rarely go through a bottle of polish so the 1.5mL isn't a deal breaker but I think there should be consistency in size if the price is the same at both the retail and salon level.  Outside of that, I'm loving that there are some shades, like Dive Bar, in the Retail Exclusives that appeal to my more adventurous sense of color.
365 of Untrieds Stash/Share Verdict: Oh it's already filed away in my Helmers.  STASH!
Essie Dive Bar is part of the Essie Retail Exclusives that can be found at mass retailers nationwide. Essie nail polishes retail for $8/ea for a .46 oz bottle.
Are you loving or hating Dive Bar?  Who else picked up a bottle?  Which of the other Retail Exclusive shades have you tried?  I'd love to hear your thoughts on them and the whole Essie Retail concept.
Disclosure: I purchased Essie Dive Bar at my local grocery store.  For more info view my Disclosure Policy.