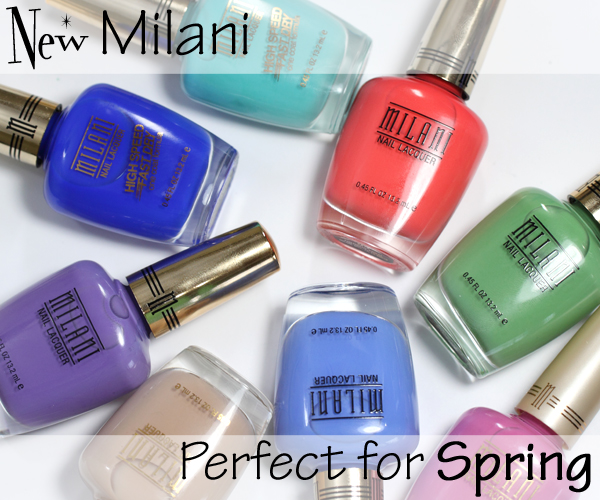 Milani recently added a bevy of new shades to their nail polish lines, 25 to be exact. Their classic Nail Lacquer, Gold Label and High Speed Fast Dry brands now include even more brights, neutrals and party-ready glitters. Among the new color options, these eight creme hues just scream spring.  

Formula & Application
Milani nail polish is 5-Free (Formaldehyde, Toluene, DBP, Formaldehyde Resin, Camphor). The tapered glass bottles are topped with long, slim plastic caps that house either a long, slim, round brush or long, narrow flat brush (Gold Label and High Speed Fast Dry).
While I prefer the density and firm-though-not-stiff bristles of the flat brush, the round brush is flexible enough to fan out over the nail.
The pigmentation on all the polishes, regardless of the line, is top notch. All applied smooth, self-leveled and dried glossy with two coats. Blue Zoom is the only exception. Even though the High Speed Fast Dry bottle claims "one coat formula," in this instance, the polish was somewhat sheer and watery, requiring three coats.

Milani Aqua Brisk is a striking aqua creme. Between it's super saturated color and the High Speed Fast Dry pigmentation, the consistency a bit thicker than the other polishes but still easy to work with.
Milani Blue Zoom is very close to being a neon cobalt. Of course, that makes it difficult to photograph, as a lot of neon and cobalt shades are. It doesn't dry satin or matte, it's super glossy, and it's not super sheer which is why I'm not categorizing it as neon. I've been wearing it for a few days and I can't stop staring!
Milani Colorful Coral is another almost-neon shade. In person, it's a pretty intense, pink-tinged coral. Way more vibrant than it appears here.
Milani Cupid's Touch is a cool, purple-y pink creme. It's not quite radiant orchid territory but it lives in the vicinity.
Milani Power Periwinkle is just as the name implies, a mid-tone periwinkle that leans more blue than purple.
Milani Showy Sea-Green is more of a bright spearmint than sea-green as there isn't a lot of blue in it, which is what I usually associate with that color.
Milani Vanilla Almond is a café au lait (heavy on the lait) beige creme. It's one of those neutrals with the perfect blend of colors that keep it from being too peach, too pink or too muddied.
Milani Vivid Violet is a rich African violet hue. It has a lot of depth with just a touch of velvety softness.

These new Milani Nail Lacquer colors began rolling out to stores in February and are available at drugstores and mass retailers nationwide, including Drugstore.com. Milani nail polish retails for $3.99-4.69/ea for a .45oz bottle, depending on the line.
***Also, from now through April 18th at 4:30pm PST, MilaniCosmetics.com is offering 25% OFF all nail polish. Use code MILANINAIL25.
Are you a Milani fan? Which formula do you prefer, Classic, Gold Label or High Speed Fast Dry? Do you plan to pick up any of these new shades?
  Disclosure: Product samples were provided by reps for Milani. Affiliate links appear in this post. When you purchase through an affiliate link, you help support this site. For more info view my
Disclosure Policy
.