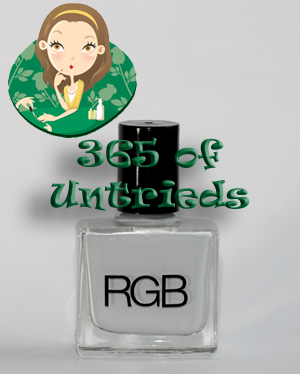 Welcome to the launch of 365 of Untrieds my year long nail polish challenge. I've been inspired by one of my favorite bloggers, Melissa from The Daily Nail to take on the task of a daily blog project.  365 of Untrieds is just as the name implies, a series about all the polishes in the ALU stash that I've been wanting to try but just haven't gotten around to.

Whether it's something I've been meaning to wear but haven't made time for, a polish I bought on a whim and forgot about or a color from a collection that I didn't have the time to review, this will be my way of getting through my overwhelming stack of untested polishes to help me find new loves and weed out unnecessary bulk.

I'm kicking off the challenge with a nail polish from RGB Cosmetics that has been sitting on my desk for way too long.  It's a shade I was so excited to try when it arrived in the mail but I kept pushing off in favor of other colors.  So to stop it from mocking me on a daily basis, I give you RGB Dove.

Formula & Application: RGB Cosmetics is a 4-Free brand (including Formaldehyde Resin).  The square bottles contain the same amount of polish as Chanel or RBL bottles but they are much more compact in size.  The short, round, shiny black cap is about the width of my thumb and I find it relatively easy to control polish placement but would prefer it to be slightly longer.  The brush is short, round and average in width.  The bristles are very flexible which allows for the brush to fan out and cover a good amount of the nail plate.
Considering how light the color is I expected the polish to either be thick, well pigmented and streaky OR thin and semi-sheer.  I was pleasantly surprised to find that it walks that magical line between thin and thick all while being highly pigmented and self leveling.  It was a dream to apply and flowed on the nail in two easy coats.  Color me impressed.

RGB Dove is the pale grey creme I've been dreaming of ever since my first time at New York Fashion Week.  It was February 2008 and I saw a prototype of a color that was to be included in the CND Fall collection.  It was the perfect dove hue.  Unfortunately the color never launched and I've been yearning for it ever since.  RGB Dove satiates that craving and then some.
The grey trend has been coming and going over the past few years and considering that both Zoya and China Glaze included the shade in their spring collections, it's most certainly "on" at the moment.  Dove is the palest of the current greys on the market and I'm all about it.  It's light enough to be work safe but edgier than your average neutral.
What I love is that unlike a lot of greys it doesn't lean into overly blue or green territory.  Even after sitting on my desk for months it hasn't separated at all to reveal a blue/green base.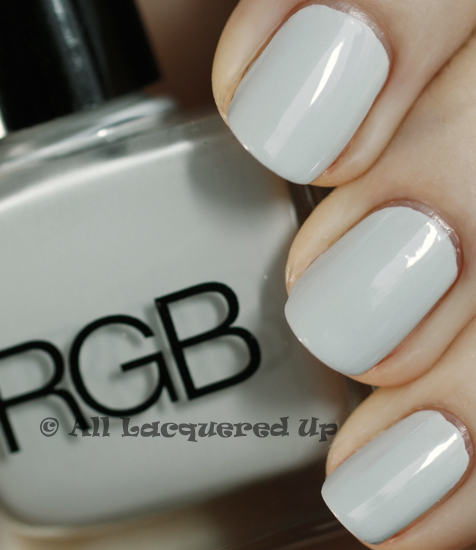 Bottom Line: I have been impressed with all the RGB polishes I've tried and Dove is no exception.  Consider me a fan.  Their formula is top notch and their color range has continued grow past their original ten basics to include some very fashion forward hues.  Check out some of my past RGB Nail Polish reviews to see for yourself.
365 of Untrieds Stash/Share Verdict: I'm definitely keeping this one in the STASH.
RGB Dove Nail Polish is available online and at select retailers. For shopping information visit RGBCosmetics.com. RGB nail polishes retail for $14/ea for a .4oz bottle.
Thoughts on RGB Dove?  Are you into a grey this light?  If you own Dove was it a keeper or a giveaway?  Does the "365 of Untrieds" project get a collective thumbs up or thumbs down from my fellow Fanatics?
Disclosure: A product sample was provided by RGB Cosmetics. For more info view my Disclosure Policy.