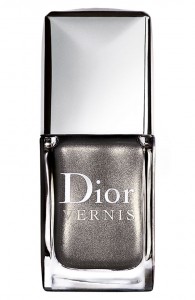 After getting all swooning for Dior's Silver Purple last fall I was excited to see what Spring would bring.  Here we have a variation last season's smokey purple toned silver with the aptly named Silver Pearl or Gris Perle depending on the country.I must admit when I first saw promo pics of Silver Pearl I wondered if we had a Chanel Kaleidoscope dupe on our hands.  Don't we all wish for that?  Then I saw it in person and was all, "I've seen this before."  I wasn't even all that jazzed to test it.  *insert foot in mouth*  I'm totally eating my words now that I've gotten around to trying it.  Check out this bolt of silver lightening after the jump!

Just the ease of application and heavy pigmentation alone make Silver Pearl a winner in my book.  The Dior formula is top notch in this one.  Even though it's not a high shine foil metallic, it's not a brush stroke monster either.  You get smooth, even coverage in two coats though the heavy handed could probably get away with one.
Silver Pearl is definitely unique to me in that it has this aged brushed look to it.  Unlike Orly Shine from the Foil FX Collection, this isn't a brand new necklace on its first day out of the shop.  This has more of a pewter feel though it reminds me of this amazing gray pearl necklace I spotted at a jewelry store in St. Maarten, which is my fave place to shop for gemstones (hello duty free!).
To me this color falls somewhere in the spectrum between charcoal and a true silver and as much as I WISH I could have found you a dupe, I'm at a loss.  The closest I could come is the base color in Lippmann Marquee Moon though it's still not a twin.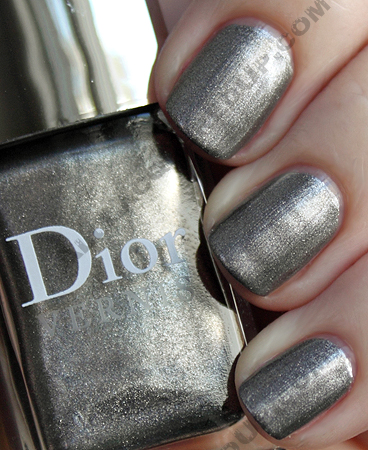 Bottom line: If you love silver, you'll want to scoop up Silver Pearl for its excellent application and unique color.  If the Dior price tag is a bit too hefty, don't feel guilty if you pass this one by.
Dior Silver Pearl retails for $21 and is available now at Dior.com and Nordstrom.com.
Has anyone taken the plunge on Silver Pearl yet?  What do you think of it?  Has anyone found a good dupe for it?
Disclosure: A product sample was furnished by Dior. For more information read my Disclosure Policy.