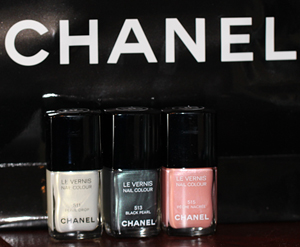 My Fedex guy is a champ but he always comes so late in the day. I've been stalking my door waiting for this lovely package to arrive and when it finally did, there was not a flicker of daylight to be found.

Regardless, I couldn't wait to play with the new Chanel Spring 2011 polishes, especially Black Pearl.  Even though I had to resort to using artificial lighting, I figured since the collection went on sale this week you'd appreciate a quick peek before it sells out.  Not to worry a full review of the collection will be up once I have some decent light.

In the bottle I could see little flecks of green shimmer peeking out at me creating exquisite oil slick ribbons in the graphite base. On the nail Black Pearl certainly doesn't disappoint. It feels like Vert Sacrilege's murkier sister though it isn't plagued with VS's opacity issues. What you see below is two medium coats of polish and it completely covered the nail which makes me wonder what the manicurist at the Spring 2011 collection show was doing to result is such a poor looking manicure.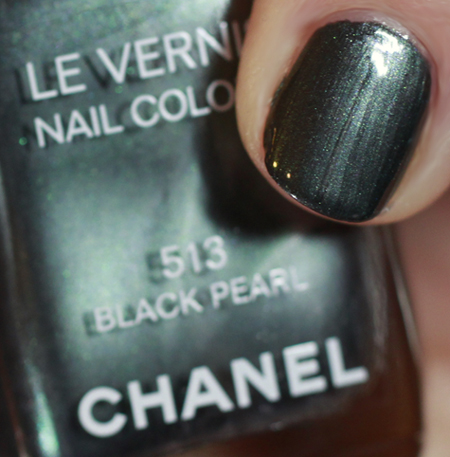 Overall I'm pretty jazzed with the color based on what it looks like at night. I can't WAIT to see it in the daylight tomorrow and see if it holds its luster. I think Black Pearl may have completely wiped out my nail polish depression. Way to go Chanel!
Chanel Black Pearl and the rest of the Spring 2011 makeup collection is on sale now at Chanel.com and should be at Chanel counters soon if it isn't out already. The Spring Chanel nail polishes retail for $23/ea for a .4oz bottle.
Early thoughts on Black Pearl? Any comparison ideas you want to throw out? Who already bought the Spring colors? Did you get them all or just Black Pearl?
Disclosure: A product sample was provided by Chanel. For more info view my Disclosure Policy.