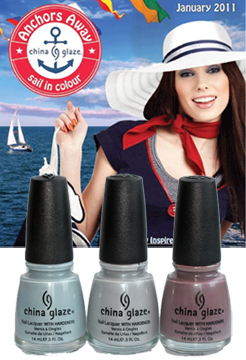 Ever since I used China Glaze Sea Spray, from the Spring 2011 Anchor's Away collection, in my Emmy night manicure I've been counting the days til Spring.

Normally Spring nail color collections leave me yawning but I'm not so patiently waiting to get my hands on the bold brights and delicate cremes that make up the nautical inspired collection.  The sailor in me can't wait to replicate the mani/pedi combo I saw at Cosmoprof using Life Preserver (orange) and First Mate (navy).  It's a match made in nail heaven.

To help pull me out of my nail polish funk I turned to the few Anchor's Away colors I have on hand.  So while we wait to see the collection in full I have a little sneaky peek at a few shades; Below Deck, Pelican Gray and Sea Spray.

A full review including formula & application and comparisons with my collection review.  For now, let's just oogle the colors.
If you've been reading ALU since September you already saw Sea Spray but looking back I wasn't overjoyed with my initial photo.  Plus my nails were way too long for my liking.  So here's take 2 of sky blue-grey creme.  If you look up close you'll see the faintest hint of shimmer in Sea Spray but it dries pretty creamy, sort of like how Chanel Riva has shimmer in the bottle that basically disappears on the nail.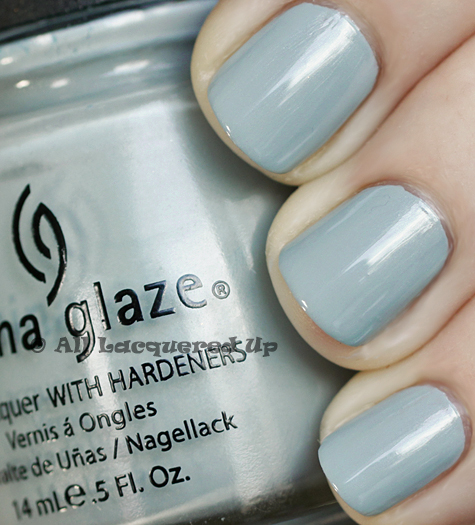 Pelican Gray is a slightly lighter version of one of my all-time fave pale grays, Carolyn New York Handball Courts. CNY is out of business so I'm REALLY happy to have a new dove gray that I can recommend.  Someone on Twitter asked me for light gray cremes recs from the major brands and I couldn't think of any except Pelican Gray.  While the shimmer in this one is more apparent, for all intents and purposes it's a creme.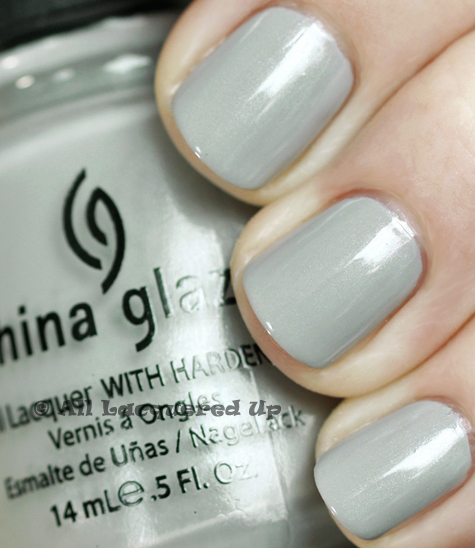 Below Deck has been getting a lot of buzz because it's intended to be a Channelesque dupe.  Reps from China Glaze say Below Deck is the closest they could get to replicating the discontinued and beloved muddled mauve creme.
What's funny is I remember when I first saw Channelesque on the MUA Nail Board I thought it was FUG and never bothered to buy a bottle.  I always think of my MUA pal Mickster who loved it and I just didn't get it.  Over the years as my tastes have evolved my feelings have changed though I'm not sure why.  I still find it kind of fugly but in a fashion-y way.  Like a dog that is so ugly it's cute.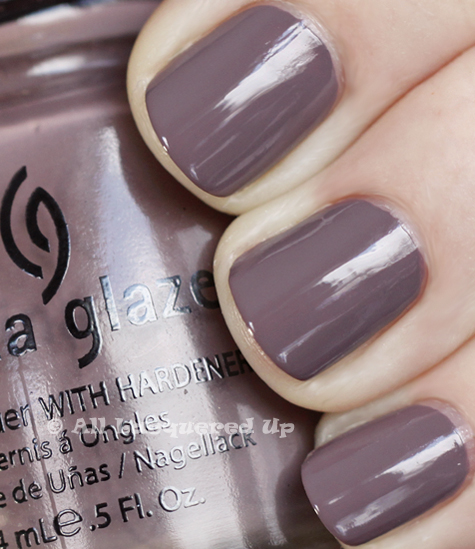 China Glaze Anchor's Away launches in February 2011 but I would expect to see it online and in stores, like Sally Beauty & ULTA, in late January as long as there are no production/shipping delays.
So what do we think Fanatics?  Are you getting excited for the Anchor's Away collection?  What shades are you most looking forward to?  What do you think of Below Deck/Channelesque? Is it a color you're happy to see come back?
Disclosure: Product samples were provided by China Glaze. For more info view my Disclosure Policy.