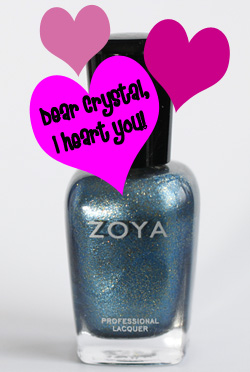 I've been experiencing a major nail polish depression of late.  I'm having issues finding polishes that truly thrill me to my core.  It's not that I'm not enjoying polish or anything but I haven't had too many OH.MY.GOD. moments this fall.

I don't know what it is but I feel like everything "new" that comes out is something I've seen before.  That is until I put Zoya Crystal on my nails.  I didn't just have an OMG moment.  More like an OMFG IT'S BEAUTIFUL moment.  I'm so smitten with the color I've worn it three, THREE, times.  Once for eight days and it still looked fab!  And if that's not telling of my adoration, I don't know what is.

Crystal is the star of the Zoya Flame collection for Winter 2010 and if you keep reading, you'll see why.

Formula & Application: Zoya nail polish is 4-free, including Formaldehyde Resin.  The rounded square bottle has a smooth black plastic cap that is tapered for easy handling.  The brush is short, round and very flexible though it doesn't easy fan out.  Three stroke coverage is a challenge on wider nails, like thumbs, but it applies the polish so evenly that isn't really a factor for me.
The formula is a bit thin so it needed three coats but I assume the reasoning behind that is to keep the particles suspended.  Regardless, it evened out to a flawless finish with no patchiness or imperfections to be found.  Removal will leave you with some glitter fallout on your skin if you aren't meticulous but that seems to be the deal with foils.

Crystal is an icy blue foil finish polish packed with irregularly shaped gold foil glitter. It's the gold glitter that really makes this something special. Is it just me or do you agree that it feels like Crystal was inspired by OPI Absolutely Alice.  Though instead of being burdened with chunky glitter, you get a smooth, highly reflective surface with a more glacial, wintry look.
Natural Light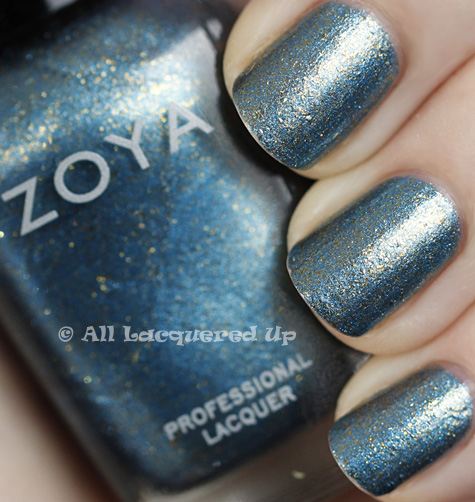 The same way the China Glaze Bahama Blues collection (one of my all-time faves) was a great contrast to the gray gloom of winter, Crystal has that same refreshing feel. Not to sound like a commercial but it's like biting into a York Peppermint Pattie, for your nails.
Artificial Light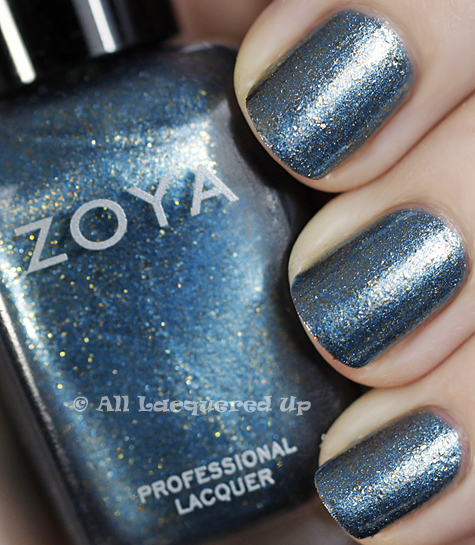 Comparisons: Thanks to Michèle from Lacquerized, I learned that Crystal is a dupe for OPI Reflecting Pool. I've been hearing about that color for quite some time now but haven't been able to get my hands on it. Fortunately, now I don't need to waste my money trying to get a bottle of the coveted European exclusive shade.

Bottom Line: If you don't rush out and buy a bottle of Crystal, I don't know what's wrong with you.  In all seriousness, it's an amazing color and one of my faves of 2010, not just Fall/Winter 2010 but the entire year.  If I didn't have thousands of bottles of polish wanting to be worn I would don it all winter long.
Zoya Crystal is part of the Winter 2010 Flame collection and is available now on Zoya.com. Zoya nail polish retails for $7/ea for a .5oz bottle.
Am I alone in my Crystal obsession?  Who else has joined the fan club?  If you haven't picked up a bottle yet, will you?  Euro Fanatics, if you have both I'd love to know if you found any differences between the two.
Disclosure: A product sample was provided by Zoya.  For more info view my Disclosure Policy.