A few weeks back I mentioned that Rescue Beauty Lounge founder Ji Baek would be launching a blog on the site. It's LIVE!  Bookmark blog.rescuebeauty.com or add it to your feed readers.
Even better, the voting to bring back TWO discontinued colors is up and running. You have from now through December 10th to vote for your favorite DC'd polish from the following choices: Atame, Bikini Bottom, Black Russian, Bruised, Concrete Jungle, Diddy Mow, Glamourpuss, Killa Red, Locavore, Mismas, Opaque Nude, Orbis Non Sufficit and Purple Haze.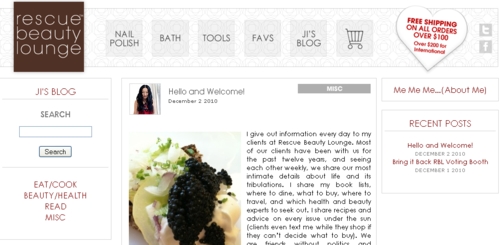 At the moment Purple Haze is in the lead with Bruised just behind it. The only colors from that list I don't have are Killa Red and Atame but I can live without either one. Which two colors do  you want to win?