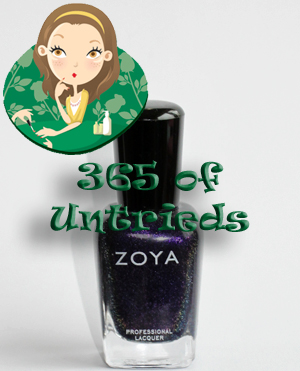 365 of Untrieds is my personal challenge to weed through the polishes in the ALU stash that I've been wanting to try but just haven't gotten around to.
I've seen a few comments from readers saying they are disappointed that I won't be reviewing new nail polish collections.  I wanted to reassure you all that that isn't the case.  Just because I am launching this 365 project DOESN'T mean that I won't be reviewing current collections.
The Zoya Wicked collection launched in Fall 2010 as a set of six sparkling shades with names matching the Dancing With The Stars pro dancers.  While the collection was pretty, only two colors really stood out to me, Edyta and Julieanne, a smokey olive green and jewel toned purple.  Being that my favorite colors are green and purple, in that order, it's really no surprise that those polishes called out to me.
Alas, they've been sitting since Fall in my "to be worn" bin and haven't received the love they deserve.  Since I'm pretty season-less in my manicure choices I figured today is as good a day as any to give Zoya Julieanne a whirl.

Formula & Application: Zoya is a 4-Free brand (including formaldehyde resin) plus they leave out camphor, which can be an irritant.  Their signature Italian glass bottles have a tapered, shiny black plastic cap that rests comfortably between the thumb and index finger while polishing.  The brush is short, round and medium in girth with flexible bristles that allow for ease of control.
The Zoya formula is thin with a good self-leveling flow though that means the polishes generally require three coats.  In Julieanne's case this did not hold true.  The color was well pigmented enough to only require two coats.  One thing to consider with Zoya nail polishes is that they do not play well with top coats containing CELLULOSE ACETATE BUTYRATE (e.g. Seche Vite) so I've found the best wear comes from using their Color Lock System.  For other top coats contain that ingredient, refer to my Zoya Ivanka Wear Test post.

Zoya Julieanne is a blackened grape glitter.  When you apply the first coat you see the burple (bluish purple) jelly-esque base which reminds me of Milani Totally Cool. Adding a second coat electrifies the color as the purple and lavender flakie style glitter steal the show.  If there's any polish that could possibly be a dupe for Julieanne it's Orly Out of This World from the Cosmic FX collection.  In the bottle they both reveal a golden glimmer that promises duo-chrome goodness but that doesn't translate to the nail with Julieanne.  I would say that is the only difference between the two.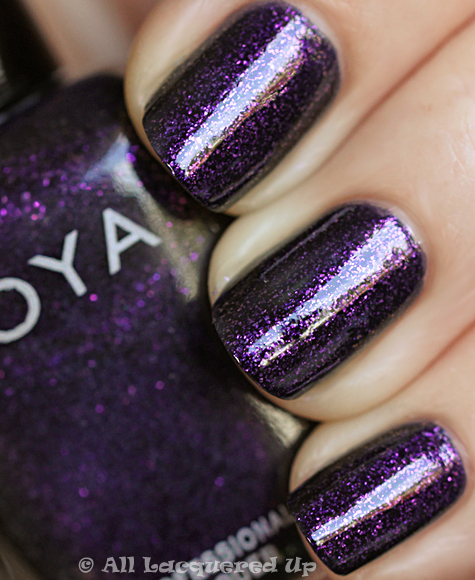 Bottom Line: Considering the high price tag that came with the Cosmic FX collection and Zoya's more affordable price point, of the two I would definitely get Julieanne.  The color is stunning and rich with a ton of depth.  If you like sparkle but not full on glitter and purple is in your nail color wheelhouse, you won't be disappointed.
365 of Untrieds Stash/Share Verdict: Undoubtedly this will stay in my STASH. It's a total win.
Zoya Julienne is available online at Zoya.com and at salons and spas nationwide.  Find a retailer near you on the Zoya website.  Zoya nail polishes retail for $8/ea for a .5oz bottle.
How many of you took the plunge on Julieanne last fall?  If you haven't, will it be added to your Zoya shopping list?  If you have both Julieanne and Orly Out of This World, which do you prefer?
Disclosure: A product sample was furnished by Zoya. For more info view my Disclosure Policy.