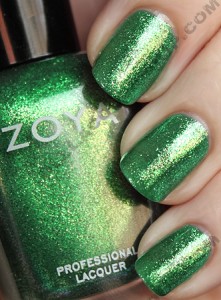 The vast majority of you raved when I posted the Zoya Sparkle collection (shipping April 1st) but a small minority of you expressed concern about chipping and quality of wear with Zoya's formula.  This is not the first time I've heard this.  In fact my salon told me they stopped using Zoya because of this issue.

Personally, I've never had anything but fantastic wear from Zoya polish using either their Color Lock System or an outside brand of base & top coat.  A long time ago I showed you a wear test using the Zoya system but I decided it was time for an update using non-Art of Beauty products.

See the results and discover what ingredient could be at the root of your problems, after the jump!

I applied Zoya Ivanka, rather sloppily, before a party a little over a week ago.  Using Nubar Foundation Base Coat and Color Club 0-60 Speedy Top Coat I wore Ivanka for SIX DAYS!  In fact because I am just that lazy I'm still wearing it and on Day 10 and I only have two minor chips and a little tip wear.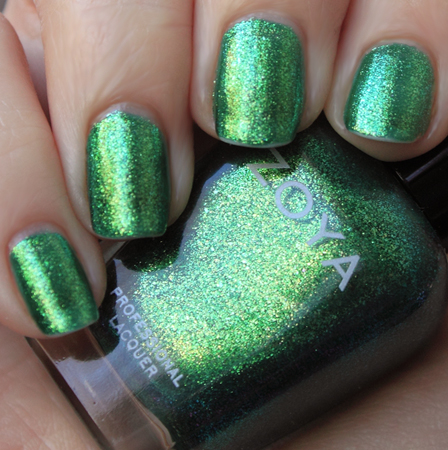 So what's the key?  It's something I posted about in my original wear test almost three years ago.  It's all about an ingredient called CELLULOSE ACETATE BUTYRATE. Any base coats containing it will prevent their polish from adhering and top coats with the ingredient must be carefully formulated to work with Zoya lacquer. Any guesses what ingredient is in the majority of quick dry top coats?? Ding, ding ding!!
I did a quick inventory of my base & top coats and the only base coat I can find containing Cellulose Acetate Butyrate is Orly Tough Cookie so for the majority of you with Zoya wear problems, it's time to start looking at your top coats. Seche Vite and Poshe both contain the ingredient as does Dazzle Dry, China Glaze Fast Forward, CND Air Dry and butter London Hardwear.
The majority of my top coats are either quick dry or they don't have labels so the ingredient list went with the box but here are a few top coats to try: Color Club 0-60 Speed Dry Top Coat, China Glaze No Chip Top Coat, CND Super Shiney and of course there's always the Zoya Color Lock System.
I find that using a slower drying top coat with drying drops always gets me better wear but I understand that time and patience are not in abundance for most of us nail girls, thus my mass quick dry top coat collection but if you love the Zoya colors and want the color and wear without the frustration it's time to change up your top coat regimen.