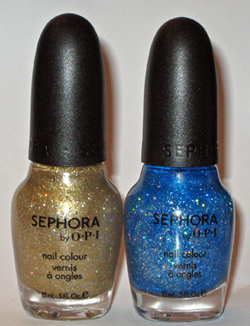 This past weekend the boyfriend and I went to Pittsburgh to visit with friends.  I also went to see Chelsea Handler's Chelsea Chelsea Bang Bang Tour Saturday night.

I am a religious Chelsea Lately watcher and I adore her on the show but her stand up was a REAL disappointment.  As Chelsea would say, "It's not great!" Her behavior was so manic you would think she was having an episode on stage. Like to the point that I was worried about her.  And her act was so old that I remembered some parts from her 2007 Comedy Central Presents show. Time for some new material Chelsea.

Anywho, I wanted a blingy manicure for the weekend and two of the Sephora by OPI polishes I purchased during the Friends & Family sale called out to me.  A reader suggested that I try Looks Like Rain, Dear but Midnight Mambo looked really pretty as well so I decided to combine them into a multi-colored mani.
Click here to view more pictures and read the rest of this story.