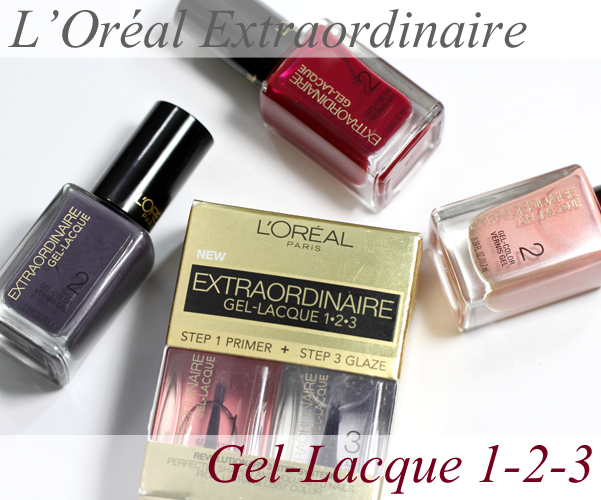 If, like me, you tend to stalk your local drugstores for the latest and greatest in the world of nails, you've undoubtedly seen displays popping up for this new line of lacquer from L'Oréal. Though, in my area, the displays are cleaned out. Like I've said in the past, you include the word "gel" in a nail product and it flies off the shelves.
L'Oréal Extraordinaire Gel-Lacque 1-2-3 is a new three part system that claims "the high-shine of a UV-Gel and the perfect nail shape without harmful UV rays." Now, you know how I feel about these gel-like claims (I call shenanigans) but I'm always game for being proven wrong so I put Gel-Lacque to the test.


Formula & Application
L'Oréal Extraordinaire Gel-Lacque is 5-Free (Formaldehyde, Toluene, DBP, Formaldehyde Resin, Camphor). It comes in the same square L'Oréal bottle as the Colour Riche line which features the flat, curved brush with firm, dense bristles. I'm a fan of the L'Oréal brush as it allows me to create a smooth curve along the cuticle.
The three part system consists of the Gel-Primer base coat, Gel-Lacque color and Gel-Glaze top coat. For best results, it is suggested to wear the complete system. Like the Colour Riche polishes, the Gel-Lacque line has a squishy texture that reminds me of L'Oréal-owned Essie (coincidence?). It flows well on the nails and packs a lot of pigment (two coat coverage). The only issue I had was with the lightest shade. It was a bit streaky and needed three coats.

L'Oreal Diamond In The Buff is a peachy nude with a pearly shimmer. It has a creamier consistency than the other shades which I think made it a bit more streaky.
L'Oréal Lacque-red is your basic cherry red creme. It reminds me of Zoya Asia.
L'Oréal Vintage Vinyl is what you might call a gri-olet. It's a dark grey creme with purple/mauve tones. Think Zoya Kelly or Essie Smokin Hot.

Wear Test
So let's talk about how this system works and wears.
Gel-Primer – The base coat claims the nail surface will be "instantly smooth and flawless." My nails have ridges and while it didn't quite achieve what a ridge-filling base would, my nails were a bit smoother.
Gel-Lacque – One of the claims is that "nails are visibly thicker," and I can't say that in my experience it's true. It doesn't have that thick gel-like look.
Gel-Glaze – The top coat is nice and thin and dries fast. Like, within 10 minutes I was rubbing pretty fiercely on my nail and left no marks. That's impressive. And while it is certainly shiny, it's not without its flaws. The surface isn't quite glass-like, as you can see in the pictures above. It's a bit streaky if you don't use enough product.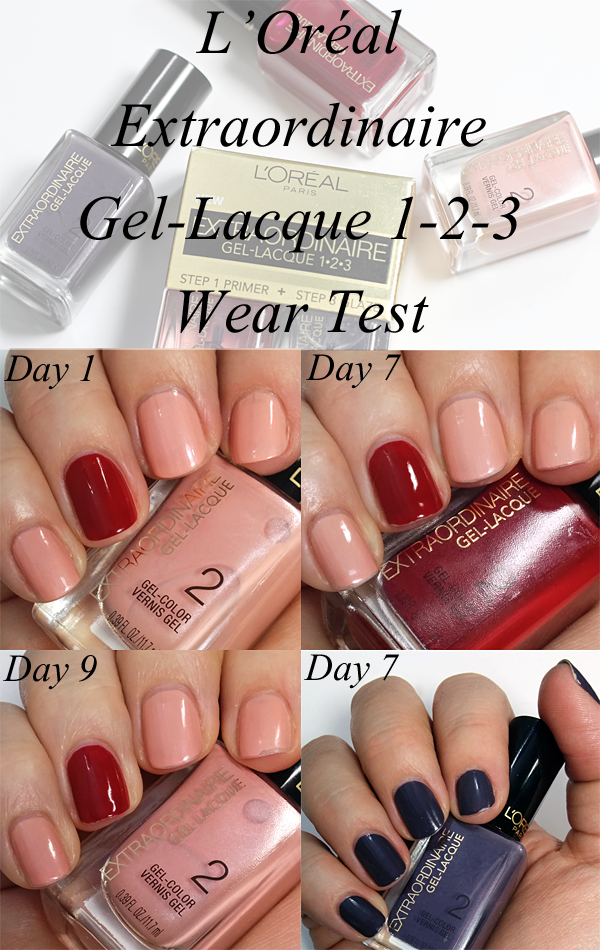 I did two separate wear tests and, both times, I made it to Day 7 without significant chipping. It wasn't until Day 9 of my initial test that I got my first major chip and it happened to be on the nail I use most, go figure. The shine certainly held up on my first go round but it dulled a bit on my test with Vintage Vinyl.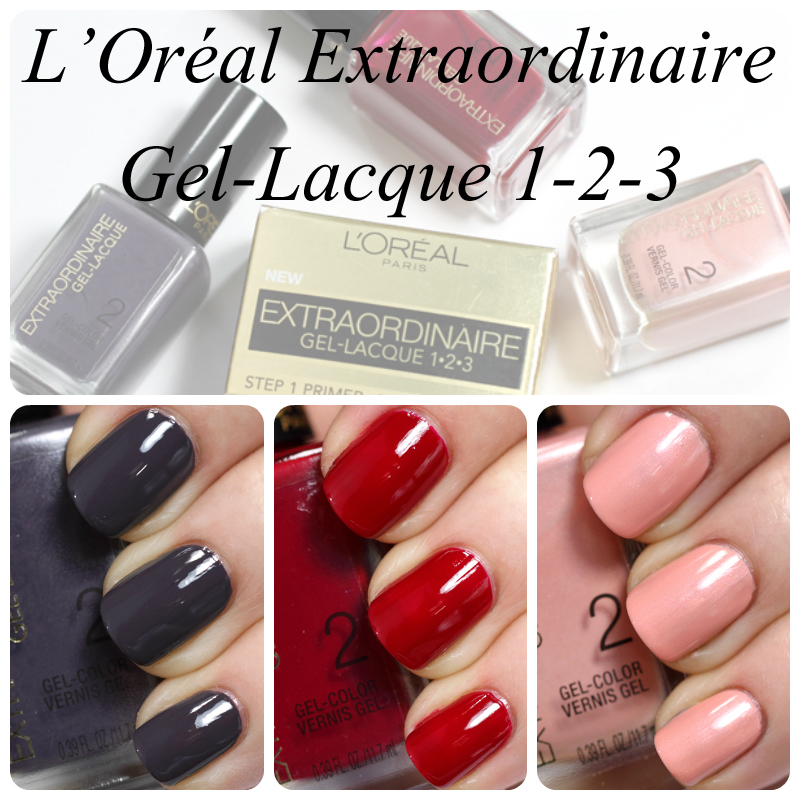 Bottom Line: Gel-Lacque certainly held up well in terms of wear, though it's still not the same as gel polish. Considering what a process it is to remove gel, I don't mind. With 20+ core colors, including blues and purples, there is a great range of shades to choose from and, with the exception of Diamond In The Buff, they deliver a great formula and coverage.
The system is more of an investment than your typical drugstore polish but certainly cheaper than gels. I'd say it's worth trying if other brands aren't lasting on your nails.
L'Oréal Extraordinaire Gel-Lacque is available now at drugstores and mass retailers nationwide including Drugstore.com, ULTA.com and Walgreens.com. The Gel-Lacque polishes retail for $7.99/ea and the Gel-Lacque Kit retails for $12.99.
Have you tried this new Gel-Lacque system? How did it work for you? If you haven't, do you plan to give it a whirl? Have you found any nail polish that actually wears like a gel?
Disclosure: Product samples were provided by reps for L'Oréal. Affiliate links appear in this post. When you purchase through an affiliate link, you help support this site. For more info view my
Disclosure Policy
.