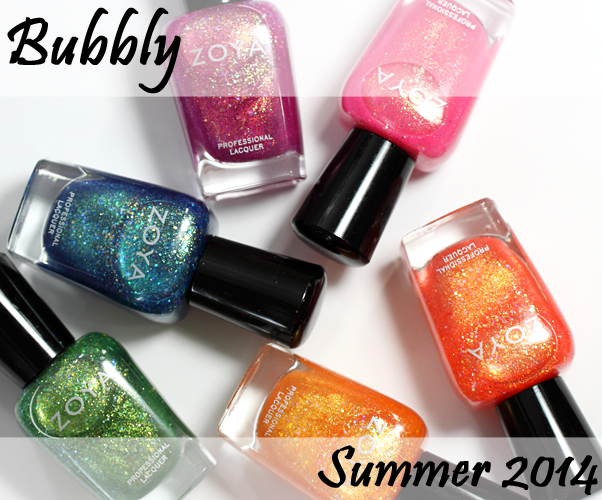 Like fizzy lifting drinks, the multi-dimensional glitters in the Zoya Bubbly collection have an effervescence that will lift your spirits, if not your body. Six new semi-sheer sparklers that can be worn on their own or layered for added versatility.

Formula & Application
Zoya nail polish is 5-Free (Formaldehyde, Toluene, DBP, Formaldehyde Resin & Camphor). Their signature Italian glass bottles have a tapered, shiny black plastic cap that rests comfortably between the thumb and index finger while polishing. The brush is short, round and medium in girth with flexible bristles that allow for ease of control.
Unlike most Zoya polishes that claim to be full-coverage in two coats, these are more sheer. With the amount of glitter and shimmer in the base, it's no wonder. The polishes have a squishy, jelly-like consistency that evenly suspends the glitter party inside.  And yes, they are a pain to remove due to all the varying sizes of glitter/shimmer.
Note: I used three coats for all my swatches except with Muse and Staasi. While they are almost opaque to the naked eye with three coats, that didn't translate on camera so I used four coats for photography purposes.
As I shared in my Zoya Ivanka Wear Test, Zoya nail polishes wear best with the full Zoya Color Lock System or top coats that exclude Cellulose Acetate Butyrate.

Zoya Alma looks like a bright orange in the bottle but on the nail, it's subtler and more golden thanks to the mix of orange and gold metallic shimmer with holo hex sequins.
Zoya Binx is a raspberry-based sparkler packed with golden shimmer and the holographic glitter that appears in all the shades in this collection.
Zoya Harper is described as Mexican pink but I don't know what that means. To me, it's very bubblegum with gold shimmer.
Zoya Jesy is an orange-leaning coral with gold shimmer. It's kind of a ripe apricot color.
Zoya Muse is unique in that its base looks like a straight up Caribbean blue but when the gold shimmer gets involved, it becomes more sea water-esque, leaning towards teal. Like a peacock blue.
Similar to Muse, Zoya Staasi transitions from the grass green shade in the bottle to more of a lime-y shade thanks to the gold metallic shimmer. It's also the least sheer of all the polishes in this collection.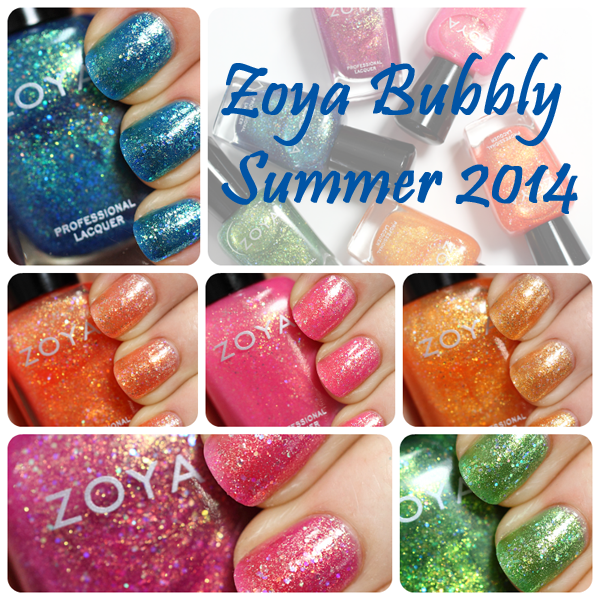 Bottom Line: If you loved the Sparkle collection think of Bubbly as a version of that; less foil, more glitter. While they are sheer, they are certainly buildable AND look fantastic over their Tickled creme counterparts. Muse and Binx are my faves of the collection and even though you know how I love my greens, Staasi fell flat.
The Zoya Bubbly collection is available on Zoya.com. Zoya nail polishes retail for $9/ea for a .5oz bottle. Don't forget, you can try before you buy with the Zoya Color Spoon program.
Are you into these new Bubbly shades? Which ones are you planning to pick up? Will you wear them on their own or layered?
Disclosure: Product samples were provided by reps for Zoya. For more info view my
Disclosure Policy
.