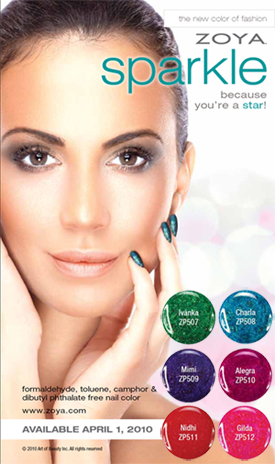 The Zoya Sparkle collection has completely wowed me.  I predicted when I saw the promo images that I would find some must-haves in the bunch but seriously they're all winners.  Even the reds and pinks which is so unlike me.

With this first of two Summer 2010 collections, Zoya has combined the twinkling beauty of the China Glaze glass flecked formula with the foil-like metallic glitter as seen in the Orly Foil FX collection.  Together they make for one killer combo of bling and glitz that will razzle dazzle you a la Chicago.  I want to break out the jazz hands and fan kicks just thinking about it.

Check out the girls, Ivanka, Charla, Mimi, Alegra, Nidhi and Gilda, after the jump!

What makes the Sparkle collection stand out amongst other colors in this genre is the pigmentation. The problem with glitter polishes is that if the base gets too thick with pigment, the glitter fades to the background or leaves you with a chunky, bumpy mess.  So it's a fine balance and Zoya has definitely toed the line.
The Sparkle formula is still semi-sheer but with three thin coats, they are completely opaque.  Of course, if you're more heavy handed with your polish application you could probably get away with two coats but I find that thicker layers lead to chipping so I prefer to keep them thin. Nidhi is the lone exception to that rule as she is much more pigmented though slightly less flashy.
The polish applies much like the China Glaze glass flecked formula except that when it dries it loses its jelly quality.  That's when the metallic glitter comes into play, giving them more of a foil-esque finish than the ChG glass flecks with that "lit from within" look.
I knew Ivanka would win my heart before I even saw her in person.  It's hard for me to not love a green.  Though the fact that I have not one green that matches its light emerald base was surprising.  I swatched a bunch of different shades trying to find a base color match and the closest I found would be if I combined Sally Hansen Emerald City and Rimmel Camouflage though neither one has Ivanka's glamour.  How very fitting for a polish that shares a name with Ivanka Trump.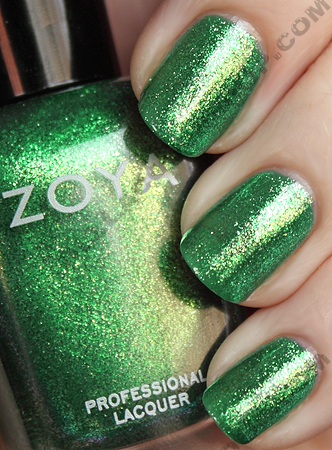 Charla has that watery "mermaid" look like the blue-green glitter Deborah Lippmann will be debuting this fall.  Of course they look nothing alike, they're just variations on a theme.  Charla's deep aqua base is similar to Color Club Emerald Depths but with a teal green shimmer that reminds me of China Glaze Watermelon Rind.
Mimi is pure, purple perfection; very rich and grape-tastic with what looks to be light purple/pink metallic micro-glitter.  A purple shimmer this vivid and true is hard to come by, at least in my stash.  To me, Mimi has no real match. It's warmer and more vibrant than Milani Totally Cool and when compared to China Glaze Grape Juice, Mimi pops. Grape Juice actually looks kind of dull standing next to Mimi and I LOVE that polish.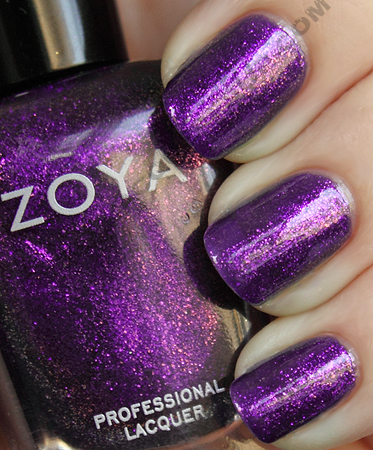 Alegra is a radiant fuchsia gem.  Think of it as an electrified version of Tama from the Utopia collection.  The base color reminds me of China Glaze Sass in a Glass though the glitter is different. Alegra has a dark pink glitter as compared to Sass's cool, light pink sparkle.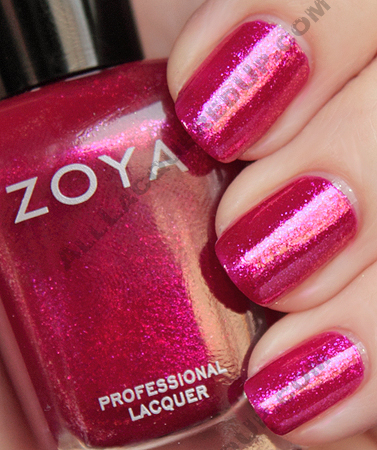 Gilda is kind of like Alegra's brighter, lighter sister.  The relationship is similar to those two OPIs in the Brights collection, Flashbulb Fuchsia and Ladies & Magenta-men.  With a base color that's somewhat like OPI Can't Help Falling In Love, Gilda is a power mix of the three with bit more punch and heck of a lot more pizazz.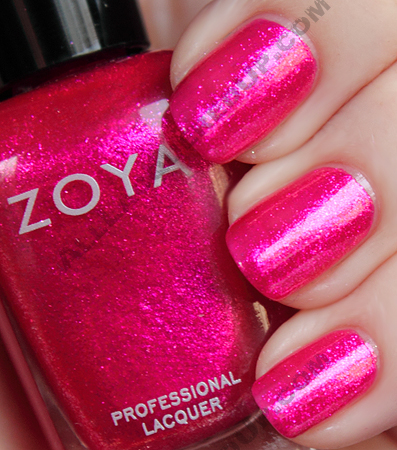 Nidhi is definitely the most subdued Sparkle in the bunch.  With its dense pigmentation, the red and gold micr0-glitter seem to be more of an accent than a statement piece.  The warm tomato red tone is reminiscent of last summer's China Glaze Cherry Pie but with much more opacity and depth of color.  This was the only two coat-er in the collection.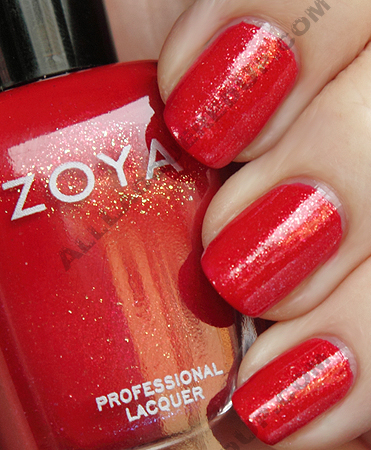 Bottom line: If you even remotely like the glass-flecked look or the foil finish, run, don't walk, to buy this whole collection. And if you're like me and flock to the shiny and sparkly like a moth to a flame, I don't even know what you're still doing here unless you're placing your order in another browser window! If I had to pick a Top 3: Ivanka, Charla, Mimi (in that order). I know, I know big surprise!
The Zoya Sparkle collection is available for pre-order now with an expected ship date of April 1st (and that's no joke!). Order online at Zoya.com.  Polishes retail for $7/ea OR buy the whole collection for $36/set and save $6.
So Fanatics, did the Sparkle collection live up to your expectations?  Exceed them?  Disappoint?  Which shades will make it onto your polish shopping list?
And totally off topic but I've been growing out my nails just to see if I could shape them more round but I feel they're getting too long.  Should I take 'em down or maintain the length?
Disclosure: Product samples were furnished to me by Zoya. For more information view my Disclosure Policy.