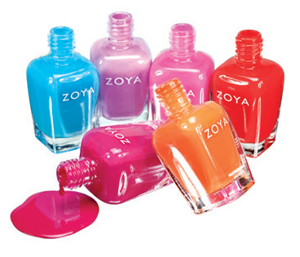 Who can take a rainbow, wrap it in a sigh
Soak it in the sun and make a groovy lemon pie
The Candy Man, the Candy Man can
The Candy Man can 'cause he mixes it with love and makes the world taste good
~Candy Man by Sammy Davis Jr.
Flash, the second summer collection from Zoya is a set of six glossy cremes that feel very candy-ish.  Like a companion set to one of my fave Zoya collections, Candy, from a few summers ago.  Couldn't you just see all those shades as big glossy jawbreakers in a candy machine?  Friendly jawbreakers though, not the kind Rose McGowan shoves down your throat as a deadly joke.  Or how about giant lollipops along the wall of Dylan's Candy Bar?
Come check out the sugar coated goodness of Dana, Jancyn, Jolene, Maura, Perrie and Robyn after the jump!

Jancyn is probably my favorite color in the collection.  While I'm sure the expectation is for me to go gaga over any and all blues, in the summer I love a good orange and this vivid tangerine hue is my kind of color.  Though if you own Misa Speed of Life or OPI In My Back Pocket you've already seen Jancyn since they could be triplets.  If you check out my comparison of SoL & IMBP in the Gallery you'll see what I mean.  My only wish would be for a non-streaky application.  Maybe I didn't wait long enough between coats but I ended up applying three layers to get an even finish.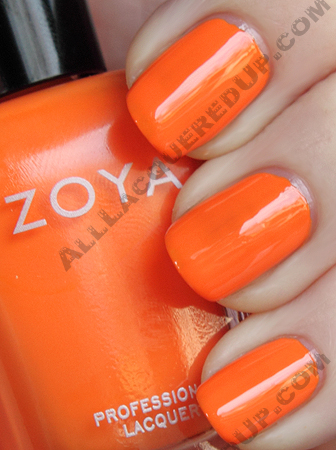 Robyn is a true cyan blue.  It appears darker in person than this image shows but the hue is a pretty good representation.  Like Jancyn, the application wasn't perfect as I needed three coats to avoid streaks but it leveled out to a nice smooth finish.  I'd say its closest living relatives are Barry M Cyan Blue and CND Hot Pop Blue with Sally Hansen Insta Dri Brisk Blue coming in as a slightly deeper cousin.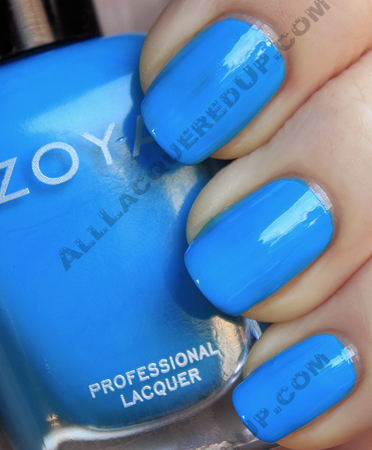 Perrie is a unique flower.  This red-violet creme has no real match in my collection.  Maybe that's because I shy away from warm toned purples but I couldn't find any polish that comes close to it.  Though like Robyn, it photographs much lighter than it dries.  It's a very rich color and it applies flawlessly in two coats.  The application really wows.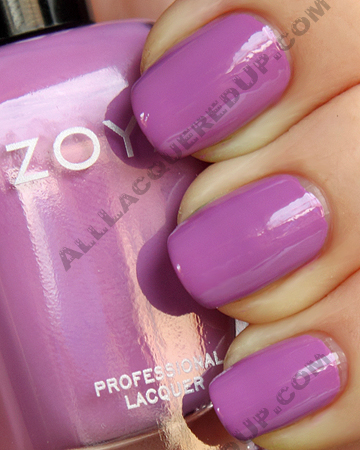 Jolene, Jolene, Jolene, Joleeene, I'm begging of you please don't take my man. OK how apropos was it that Adriana sang this song on 90210 last night?  Am I the only one still watching??  Anywho, this hot Barbie pink toes the line between the sweet and bubblegum-y and super bright pinks.  It's actually quite perfect as it isn't too warm or cool either.  It was another three coater though and even then I could still see traces of my whites underneath.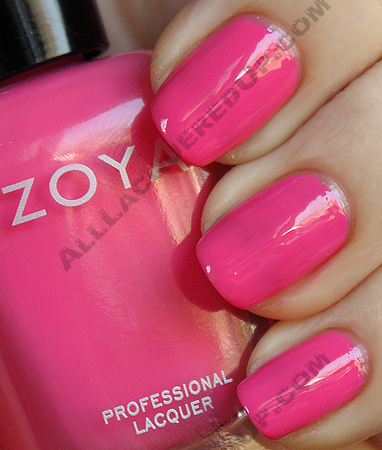 Dana is a rich berry pink and honestly, I'm really disappointed with how my photo turned out.  I just couldn't get this sucker right no matter how hard I tried.  It's much more a raspberry hue than this shows.  While the application was good, the pigmetation was a bit lacking.  What you see below is three coats and those of you who have hawk eyes for VNL will see that here.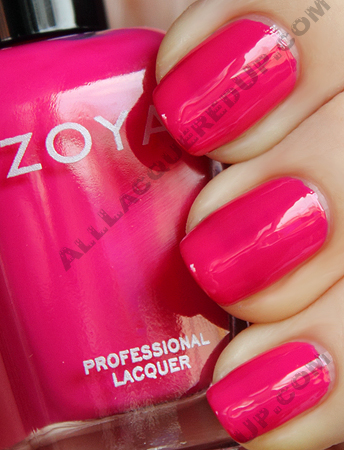 Maura is a bright cherry red that has somewhat of a 40s throwback feel.  I see this on a pin-up model or Dita Von Teese. Now like Perrie, this one applied flawlessly.  I could almost get away with one coat.  I LOVE reds like that.  When I can see the bottle color in the first layer and not some berry undertone, I'm in.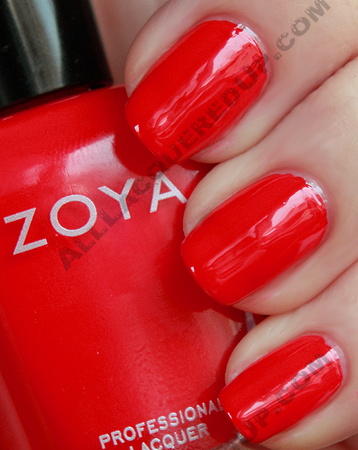 I was inspired to do a "skittles nails" mani with the colors like I did with the Candy collection.  It's very fun for summer and looks really cute on toes.  It's definitely an attention getting style but I find that it's becoming much more common now than even a few years back.  Yay for nail color progress!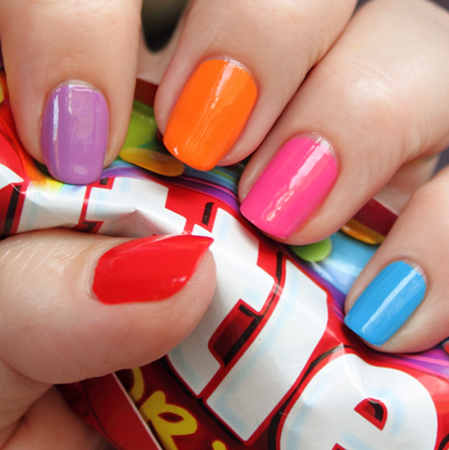 Bottom line: The Flash colors aren't incredibly unique overall but they look great together as a collection. I highly recommend Perrie and Jancyn (if you don't own its dupes) and if you're on the hunt for a great red, you won't be let down by Maura.
The Zoya Flash collection is available for pre-order now on Zoya.com with an expected ship date of April 1st. Polishes retail for $7/ea or $36 for the full set of 6.
What Flash colors spoke to you? Are you feeling candy colored brights for summer? Did you find any must-haves for your collection?
Disclosure: Product samples were furnished by Zoya for review.  For more info view my Disclosure Policy.