My hometown favorite, Zoya, gave us not one but two collections for summer this year. Candy & Smitten are their newest offerings and they are so fun. I got the opportunity to test them, thanks to the lovely people at Zoya and, they are a blast.
Candy is Skittles in polish form. "Taste the rainbow" was going through my head as I pulled them out of the box. The marketing gurus at Zoya really couldn't have picked a better name for the collection and the polishes have names that are just as adorable and fun.
Candy consists of four cremes and two shimmers, all opaque and well pigmented. After the more sheer summer collections of years past, Glamsicles and Glitterati, Candy is a pleasant surprise. And, there's a green. Anyone who knows me knows that greens will score major points for any polish brand. To top it off, it's a pretty green. Totally wearable. I call it a green for women that don't like green.
So here we have Tart (shimmery jewel toned blue), Yummy (creamy cornflower blue) and Sweet (creamy bubblegum pink). For me, Yummy is the most unique of the three. It's a glossy mid-tone blue, something my collection was seriously lacking.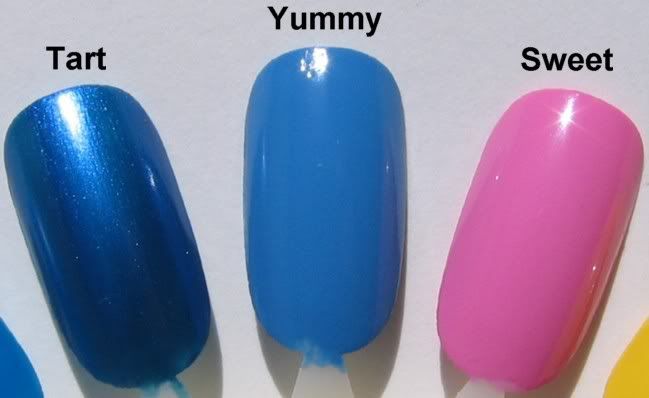 Then comes Creamy (sunshiny yellow creme), Tangy (limey mid-tone green shimmer) and Juicy (matte grape creme). Of course I LOVE Tangy, how could I not but, Creamy is drawing me in with it's lemony goodness. All thanks to my new found love of yellow.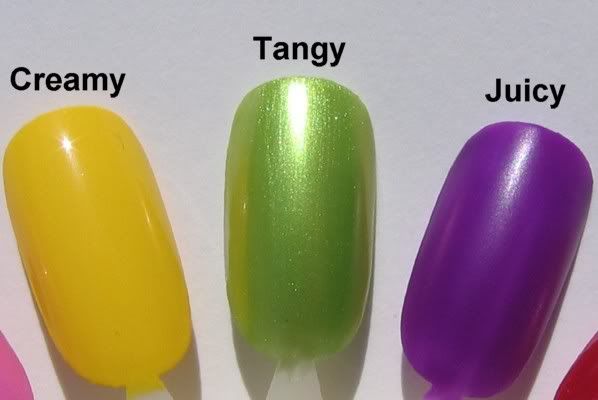 Ok, so you don't wear bright or loud colors. You think I'm a nut for wearing yellow and loving green. Well then, Smitten is for you. As a girl that only wore reds and pinks on my toes as a teen and young adult, I can totally identify with these shades. Don't believe me? I swear, I wore OPI I'm Not Really A Waitress on my toes for at least 2 years straight. I used to walk the color line at one point myself.
Smitten is all shimmer and micro-glitter. Filled with hot reds, corals, oranges and pinks, there is a color for every skin tone. The polishes all apply like a dream, as expected. Free of dangerous chemicals, Zoya's formula flows on the nail like a salon quality polish should but, without the risks caused by toluene, DBP and formaldehyde. Preggers ladies rejoice!
From left to right we have Ariel (shimmer berry toned red), Shiloh (mid tone red shimmer) and Sylvie (soft reddish coral shimmer).
I wish the true coral quality of Sylvie had showed up in the pictures. It's a soft coral, not all in your face. It reminds me of OPI Coral Reef without the holo shimmer. Shiloh (probably named after a famous wee one) is a straight up red shimmer, a great basic for your polish wardrobe. I'll be honest, while these colors are all very pretty and wearable, they aren't a must have for me. Definitely great staple colors for someone wanting to add reds to their collection.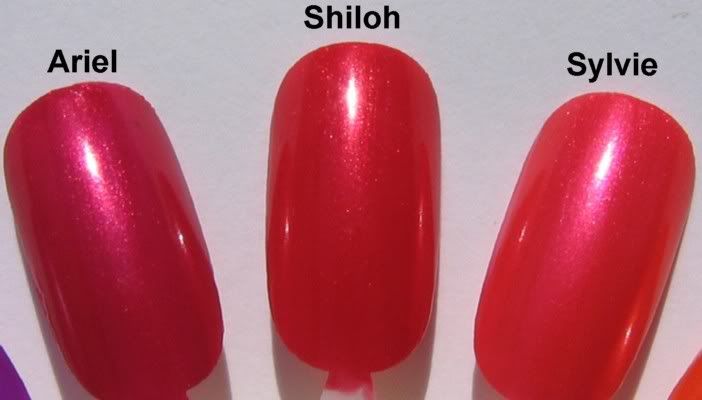 Last but not least… Pia (tangerine orange shimmer), Hayden (micro-glittery hot popping pink) and Vivi (fuchsia shimmer).
I'm really drawn to Vivi and Pia and I love Hayden for the name alone. Probably because I'm a fan of Heroes and Hayden Panettiere's character Claire. Pia will be great for the warm toned peeps like myself and Hayden will be great for the cool toned. Vivi is a fun bright all around summer color.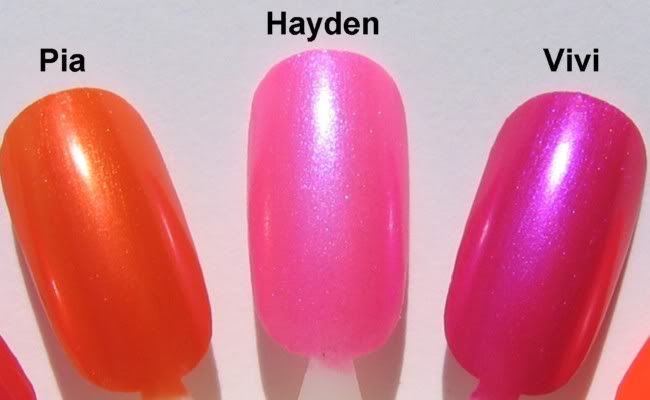 So now that you've gotten a better look, what colors are you lusting after? Which collection is your fav?