From olive to hunter, military inspired designs and colors dominated the Fall 2011 runway shows. Those shades came straight off the models and into nail polish bottles in a number of the fall collections.
Over the next couple weeks I'll be walking you through the big nail polish trends for the season, showing you the newest shades to hit the market and the old school colors you may already own that will get your nail style ready for fall.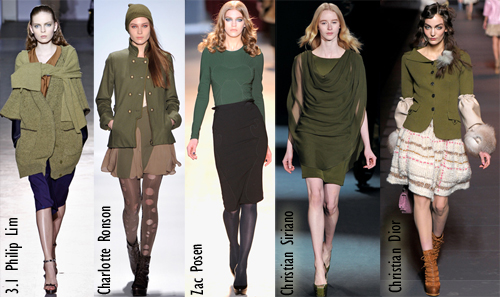 The New Class (Fall 2011 Release) – all polishes are shown using two coats
Laying down: MAC Fatigues & Deborah Lippmann Billionaire. Standing: China Glaze Westside Warrior, Color Club Artsy Crafty, Finger Paints Military Green, Butter London Wallis, OPI Uh-Oh Roll Down The Window & Cult Nails In A Trance. Top Row: Zoya Yara & Zoya Dree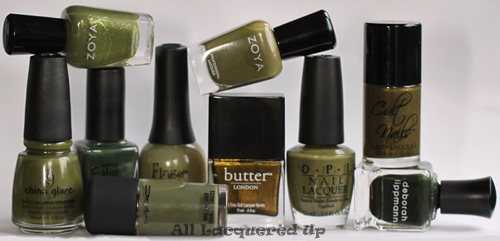 Butter London Wallis ($14, butterLondon.com, Beauty.com, ULTA, Nordstrom) is a metallic olive green that leans heavily towards gold. The base is a dark olive but the green-gold flakes floating on the surface give this colors a foil-like finish.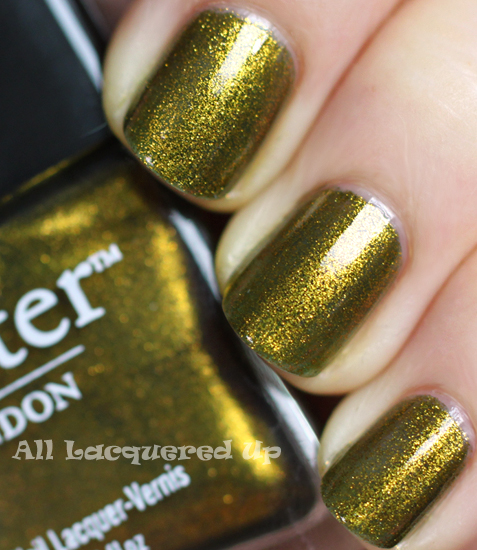 China Glaze Westside Warrior ($3, Head2ToeBeauty, TransDesign. $6, Sally Beauty) reminds me of castelvetrano olives. I only recently discovered these buttery gems through a friend and I'm obsessed. My only complaint with Westside Warrior is that the formula wasn't up to par. It was pigmented but a little goopy and hard to work with.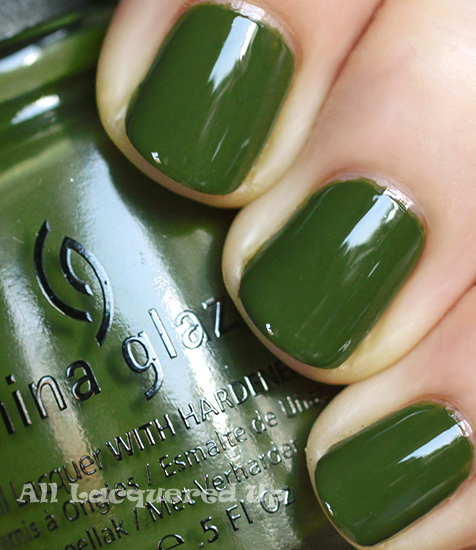 Color Club Artsy Crafty ($8, ShopColorClub.com) is a lush forest green with a greyed underbelly that gives it some grit.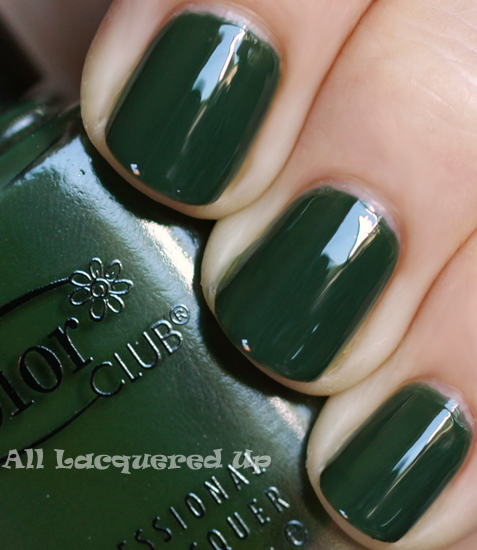 Cult Nails In A Trance ($10, CultNails.com) is a browned olive green shimmer. The satiny finish and old world charm hearkens back to medieval tapestries or royal gowns.
Deborah Lippmann Billionaire ($16, DeborahLippmann.com, Barneys, Neiman Marcus, Nordstrom) is the darkest of the fall green offerings. It's as if you took a vivid hunter green and drabbed it out with a touch of brown and black. The color was used at the Lela Rose F/W 2011 show and it's got this great jelly consistency that is packed with pigment.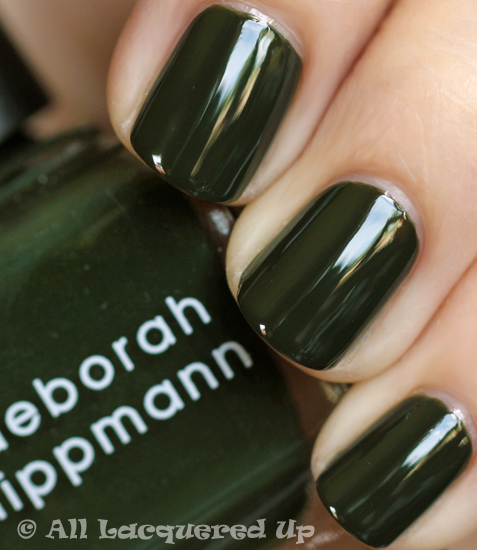 Finger Paints Military Green ($4.99, SallyBeauty.com) honestly looks terrible in the bottle. It was kind of yellowish, like baby poo or something but on the nail, LOVE! It's reminiscent of Essie Sew Psyched or Chanel Khaki Vert and applies flawlessly on the nail.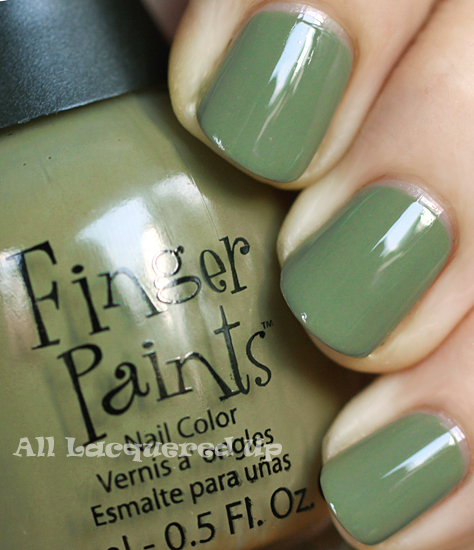 MAC Fatigues ($15, MACCosmetics.com) is part of the MAC Me Over! collection and what I love about it is that it's not as yellow based as the other colors in this category. It's more cool tone friendly.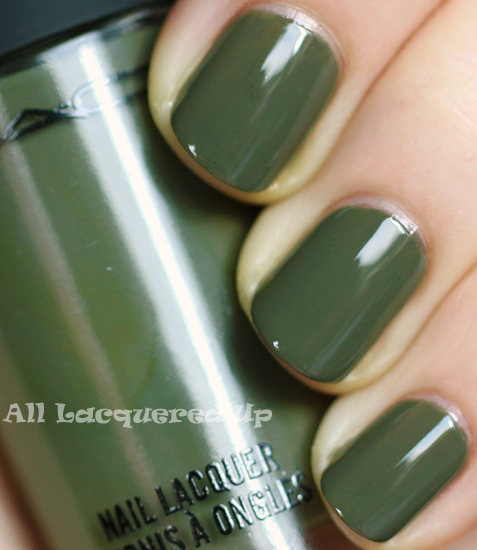 OPI Uh-Oh Roll Down The Window ($8.50,OPI.com for locations) is a vivid olive hue. I know the words feel wrong together but I've been calling it a bright drab. The name is the only thing that bothers me. Even though, at my core, I'm a 12 year old boy with a love for potty humor, mixing that with something in the beauty world doesn't sit right with me.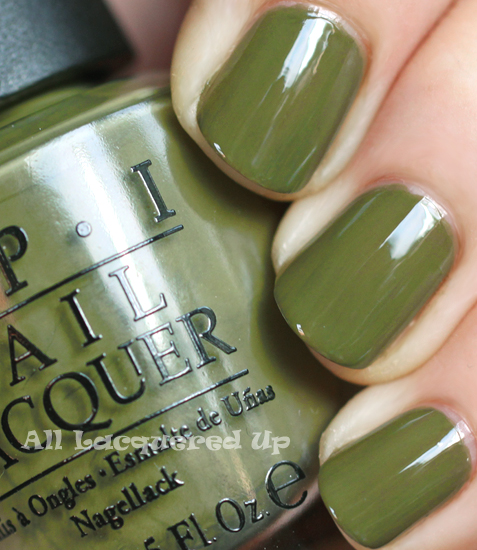 Zoya Dree ($8, Zoya.com) is the darkened version of OPI Uh-Oh. They definitely live in the same neighborhood, go to the same school and may even share some classes together.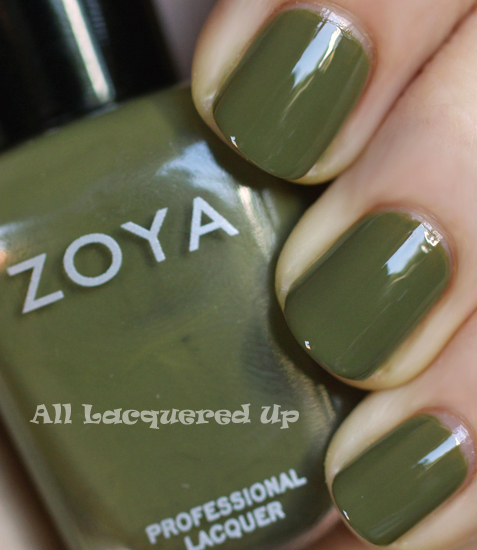 Zoya Yara ($8, Zoya.com) – Okay so I have this sweater that I refuse to get rid of even though it's so out of style it's not even funny. The reason I keep it, it looks exactly like Yara! It's this yellow-based green knit hoodie that has small golden threads woven throughout. Now that I have a polish to match it, why would I donate it?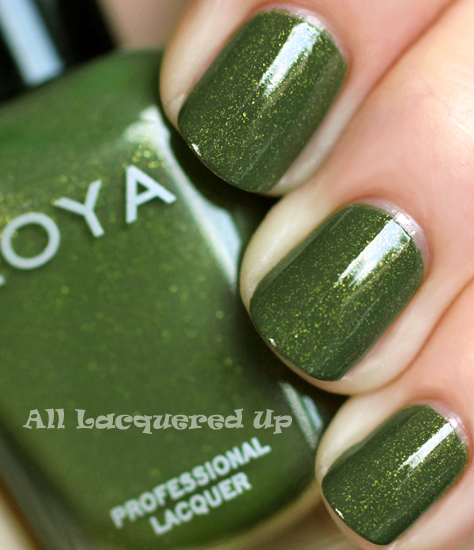 The OG's – The "Original (Military) Greens" in my stash
Not all of these shades are still available but if you have them in your nail wardrobe, now is the time to rock 'em.
Laying down: NARS Mash & Rescue Beauty Lounge No More War Standing: Essie Sew Psyched, Chanel Khaki Vert, American Apparel Hunter, Zoya Gemma, Rescue Beauty Lounge Diddy Mow, Illamasqua Hectic, NARS Platoon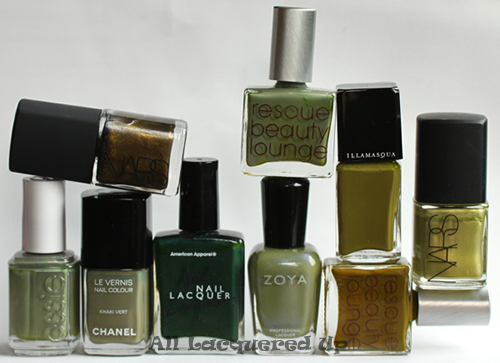 Best colors to pair with Military Greens – Berry, gold, pewter, camel
Thoughts on the Military Green nail color trend? Did your faves make the cut? Which new colors do you plan to pick up? Are there any readily available shades that I missed that we should know about?
Disclosure: Product samples were provided by reps for butter LONDON, China Glaze, Color Club, Cult Nails, Deborah Lippmann, Finger Paints, MAC, OPI and Zoya. For more info view my Disclosure Policy.