Les Khakis De Chanel Le Vernis in Khaki Brun, Khaki Vert and Khaki Rose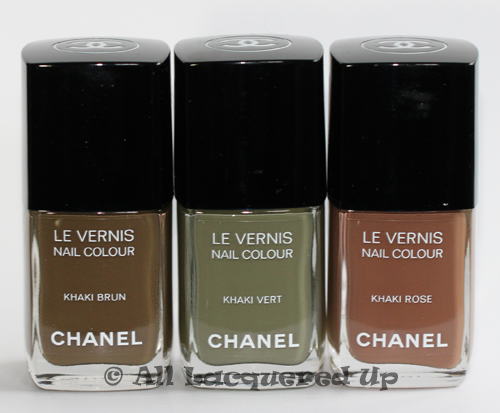 We're only one day away from Fashion's Night Out and with that comes the launch of the Chanel limited edition Les Khakis De Chanel collection. Like last year's sellout hit, Jade Nail, Chanel Global Creative Director of Makeup Peter Phillips has yet again celebrated one of the biggest nights in fashion with a green nail polish. Big hugs and kisses to Mr. Philips for that!
The military influence is strong in fashion this season so it's no surprise to see camouflage type colors trickle over into makeup and nails. I was fortunate to receive an advance preview of the nail colors prior to their launch this Friday so I had a little fun with the whole camouflage theme trying my hand at a bit of nail art.

As this post goes live, I am actually in the air on my way to NYC for Fashion Week so I apologize that I can't bring you full swatches and comparisons of these polishes but my time was limited. As such this is kind of a quick and dirty review. I will try and address any questions you have before Friday but I won't have my stash nearby to compare colors.
Khaki Vert was the color that immediately drew me in and it's definitely my fave of the collection. Being that I was working on a tight schedule it's the color I chose to show a full swatch of.  Khaki Vert and all the Khaki polishes apply phenomenally well.  Pigmented, rich and creamy they flow on the nail like butter in two easy coats.  Khaki Vert isn't as yellow-based as say, RBL No More War, but it's definitely not a grayed out hue.  I've heard comparisons to Essie Sew Psyched but I would say the Essie shade is more muted.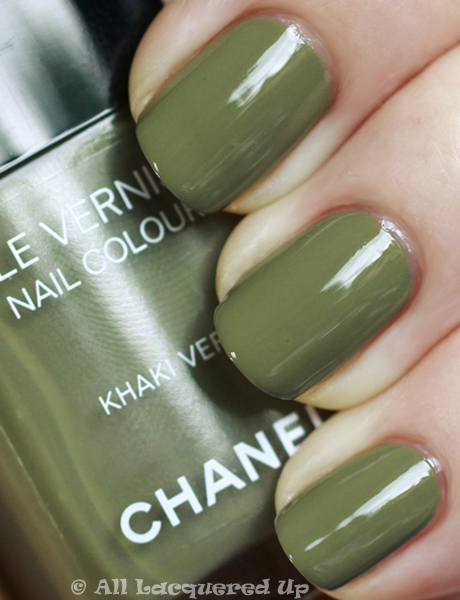 Since I'm planning to wear all three colors as part of my NYFW NOTD Challenge I decided to play with some simple nail art to see what would look best. Being that I'm not very artistically inclined I looked to my blogging pal Melissa from The Daily Nail for inspiration. Her matte camouflage manicure is an excellent reference for getting that true camo look.  I used Khaki Vert as a base color with Khaki Brun and Khaki Rose as my camo accents and tried diagonals on the other two.  Khaki Brun is on the middle finger, Khaki Rose on the pinkie.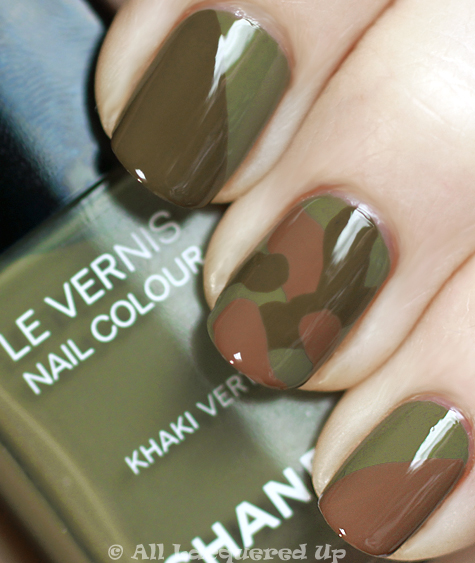 Bottom Line: If you're a collector like me, you'll want to scoop up the whole set. If you're looking to just get one, I'd suggest Khaki Vert or Khaki Brun. Khaki Vert may have a cousin in Essie but it's a green… from Chanel. Khaki Rose is pretty but it doesn't light my fire on its own.
The Chanel Les Khakis De Chanel collection launches on Friday September 10th and can be purchased at Chanel.com and Chanel Boutiques. Select Chanel Boutiques will be offering manicures with the colors for Fashion's Night Out.
So what do you think of these? Are any of the colors catching your eye? Will you cave on all three, just one or none?  Do you have any suggestions on how I should wear all three colors for FNO?  Tips for how I can improve my camo look?  I'd love to hear your ideas.

Disclosure: Product samples were provided by Chanel. For more info view my Disclosure Policy.