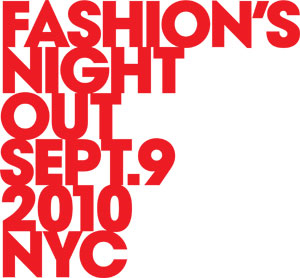 I'm leaving for NYC in less than 24 hours for New York Fashion Week and in addition to finalizing my schedule and packing, all I can think about is the overwhelming number of Fashion's Night Out events.  Last year I missed FNO so I've been trying to figure out which events I absolutely must hit.  I'm sure those of you who live in NYC or will be in the city on Friday, September 10th are facing the same dilemma.

From what I've heard, the department stores and Sephoras with celebrity appearances will be insane so I've vowed to avoid that madness.  I'd much rather sidestep the crowds and hit some of the more unique experiences FNO has to offer. I've pared down the list of 900+ events to my Top 29 beauty related Fashion's Night Out happenings.

Salon Events
Bibhu Nail Salon featuring Zoya Nail Polish at The Plaza Hotel - 768 Fifth Avenue New York , NY 10019 Time: 6pm-8pm
Do you want beautiful nails for the shows? We can help. As a part of CFDA's Fashion's Night Out event at the Plaza Hotel, designer Bibhu Mohaptra and staff will work in conjunction with Zoya Nail Polish to provide walk-in Zoya minicures (polish changes) and fun freebies. Bibhu will be on hand for the event.  ALU says: If you haven't experienced Zoya polish, it's a great way to give them a try.
Marco NYC – 611 Broadway NY, NY 10012  Time: 6pm-11pm
In celebration of NYC's fashion community, join us for an evening of beauty including touch ups by make-up artist Andrea Fairweather Bailey, light styling/blowouts, braiding, up-dos, manicures by TracyLee, cocktails and shopping! Ladies & gents can pop in for a quick touch up before heading out to shop or party at one of Fashion Night's hot destinations. Come ready to shop as designer, Danielle Gibson will be selling her latest collection of jewelry. Installation Artist , Markus Linnenbrink.  ALU says: Every NYC blogger I know raves about TracyLee's manicures so it's worth hitting Marco just to meet her and get your digits polished.
Maria Bonita Salon & Spa – 12 Prince Street New York, NY 10012  Time: 7pm-11pm
An oasis of pampering in the midst of Fashion's Night Out. Channel your inner supermodel without spending a dime. Complimentary Services offered include: Luxurious mini facials with Women's Health Advocate and Natural skincare expert, Tata Harper. Sleek updo's. Bohemian Chic curls. Mini-manicures and polish changes. Aromatherapy sessions utilizing clinical grade essential oils. Cocktails and Espresso shots. Gift Bags (while supplies last). Limit one service per person, reservations are recommended. ALU says: My girl Amber tells me that Maria Bonita's unique Brazilian manicure technique is a must-see.  Apparently they paint all over your skin, like a 5 yr old would.
Shampoo Ave B Salon – 42 Avenue B New York, NY 10009 Time: 6-10pm
Stop by Shampoo Ave B for quick styling, braids, make-up touch ups before you hit the town! Bangs are fall's biggest hair MUST so we will be cutting bangs at no cost! Change your look and hit the town running perfectly in sync with fall trends! Cocktails, music and fun served all night! Product giveaways and gift certificates for everyone who pops in. ALU says: I've been contemplating cutting bangs all summer and my stylist keeps talking me out of it. Maybe a stylist from this salon can convince me to take the plunge.
Warren-Tricomi Salon – One West 58th Street New York, NY 10019  Time: 6pm-8pm
Join the Warren-Tricomi Salon at The Plaza Hotel for complimentary hair styles and updo's to start your Friday night off. While you are at The Plaza, you can also join us in viewing the CFDA Incubator Project designs throughout the Shops. Musician, Corinne Bailey Rae, will be performing an intimate concert at The Plaza's Palm Court. Following the concert, Joel Warren, Edward Tricomi, Douglas Hannant and Frederick Anderson, co-hosted with the CFDA and Shops at the Plaza, invite you to an after party in the Terrace Room from 9-11pm to celebrate this night of Fashion.  ALU says: Edward "Scissorhands" Tricomi and Joel Warren are hair gods and their salon is filled with uber-talented stylists.   I had a blow-out there last fall and my hair looked PHENOM!

Brand Events
Aveda at The Shops at Columbus Circle – 10 Columbus Circle New York, NY 10019 Time: 6pm-11pm
Come in to get a Make-up finishing touch up with a Lip or eye make-over; and treat yourself to a professional hair styling or Up-do courtesy of the talented stylists from Scott J Salon. Treat yourself to a quick complimentary hair style consultation to get that salon look at home and lots of free product giveaways. Lots of free pampering too! ALU says: Other Aveda locations are hosting FNO events but this store is open later than the others.
Bumble and bumble Uptown Salon – 146 E. 56th Streets New York, NY 10020 Time: 6pm-10pm
An evening of free hairstyling to consumers at the hands of some of our most promising up and coming runway stylists. There will be a magazine editorial inspired shoot in the window of our uptown salon featuring designs from fashion darlings Ohne Titel and aspirational hair looks from the Bumble team. Free champagne will be served. Appointments will be necessary as limited slots are available. Booking lines open at 12 pm on Wednesday, September 8. Call 212.521.6500 to schedule your free appointment. ALU says: Who can pass up a free styling service? B&b stylists create amazing looks for the NYFW runways so you're definitely in good hands.
CHANEL – 139 Spring Street New York, NY 10012
Nail the Coolest Shades at the CHANEL Nail Bar. Be the first to get your hands on the newest CHANEL Nail Colour Collection, LES KHAKIS DE CHANEL created exclusively for Fashion's Night Out by Peter Philips, Global Creative Director of CHANEL Makeup. These limited-edition shades are sure to become a cult favorite this Fall! Stop by for a complimentary mini manicure featuring these exclusive hues. Plus, score the SoHo Story Collection exclusives Steel & Strong. ALU says: Do I really need to say anything? I'll be there, period!
C.O. Bigelow – 414 Sixth Avenue New York, NY 10011 Time: Open until 11pm
Vinny Guadagnino of MTV's hit show The Jersey Shore will be at the store from 7pm to 8pm to meet and greet with C.O. Bigelow consumers. Bring your cameras! Mama Mio Skincare will be serving complimentary mocktails while sampling its Get Waisted Body Shaper to reduce fat cells, tighten and firm tummy flab. C.O. Bigelow will also have a makeup artist from Jane Iredale giving consultations, a manicurist from Barielle for a quick polish changes and a skincare specialist with Rilastil sampling the latest eye cream. Additionally, Soap & Paper will be giving away a free shea butter soap with any purchase in the store!  ALU says: Admit it, you watch Jersey Shore.  I know I'm not the only one who wants to go just to see Vinny in person.  After all he is the most normal of the entire crew.
Deborah Lippmann at Barney's New York – 660 Madison Avenue, New York Time: 6pm-10pm
Stop by New York City's iconic department store and receive personal nail consultations with Deborah Lippmann. She can help select which colors are best for your skin tone and pick out shades for any occasion. She can also provide tips and tricks on how to find the right nail shape for you and how to give yourself a professional quality manicure at home. ALU says: It's a nail fanatic's dream come true.  Maybe you'll get lucky and hear Deb sing. Yes, this is a dept. store event but can you blame me for deeming this a MUST?
Indique Hair International, Georgia & Polish Bar – 89A East Houston Street New York, NY 10012 Time: 6pm-11pm
Join us at the Soho hot spot for an evening filled with designer nail applications, as well as special shopping incentives on high end beauty products and luxurious Virgin Indian Hair Extensions. Leading beauty experts will also be present for consultations for all attendees. ALU says: I don't know what designer nail applications are but I'm curious, aren't you?
Jo Malone – 946 Madison Avenue New York, NY 10021
Experience the last days of summer with a refreshing treat. There will be custom gelato offered at the Jo Malone Boutique Shop in fragrance inspired flavors Lime Basil & Mandarin, English Pear, Nectarine Blossom & Honey and Vanilla & Anise. Also, world renowned British floral designer Jane Packer will personally create an arrangement for you inspired by Jo Malone fragrance notes. A bouquet of choice will be yours to take away with you for the evening. ALU says: I adore Jo Malone scents and this concept of getting a bouquet that matches your favorite fragrance is just really creative.
Korres Natural Products – 110 Wooster St New York, NY 10012
Detox Bubbles, Cupcakes & More! This will include a detox bar serving complimentary antioxidant-infused cocktails based on the Greek skincare brand's natural ingredients Wild Rose, Pomegranate, Thyme Honey & Raspberry along with delicious cupcakes also packed with natural ingredients. Attendees can detox on the outside as well with a Korres makeover or advice on how to wear the hottest color looks of the season using "green" make-up. All guests will receive a gift bag including global bestsellers and Korres favorites. ALU says: Cupcakes and cocktails that actually improve my skin?? AND I get a goodie bag of Korres product. Um, count me in!
MAC Cosmetics – 113 Spring Street New York NY 12022 Time: 8pm
This year MAC takes Fashion's Night Out even further with a very special performance by comedian Sarah Silverman. In celebration of MAC's Fabulous Felines Fall 2010 colour collection; a slinky, seductive new take on the patterns, shades and textures of three of our favorite pedigreed cats; Sarah will treat guests to an exclusive stand-up performance and sign copies of her book; The Bedwetter: Stories of Courage, Redemption, and Pee. 8:00pm – Performance 8:15pm – Book signing. The first 100 guests in line will receive a free copy of Sarah's book. ALU says: As a huge Sarah Silverman fan I could totally justify fighting the crowds for an audience with one of my fave comediennes.
Maybelline New York – Meatpacking District New York, NY 10014 Time: 6pm-11pm
The first 50 consumers to arrive will receive a limited edition makeup bag created especially for Maybelline by fashion designer Michael Angel. Top Maybelline artists will provide makeovers. Consumers who receive makeovers will be invited to strut their stuff down a mini-catwalk for a chance to win a year's supply of Maybelline makeup. Spokesmodels Emily DiDonato, Jessica White & Lisalla Montenegro will be on hand to judge. Spokesmodel Kemp Muhl & Sean Lennon will perform a DJ set from 8PM-10PM.  ALU says: I love it for the people watching potential.  I love the idea of watching civilians attempt to catwalk.  Anyone who is brave enough to strut their stuff in front of supermodels deserves a crowd to cheer them on.
Michael Angelo's Wonderland Beauty Parlor with Obsessive Compulsive Cosmetics – 418 W 13th Street New York, NY 10014
Join Michael Angelo's Wonderland Beauty Parlor for a champagne toast celebrating the arrival of 100% vegan and cruelty-free Obsessive Compulsive Cosmetics. Be among the first to own limited edition Fall 2010 Loose Colour Concentrates, Nail Lacquers and cult favorite Lip Tars at Wonderland, the exclusive retail destination for Obsessive Compulsive Cosmetics! Meet David Klasfeld, the creator of Obsessive Compulsive Cosmetics, along with celebrity makeup artist Andrew Sotomayor and the OCC airbrush team who will glamorize guests on a first-come-first-served basis with complimentary applications.  ALU says: If you're like me and don't have enough OCC products in your life or, even worse, you don't own ANY Lip Tars, you better find your way here.
Sally Hansen Natural Beauty Inspired by Carmindy – Throughout Manhattan
Carmindy will bring her makeup expertise to Fashion's Night Out, where she will offer complimentary makeup tutorials and regimens in a "Carmindy Cab" that takes each fashionista to her destination of choice. During the ride, Carmindy will customize a makeup regimen for the consumer and select the ideal shade combination for her from the Sally Hansen Natural Beauty Inspired by Carmindy range. Each rider will get a makeup prescription and product along with her free cab ride. ALU says: It's like hitting the beauty lottery. One-on-one time with What Not To Wear's Carmindy is priceless. Talk about a reason to be stalker-ish in cab windows.
Space NK – 99 Greene Street New York, NY 10012 Time: 7pm-11pm
In celebration of Fashion's Night Out, Space NK will be treating guests to: – A fashion show featuring models wearing Adam Lippes jeans and the new Lipstick Queen Jean Queen Lipstick and Lip Gloss – Lip readings with Lipstick Queen creator Poppy King – Hair styling with Bumble and bumble stylists recreating the prettiest Fall runway looks – Makeup applications from Nars and By Terry makeup artists, who will be recreating the hottest Fall runway looks – One of Space NK's legendary beauty gift bags. ALU says: Nicky Kinnaird hand picks every brand carried in her stores and the woman has impeccable taste. Plus, meeting the legendary Poppy King for a lip reading is my idea of lippie nirvana.
Votre Vu – Ninth Ave between 13th and 14th St New York, NY 10014
Come visit the VuBAR, Votre Vu's customized Airstream, in the Meatpacking District on Fashion's Night Out! After testing Vu's French-made, botanically based skin care with a Party Primer beauty regimen, have your photograph taken on the VuBAR's red carpet and download them for free online. To finish off your VIP Vu experience, sample refreshing Votre Vu SnapDragon from an ice luge, enjoy custom Votre Vu pastries from an on-site pastry chef and much, much more!  ALU says: There's something about the idea of a custom Airstream filled with beauty products and pastries that draws me in.

Fashion Meets Beauty Events
Completely Bare – 25 Bond Street New York, NY 10012
Participate in a scavenger hunt-themed styling contest in multiple Soho New York-based locations called "Dots SPOTS." Follow the clues & choose your favorite Dots pieces to create your own personalized look! Meet at Completely Bare, get a free Richie Rich vatoo, enjoy refreshments & have your photos taken on the pink carpet. Celebrity stylist Mia Morgan and fashion legend Richie Rich will co-host and judge your personalized looks! Winning looks will have a day of beauty and styling w/ Mia Morgan, a new Dots wardrobe & a trip for 2 to a tropical location!  ALU says: Forget the trip, a chance to meet famed club kid turned designer Richie Rich is definitely worth the trip.  I can't with the whole "vatoo" and "vagazzling" thing but it's FNO so go for it!
Food Truck Face-off at Lord & Taylor – 424 Fifth Avenue New York, NY 10018
We're bringing together some of the city's best food trucks to serve their tasty treats. Starting at 6pm, visit each and text to vote for your favorite delicious morsel. Try goodies from Cupcakestop.com, Street Sweets, Treats Truck and Van Leeuwen Artisan Ice Cream at various spots around the store! ALU says: I don't know about you but too many cocktails + no food = an early end to the night so when you're looking to refuel head to L&T. CLE just got its first food truck this summer so the amateur foodie in me is tempted.
Forever 21 – 1540 Broadway New York, NY 10036
We will get you ready to show off the latest looks and hottest styles during the biggest fashion night of the year. You are invited to enjoy complimentary manicures, makeovers, personal shopping with one of our stylists, and a 'glamor shot' photobooth. Snacks will be served and DJ's will spin all evening. Shoppers who make a purchase of $20 or more will be invited to show their receipt and customize a free tote bag at our DIY Workshop.  ALU says: Other Forever 21 locales will also offer tote bag customizing but this location seems to have the biggest party going on.
Meatpacking District's Fashion Lives Downtown Initiative – Visit website for complete location listing
Last year, FNO in the Meatpacking District was so successful that the neighborhood retailers formed an active committee to raise the bar even higher. 50 different neighborhood events – including celebrity appearances. music performances, digital installations, and a Foursquare scavenger hunt will ensure that the Meatpacking District is the must-attend location on September 10th. ALU says: I'm kind of a Foursquare addict so the idea of a scavenger hunt plays into my competitive nature. PLUS, quite a few venues are offering gift certificates or discounts with check-ins.
NARS Cosmetics at 3.1 phillip lim – 115 Mercer Street New York, NY 10012
Customers will receive the new NARS Pure Matte Lipstick in the 3.1 phillip lim store gift bag. NARS National Makeup Artist, Francelle, will be using Pure Matte Lipstick when she creates the makeup look for Gretta Rochelle (the lead singer of the band My Gold Mask). The band will be performing at the 3.1 phillip lim store. ALU says: NARS Pure Matte Lipstick sounds like the business based on reviews I've read. If you're already in the area it can't hurt to stop by.
Patricia Field Boutique – 302 Bowery street NEW YORK, NY 10012 Time: 11am-1am
Fabulous gifts, gorgeous people, beauty makeovers for everyone at our special Maybelline Falsies Eyelash Bar, cocktails by SKYY, refreshments by Cafe Bustelo, Rescue Water and Golden Star Tea and treats by Pop Chips. Trunk show with some product apparel, Seville Michelle Anastos, Carmelita Couture and RHLS. DJ Amanda Lepore and Cazwell. Cocktails to be enjoyed by guests 21+ by donation to SFDA. ALU says: Pat Field + Amanda Lepore + eyelash bar + cocktails = WAY too good of a time. This one sells itself!
Sally Hansen and Tracy Reese – 641 Hudson Street New York, NY 10014  Time: 6:30pm-11pm
Tracy Reese presents a fashion and beauty dance party at her flagship Meatpacking District boutique. Shoppers are invited to sip cocktails, show off their dance moves and compete for prizes to the sounds of Guest DJ Rajni Jacques of Nylon. Shoppers can browse the boutique and enjoy complimentary Tracy Reese manicures by Sally Hansen at this one-night-only event. The Fall 2010 Tracy Reese for Sally Hansen Complete Salon Manicure shades include: Wet Clay, Evening Fog, Fedora, Touch of Mink, and Bittersweet.  ALU says: You get to see the clothes that inspired the nail shades and get a mani with these notoriously hard-to-find colors. Plus Jin Soon often works with Sally Hansen so I'm hoping she'll be there.

Tom Ford at Bergdorf Goodman Men's Store – 754 Fifth Avenue New York, NY 10153
Designer Tom Ford will make a personal appearance in his 2nd floor boutique from 8pm to 8:30pm. He will sign all fragrance purchases made that day. ALU says: Even though this is a department store event, IT'S TOM and all his hotness FORD!! If that isn't an excuse to fight crowds, I don't know what is.
Victoria's Secret – 591 Broadway New York, NY 10012 Time: 6pm-11pm
Receive a free limited edition Victoria's Secret tank with any $60 purchase that night only while supplies last. Plus, meet Victoria's Secret Supermodel Adriana Lima, get a Bombshell makeover by some of the top makeup artists in the industry and meet VP of Fragrance Development Mark Knitkowski.  ALU says: If their makeup artists can make you look half as good as Adriana Lima, it's worth it!
Wella Professionals and Cynthia Rowley – 376 Bleecker Street (b/t Perry St and Charles St) Time: 6pm-11 pm
Nothing complements a trend-setting outfit better than a modern & sophisticated hair accessory. Wella Professionals stylists will be re-creating the look from Cynthia Rowley's Fall 2010 Runway Show with color extensions in rich jewel tone shades customized using Wella Professionals haircolor. Spice up your 'do with the striking contrast of these one-of-a-kind color extensions for a punky ponytail that will turn heads! Walk-ins welcome! No appointment necessary!  ALU says: Can you think of a better way to kick of NYFW than sporting a funky runway 'do complete with bright colored extensions?  I'd rock that ish all weekend with pride.


Okay I know it's a lot to take in but compared to the full listing, this is nothing.  So NYC gals, have any of these events intrigued  you?  What are your plans for FNO? If you plan to hit any of these events, let me know.  I'd love to meet up with some fellow Fanatics on this fabulous, crazy night.
Don't live in New York?  There are still plenty of FNO events happening all around the world on September 10th.  Saks Fifth Avenues around the country are staying open late to celebrate including my local Beachwood store.  Make sure you check the Fashion's Night Out site to locate an event near you.
Remember this night is all about helping stimulate the fashion industry so even if you can't participate in a FNO event, consider a purchase from the Fashion's Night Out Collection to help support the New York City AIDS Fund in The New York Community Trust. 40% of the proceeds will be donated to the fund.