A few days ago ALU reader Casey contacted me asking about Rihanna's intense red nails in Eminem's "I Love The Way You Lie" video. The flaming hue that matched her colorful hair definitely stood out against the fiery backdrop.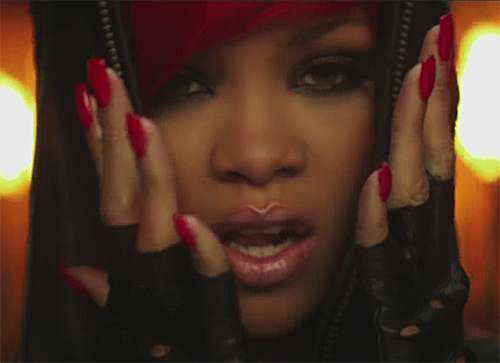 You couldn't help but notice her nails and I LOVE that she worked them in the camera giving us all an up close look. Of course the woman responsible for this look is none other than Celebrity Manicurist Kimmie Kyees. She's Rihanna's go-to gal and, as always, her work was spot on. Curious about what she used?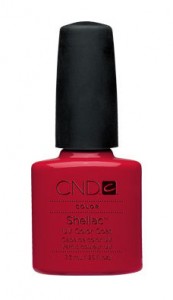 That would be CND Shellac in Wildfire. Rihanna has been known to wear enhancements and soak-off gels so given the rising popularity of Shellac, it was only a matter of time before we spotted her sporting the product.
Shellac Wildfire is actually based on the nail polish from the old CND color line (pre Colour & Effects).  You see when CND developed its initial color lineup for Shellac they looked at their top selling polish shades from the original color line including this cherry red creme.
Fortunately I still have a bottle of Wildfire so I can show you what the color looks like off screen. The old CND formula was great because it was thin, flowed well and leveled itself out. The only downside was that I needed three coats with Wildfire to get it opaque.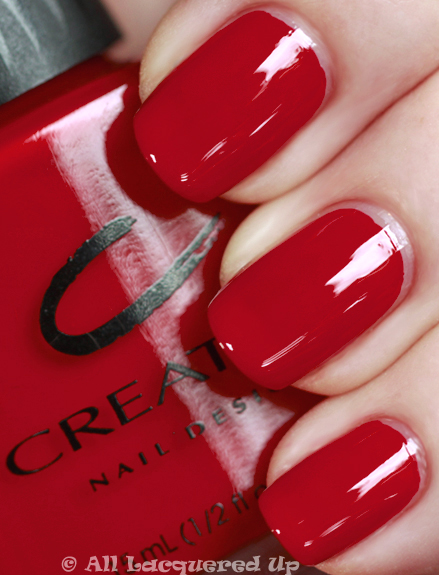 That's where the CND Colour Comparison Chart comes into play. You can either spend $10 on eBay for an original bottle of Wildfire and hope the quality is still good or you can pick up a bottle of CND Rouge Red from the Colour & Effects line for $9.
The colors are identical plus the new CND formula applies phenomenally well and is pigmented enough that you only need two coats.  The one caveat is that the new bottle is smaller so you're getting less product for about the same price.  If you're a collector like me, you may want to jump on the Wildfire while it's still available.  I'm holding on to all my old CNDs regardless of any dupes.
CND Colour & Effects Rouge Red is available online at GoIndugle.com and BeBeautiful.com in addition to other etailers (see sidebar). CND Colours retail for $9/ea for a .33fl oz bottle. To get Shellac'd with Wildfire, visit the Shellac Salon Locator to find a tech near you.
ps BeBeautiful also has the Night Factory Duo for sale.  I know some people were looking for it.
***EDITED TO ADD – Forget eBay, Head2Toe still has bottles of Wildfire for $2.99.  BONUS!
Thoughts on Rihanna's nail look in the video?  Does anyone else still have a bottle of Wildfire tucked away in their stash?