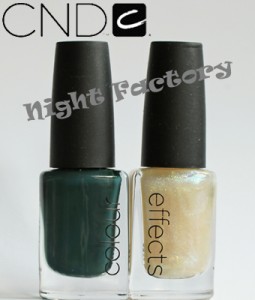 Like your favorite pair of jeans, the CND Night Factory Duo of Urban Oasis and Teal Sparkle can take you from day to night based on how you wear it.  The blue-green denim creme can be worn alone with a high gloss finish for a chic day look, electrified with Teal Sparkle for a night on the town, or sandblasted with a satin finish matte for a casual weekend look.

As I shared with you in previewing "The Look" for Fall/Winter 2010, CND was heavily influenced by the heathery blues, hunter greens and taupe greys as seen on the Marc Jacobs and Rag & Bone Spring 2010 runways.  Those colors came together to form Urban Oasis.  To pair with it, CND chose the largest of their Effects micas to create the illuminating Teal Sparkle.

Formula and Application: CND polishes are 3-Free with a thin, flat brush.  The triangular brush bristles soak up polish like a squeegee mop which means you should allow the brush to hang out in the polish for a couple seconds between strokes.
My experience with the majority of the CND Colours is that they are extremely pigmented and smooth.  Urban Oasis is no exception.  It glides on the nail with ease in three simple strokes, requires only two coats and dries to a perfect, even finish.  Unlike the old CND formula, the Colours all dry very fast with none of those denting issues of the past.
Urban Oasis is a dark teal creme.  During Fashion Week, CND Co-Founder Jan Arnold kept referring to it as spruce and I can't think of a better descriptor.  To me it's a throwback to the heavy denim influence of the late 80s.  I remember walking through the mall as a teen and seeing the walls of my favorite clothing stores covered in sweaters and shirts that all incorporated this shade.  In fact there was a v-neck sweater this color from J Riggins that I swear popped up in at least ten school photos one year, including mine!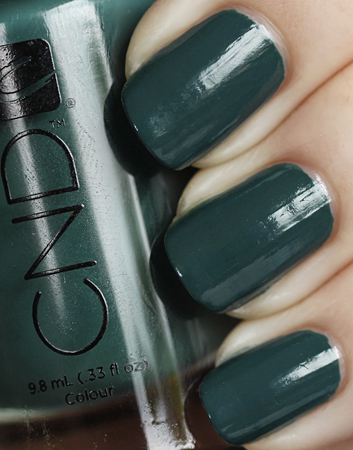 Comparisons: As far as dupes go, I want to hear your suggestions of course but I think the closest I'll find in my stash is the blue-green from StrangeBeautiful Volume 3 and Rescue Beauty Lounge Teal. Though Teal is definitely darker.
Teal Sparkle has a clear base packed with teal colored micro-glitter that looks like tiny flakes in the polish.  It's a particle that dries smooth and reflects varying shades of blue and green depending on the way the light hits it.  Layering it over Urban Oasis amplifies the base color like lighting up a Christmas Tree.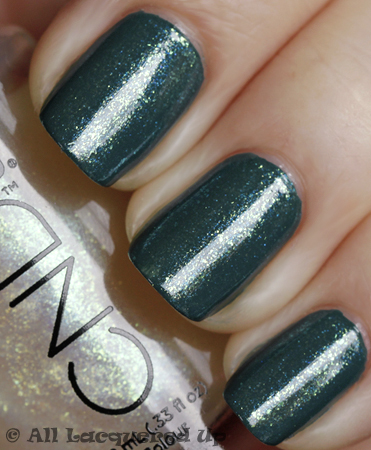 Here's a closeup where you can see how irregularly shaped flakes lay on the nail.  Doesn't it look a bit like fish food flakes floating on the surface of an aquarium?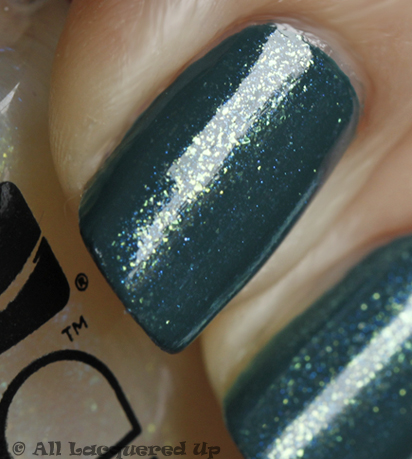 Sunlight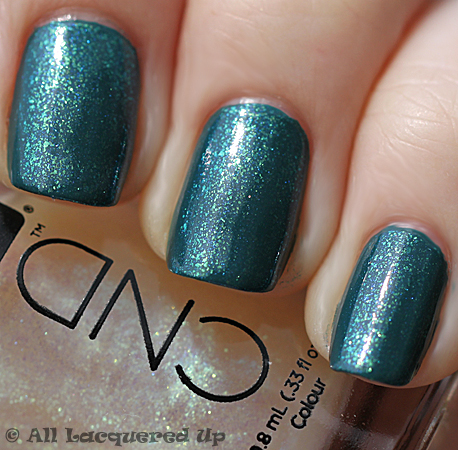 Wear Test: I've been meaning to test drive the new 3-Free formulations of CND's base and top coats for a while now but just kept forgetting.  A few weekends ago I finally got around to it.  I was curious to see how the whole CND  product team would work together.  I paired Stickey and Super Shiney with Urban Oasis and was amazed with how fast the polish dried.
I tend to stick with quick dry top coats due to time constraints even though I know they don't wear as well.  Well color me impressed when I was able to function in less than 20 minutes.  I put the polish on right before bed and was pleased to wake up the next morning with perfect, dent-free nails.  I kept Urban Oasis on for six days and with the exception of some tip wear, it lasted pretty well.  The shine dulled a bit but nothing drastic.  If it wasn't for how fast my nails grow I could have left it on another day or so.  I just hated how extreme my gap was getting.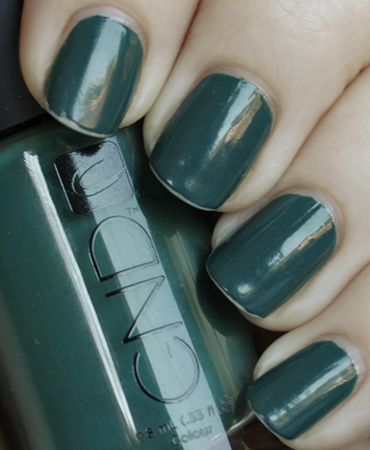 Bottom Line: Green lovers will appreciate Urban Oasis and as I've been saying I think teal will be one of the hot colors come fall.  Considering the high quality of CND's Colours, you won't be disappointed if you add Urban Oasis to your stable of colors.  Teal Sparkle is a great companion but not as essential as the color itself.
The CND Night Factory Duo of Urban Oasis and Teal Sparkle is limited edition and will go on sale in August 2010. CND Colours retail for $9/ea for a .33 fl oz bottle and CND Effects retail for $11/ea for a .33 fl oz bottle. CND products are sold in salons nationwide and online at BeautyBrands.com, BeBeautiful.com and GoIndulge.com.  Locate a salon near you at CND.com.
Are you loving teal for fall as much as I am?  What do you think of CND's newest addition to the Colour & Effects line?  Has anyone tried the new version of Stickey or Super Shiney?  I'd love to hear your thoughts.
Don't forget to post your comparison requests!!
Disclosure: Product samples were furnished by CND.  For more info view my Disclosure Policy.