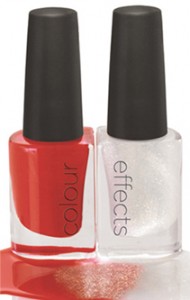 I was backstage at the Karen Walker show when I got my first glimpse of the new CND Colour & Effect for fall and it took all my composure not to knock people down to get up close and personal with the new GREEN, yes I said green, for Fall 2010.

For fall CND is taking us on an urban adventure and it all starts with an extremely gorgeous Colour that is a blend of green, blue and gray paired with an electrifying Sparkle Effect.  I had the chance to speak with CND's Jan Arnold and she shared with me "The Look" for fall and its fashion inspiration.  Check out the new Urban Oasis Colour & Teal Sparkle Effect and hear the whole color story after the jump!

Urban Oasis and Teal Sparkle: Jan shared with me that the color story from fall came primarily from the collections seen at Marc Jacobs, Rag & Bone and Jason Wu.  That there was this dominating presence of heathery hunter greens, blues and taupey grays that felt nubby and soft like cashmere. The overall feeling was that "green is such a predominate color and it's a new statement for nails." She continued to say that, "women love dark colors but not black. They want a little more depth in the colors they choose so we thought spruce [Urban Oasis] merged blue with green with gray."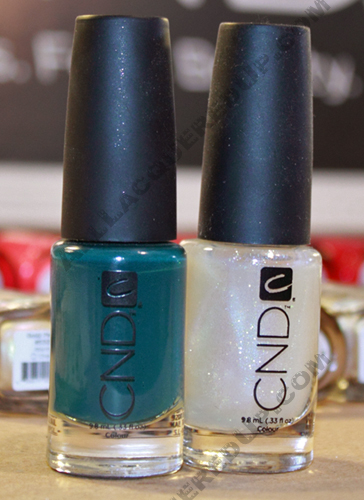 Urban Oasis and Teal Sparkle pictured with flash (above) & artificial light (below)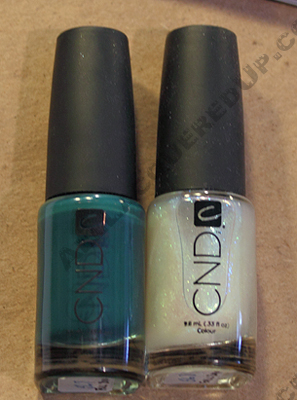 Jan's idea for how to wear Urban Oasis is, "You wear it like jeans.  Wear it as a crème it's everyday. On the weekends or with casual clothes, mineral wash it and super matte it to make it look like acid wash jeans. For night, add teal sparkle and it illuminates. Like you took Urban Oasis and plugged it in."  I love that!!
Jan also suggests adding a layer of Gold Shimmer to create an army green.  She noted that off-beat, quirky colors were all over the Fashion Week runways and that this combination plays into that.
Urban Oasis shown with Gold Shimmer (left) and Teal Sparkle (right)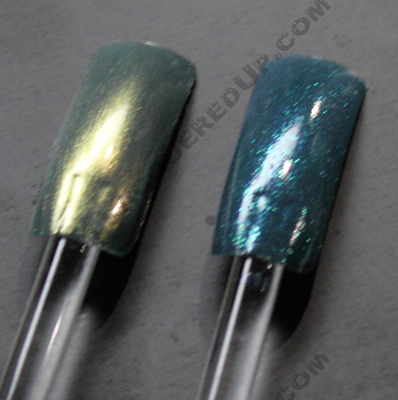 Similar to the Spring Candy Shop look, there are additional color concepts that will be included in CND's Look for Fall. Unfortunately I don't have images but Jan shared with me the concepts for each complimentary color story.
Secondary – Very industrial. Very dark. Like if you're in the city at night. The colors that the shadows create this look.
Tertiary – Picture the same city at 4 a.m. when the club kids are going home and imagine the glow of the neon lights hitting their nails.
So are you fiending for Urban Oasis and Teal Sparkle like I am?  Do you think this type of grayed blue-green will emerge as the color for fall?  I know I can't wait to slap a layer of Gold Shimmer over that gorgeous spruce shade.