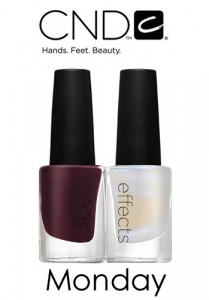 Welcome to CND Monday, a regular series here on ALU. Each week I'll be sharing a new layering combination from CND Colour & Effects to show you the versatility and creativity of the line.

One of the reasons I love going to NYC for Fashion Week is to observe the nail wizards that work on the CND team.  Their creativity astounds me and I always pick up some new nail trick or color to bring home with me.  This season was no different as I discovered a layering combination that surprised me.

One of the last shows I covered before heading home was threeASFOUR and even though it was the day of the massive snowstorm in NYC, I HAD to trek on down to Milk Studios to see what was happening on the nails.  Remembering the unique triangle shaped moon manicure created by Roxanne Valinoti last February, I knew I'd see something special.

Check out the new layering combination I discovered and three other nail looks created for the show after the jump!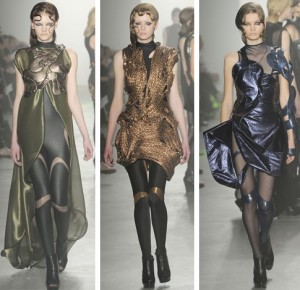 Andrea Helgadottir for MAC Cosmetics, Ashley Javier of Ashley Javier Parlor and CND's Roxanne Valinoti came together to create a strong avant-garde look to pair with statement making pieces.

CND's Jan Arnold told me that the "clothes are very sculptural, body fitting, artistic." That the designers incoporated hand sewn cords in shades of sapphire, emerald and copper and they wanted CND to pick up the Turkish eye for the nail look.

Taking the designers' inspiration and input, the CND team came up with the concept of using different sparkling backdrops against a black "pupil" at the tip of the nail that was mattified to mirror the rubber texture in the boots and dresses.
Fabric swatches from the collection that served as inspiration for the layering combinations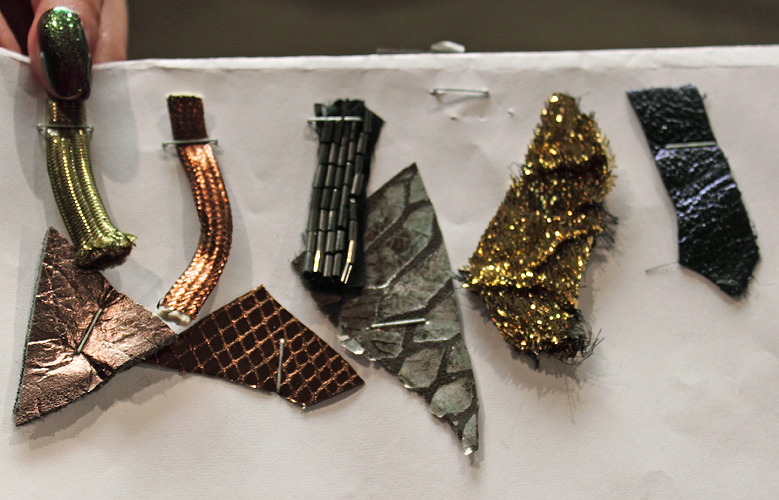 To create the look: One coat of Dark Ruby. One-two coats of the chosen Effect. One coat of Blackjack applied at the tip to create the pupil of the eye.  One coat of Super Matte layered over Blackjack only.
The nails below were created using Jade Sparkle and Copper Shimmer (middle). As you can see in the close-up, Jade Sparkle looks different depending on the angle.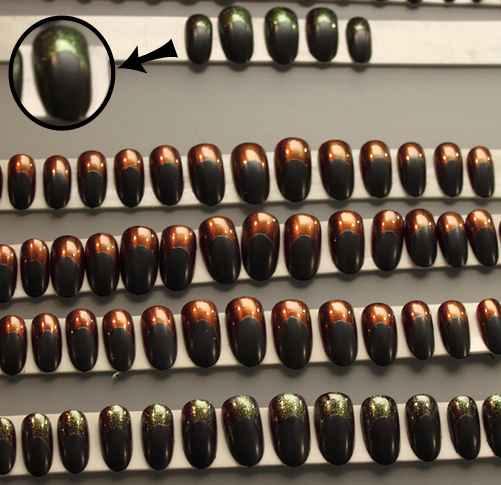 The combination I fell head over heels for: Ice Blue Shimmer. Also shown pre-fab silver foil nails.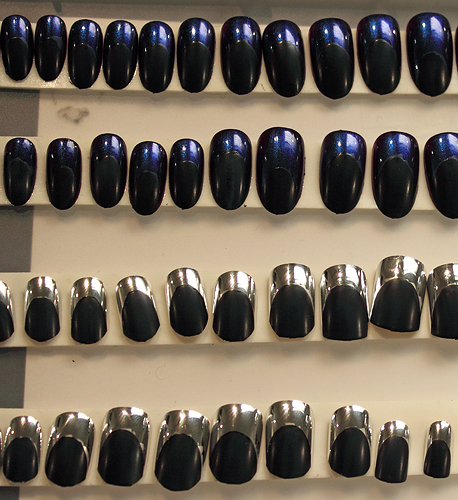 Roxanne did a quick demo so I could see how the look was created and as she told me, "Blackjack is placed randomly, not perfect." So it's not an eye in the literal sense and not as intimidating to replicate at home.  Shown with Jade Sparkle, a combination I showed in a previous CND Monday.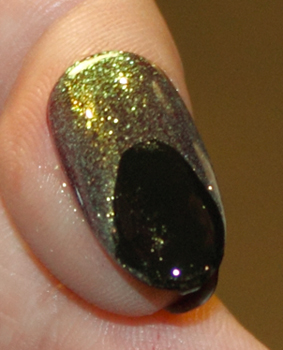 The Jade Sparkle nails pick up on the metallic green in the model's embellished tights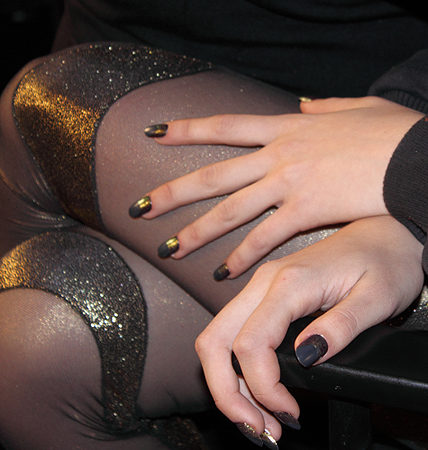 If you missed my detailed review of the new CND Formula, Bottle and Brush check out CND Colour, Effects and Henna? for a recap.
I've showed you Dark Ruby before but here's a quick refresher. Dark Ruby is a black cherry shade and one of the stars of Fall FW.  You'll definitely want to have a bottle on hand come September.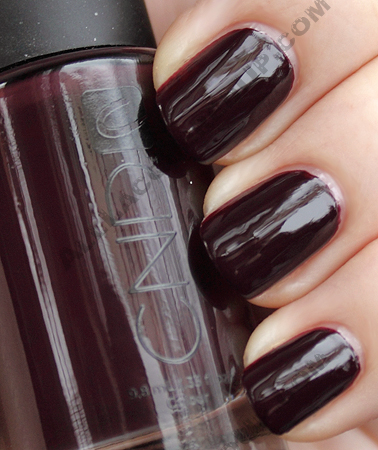 I was honestly amazed when I saw how dramatically Ice Blue Shimmer changed Dark Ruby.  I literally did a double take when I spotted it on the nail board.  It brings out the purple base in Dark Ruby and from certain angles takes on more of a burple look than blue.  Very cool!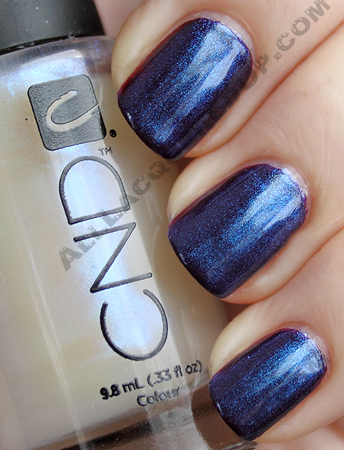 At Jan's suggestion, I decided to try it with a satin finish using Super Matte to give it more of a suede look and it really solidifies the overall royal tone Ice Blue Shimmer brings to the party.  I like it but I think it feels more summer this way, no?  I think I'll stick with the high shine version for now.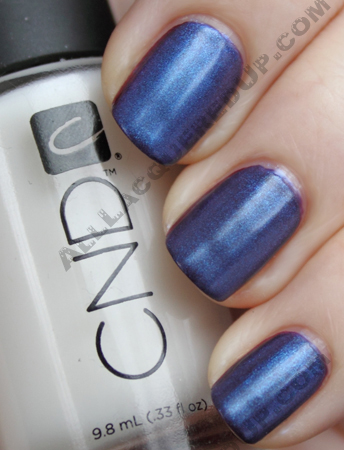 You can find CND Colour & Effects at salons nationwide and online at our fave e-tailers (see sidebar). Colours retail for $9/ea and Effects retail for $11/ea.
Did you discover any new ideas for layering? Isn't the Copper Shimmer combination hot? What do you think of the mattified eye?
Disclosure: A product sample was furnished by CND for review. For more info please view my Disclosure Policy.