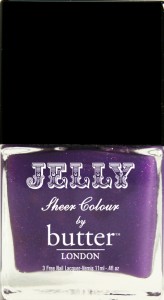 Remember way back in February 2009 when I had a CalGel Gradation Manicure done at Sakura in NYC?  If you're not familiar, a gradation manicure creates an ombre effect where the polish fades down the nail.  I wore a version with a purple tip that faded into clear but you can also fade two colors together.

As much as I loved the look of my CalGel mani, the thought of spending two hours at the salon to get it done and another half hour or longer to remove it does not sound appealing.  There has to be an easier way.  An at-home method to get the look for less.  Enter butter LONDON Stroppy.

Let me back up a second.  Not long after my Sakura experience I spoke with Celebrity Manicurist Elle and we talked about gradations and how there is such a thing as Gradation Liquid but that it's somewhat hard to obtain.  I believe unless you have an Asian hookup you're S.O.L.  Anyway, Elle suggested I try DIYing a jelly polish to create the ombre effect I desired.  That by layering it and moving the starting point of each layer up the nail, I could get the same gradation look at home.
Fast forward to the present and have I tried Elle's suggested method?  No.  Why?  I have no idea.  Either laziness or I just plain forgot about it.  Regardless, I was attempting to clean up the polish room before my trip to Vegas when I came across the butter LONDON Jelly polishes and inspiration struck.
On its own butter LONDON Stroppy is a sheer, red grape hue packed with red and blue micro-glitter.  Creative Director Nonie Creme specifically designed the Jelly line to be worn as either a sheer wash of color or built up for a more see-through candy look.  These aren't the kind of jellies that will ever become opaque so, to me, they're best used for layering.  What you see below is three coats.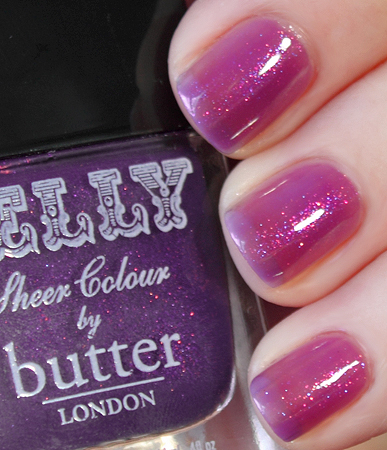 Yesterday, I still had on the CND Night Factory Duo and for the heck of it I layered butter LONDON Stroppy on top in the manner Elle suggested.  The result… a stunning gradation blending sparkly teal and glittery purple.  It's a ridiculously gorgeous combination.  I actually like it so much, I decided to wear it to Vegas for Cosmoprof.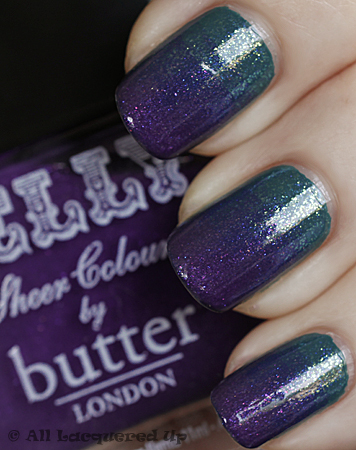 Get The Look: I started with a base of CND Urban Oasis with Teal Sparkle on top.  After that dried I layered Stroppy starting approximately 1/3 of the way up the nail from the cuticle.  I split the top 2/3 of my nail into four sections and those became the starting points for each layer of polish (see below).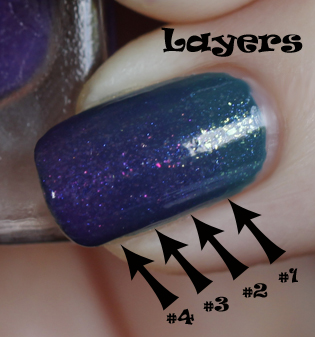 With each additional layer the color intensifies so that by the time you get to the fourth coat, the tip is an intense purple.  As you apply, you will be able to see the starting points for each layer but don't worry, once you add a top coat, they all blend together.
Application Tip: Use thin coats.  Because you are putting at least six layers of polish, plus base and top coat, you want to use extremely thin coats so that your polish dries thoroughly and doesn't bubble.
The butter LONDON Jelly collection includes two other jelly finish polishes; Chuffed (tangerine) and Twee (raspberry tinged pink). I'm thinking Chuffed would look fantastic over yellow and that Twee would pair nicely with a glitzy purple like Zoya Mimi.  Of course any sheer jelly would work for this look so dig through your stashes and start layering.
The DIY Version: If shelling out for the Jellys isn't in your budget or you're just the crafty type, try mixing up your own version at home.  Blend your favorite shade into clear polish a little at a time, until you achieve a sheer wash of color.  Remember, the clear polish should be more predominant in the mix.
Test the polish after each addition, making sure to apply a few coats of color so you can see whether it's buildable.  If the jelly is too sheer it won't have enough impact.  If it becomes too opaque, thin it out with a bit more clear.  Think of this as a science experiment and have fun with it.  There is no "perfect" here so mix until you're happy with the opacity.
The butter LONDON Jelly collection is on sale now at butterLONDON.com and Beauty.com.  The polishes retail for $14/ea for a .4 fl oz bottle.
Let's hear it Fanatics.  What do you think of my gradation manicure?  Are you into it?  Have any of you created a similar look using a jelly polish?  What are your favorite color combinations?
Disclosure: Product samples for this look were furnished by butter LONDON and CND. For more info view my Disclosure Policy.