To celebrate the reopening of the CHANEL Boutique in SoHo, CHANEL Global Creative Director of Makeup Peter Philips has created a limited edition collection that echoes the spirit of SoHo. "For me, SoHo is a place where Bohemian ideals meet the toughness of the city… I love the tension and energy this creates." says Peter Philips.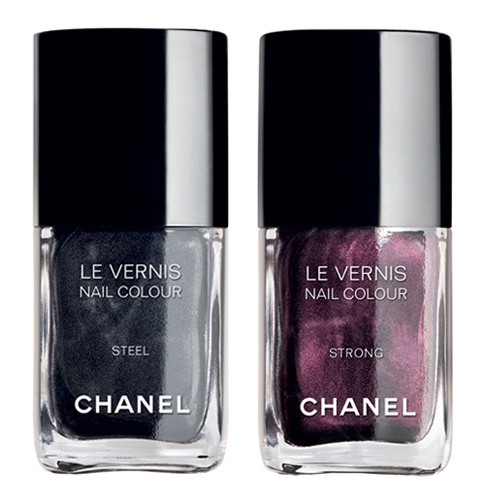 Quite a few of you have asked me about these LE nail colors launching exclusively at the Chanel SoHo Boutique on September 10th for Fashion's Night Out. I've been awaiting official word regarding the release before saying anything.  Similar to the popular Robertson Boulevard Collection, these colors were created to celebrate the launch with a very specific theme in mind.
The SOHO STORY Collection is a study in extreme contrasts, partnering feminine pinks and roses with strong, industrial metallics. From pretty cheekbones to anthracite nails, tender creams and flashes of metal simultaneously reflect and contradict each other. "I had a specific girl in mind who is both hard and soft. A girl who discovers a new city, a new life." adds Peter Philips. "This is a very special kind of New York woman. She is innocent, but she has a steely determination that fuels the city."
The collection's SOHO DE CHANEL Exclusive Creation reflects a Pop Art influence. Stamped with the four letters of SoHo, this silky powder comes in a delicate palette of shades and, when dusted across the face, creates a subtle, natural glow.
The nail colors retail for $25/ea and include a charcoal gray, Steel, and red grape, Strong.  They will be joined by a Quadra Eye Shadow, Rouge Coco lip color, Rouge Allure Lacque, Glossimer and the SoHo De Chanel powder mentioned above.
The collection will be on sale on Chanel.com on Tuesday, September 7th while the in store release will coincide with the Chanel Fashion's Night Out events happening at Chanel boutiques all over the country.
On September 10th, select Chanel Boutiques will have a Nail Bar available offering manicures with the Les Khakis De Chanel collection.  Stop by the SoHo, Bal Harbour, Beverly Hills, Dallas, Ala Moana and Wynn (Vegas) boutiques to get a Chanel manicure and celebrate one of the biggest nights in fashion.
I'll be stopping by the SoHo boutique on September 10th so if any of you NYC Fanatics plan to be there, let me know.  Maybe we could make an informal meetup happen.