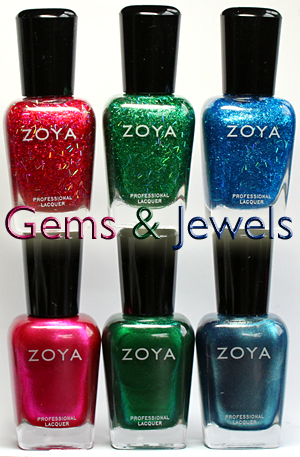 Zoya Holiday/Winter 2011 Gems & Jewels Collection – Jewelry for Nails!
Zoya Nail Polish presents 3 new jewel toned metallic shimmer polishes and 3 glitzy, glitter glazes (featuring unique bar glitter) for an extra special holiday and winter 2011 season!
I know it's barely September and it seems too early to be talking Holiday but when I saw these beauties at Cosmoprof North America I just KNEW you would adore them as much as I do. Zoya is upping the ante in terms of glitter and glam this season by introducing three bold jewel tone polishes with three coordinating glitters that contain fun, fringe-like particles.
Thanks to my friends at Zoya we have an early look at the collection and later today you will have a chance to win a full set Gems & Jewels.

Formula & Application: Zoya is a 4-Free brand (including formaldehyde resin) plus they leave out camphor, which can be an irritant. Their signature Italian glass bottles have a tapered, shiny black plastic cap that rests comfortably between the thumb and index finger while polishing. The brush is short, round and medium in girth with flexible bristles that allow for ease of control.
The three metallic shimmers are all nice and thin but filled with pigment. They are such a dream to apply. I barely needed two coats of each color to get them opaque. The metallic pigment does mean the polish can show some brush marks but if you have a steady hand and use thin coats, that shouldn't be an issue.
The three glitter glazes are all clear based glitters that need multiple (3-4 coats) to become opaque which makes them perfect for layering. The glitters do dry with a LOT of texture so be prepared to apply multiple coats of top coat or deal with some bumpiness. Application Tip: The bar glitter applies randomly and can hang over the edge of the nail. Run the pad of your finger at an angle under the nail to push back the particles and prevent rough edges. Removal Tip: All glitters are a bother no matter which method you use (foil, felt, etc) but I find that applying a coat of clear polish or top coat helps liquefy the layers.

Zoya Holly is an electric evergreen shimmer. This is a green for the girl who wants to stand out because this color will certainly get you noticed. You know how I feel about greens and anything in the emerald family captures my heart. Holly has shade siblings in Sally Hansen Emerald City and Sinful San Francisco though Holly has more richness and depth of color. Plus neither one has half the opacity.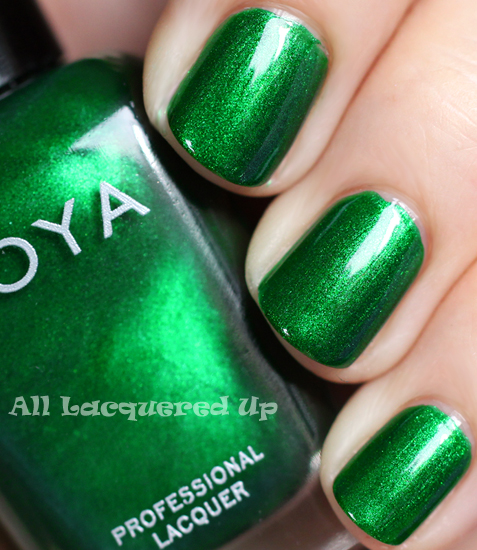 Glitter Glazes over Zoya Holly (top to bottom): Zoya Kissy, Zoya Rina and Zoya Twila. Zoya Rina has a clear base that is packed with bright green micro-glitter that looks like dust mixed with straight, tinsel-esque glitter that flashes both blue and green.
Rina is the obvious choice to layer over Holly but Twila makes for a really unique combination. My mom actually has this Christmas tree that she decorates with blue lights and ornaments and that combo reminds me of it. Rina over Holly doesn't really jazz me. It feels like Christmas threw up on my nail.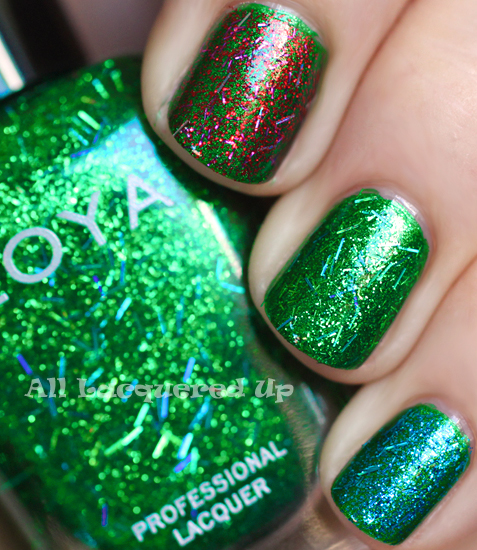 Zoya Izzy is a hot raspberry pink shimmer. Think of it as a darker version of OPI Kinky in Helsinki. On its own the color didn't do much for me. I appreciate the vibrancy but don't really gravitate towards these types of shades. However, once I added the Kissy glitter top coat, I was into it.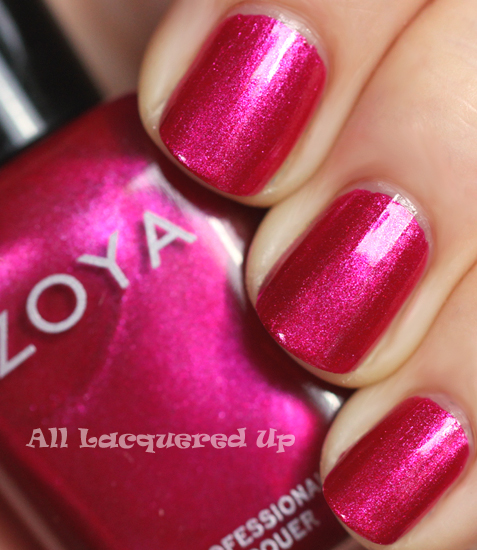 Glitter Glazes over Zoya Izzy (top to bottom): Zoya Twila, Zoya Kissy and Zoya Rina. Zoya Kissy has a clear base that is packed with bright pink micro-glitter that looks like dust mixed with straight, tinsel-esque pink & holographic glitter.
Kissy and Izzy were made for each other and using them together is the best combo either color could be a part of. The holo glitter really stands out in this layering combination and Izzy comes alive thanks to the pink micro-glitter. It makes it look as though Izzy is a glitter polish with holo tinsel glitter layered on top. It's a seamless partnership.
I'm convinced that Twila looks good over everything being that I really dig it over Izzy. Rina looks better over Izzy than Kissy looked over Holly so if you're going for a pink/green combo, I would opt for this combo.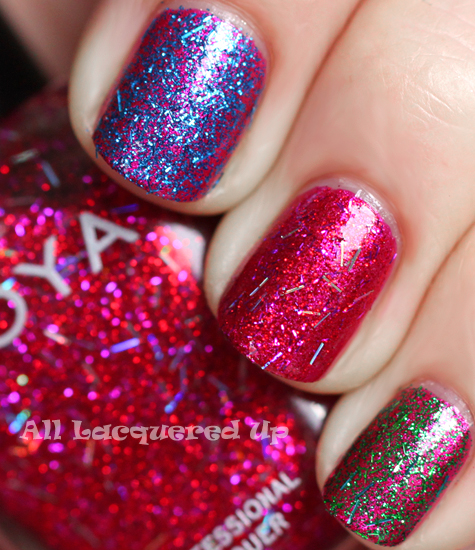 Zoya Noel is a moody blue that made me immediately think of Zoya Crystal from the Holiday/Winter 2010 Flame collection. Outside of the finish differences and the gold flakes, Crystal's base is a little more icy than Noel but they are definitely in the same denim blue color family.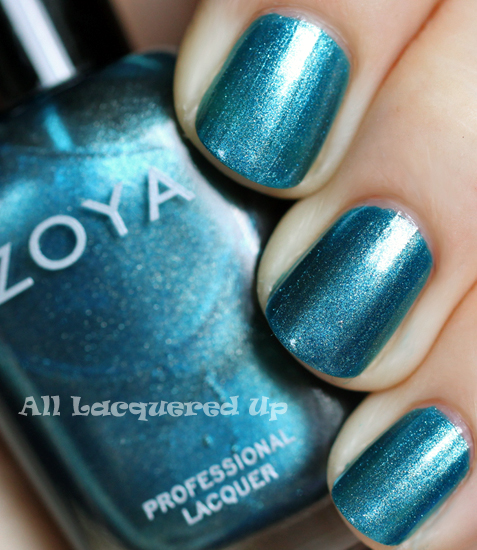 Glitter Glazes over Zoya Noel (top to bottom): Zoya Rina, Zoya Twila and Zoya Kissy. Zoya Twila has a clear base that is packed with bright blue micro-glitter that looks like dust mixed with straight, tinsel-esque glitter that flashes both green and blue.
Twila over Noel amps up the smoky base color while Rina creates a mermaid-esque effect. Kissy looks out of place which leads me to think that Kissy is really best over its partner shade Izzy or something not part of this collection, like silver, black, etc.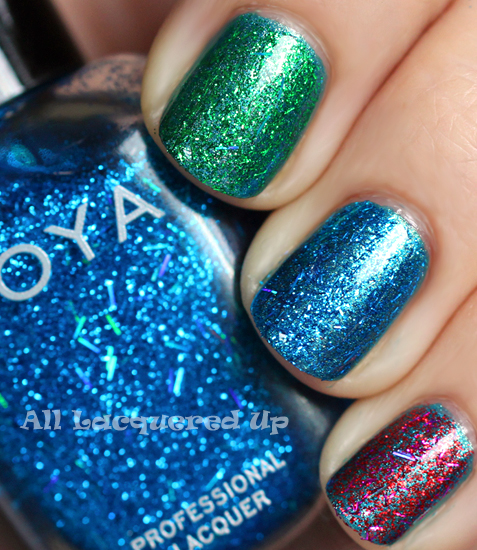 I also layered all three glitters over a silver foil so you can see the composition of the glitter glazes better. Apparently my Zoya Trixie, a silver foil, has gone missing so I used Orly Shine.
Glitter Glazes over Orly Shine (top to bottom): Zoya Twila, Zoya Rina and Zoya Kissy. Twila over silver has a very wintry look that would be perfect for New Year's Eve or Chanukkah. Rina doesn't stand out as much with a silver background and Kissy reminds me of peppermint candy.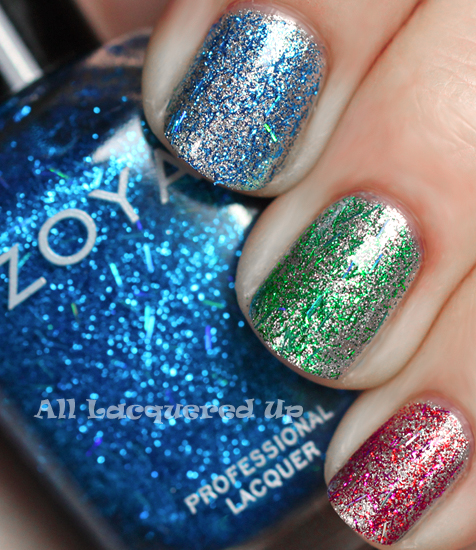 Bottom Line: Loving Holly is a no-brainer for me and Noel definitely get two thumbs up. I raved over Crystal last season because of the gold flakes but just as much because of its cool base color. Noel is like the non-glittery version of that. Izzy doesn't make me jump up in down except when paried with Kissy. The top coats are all very fun and a departure from what other salon and prestige brands have been doing and I like that Zoya took the guesswork out of layering by putting together a collection of shades that work well together. The texture of the glitters can feel a little odd, especially if you love high gloss shine, but that's the nature of the beast.
Zoya Gems & Jewels for Holiday/Winter 2011 launches on September 15th, 2011 but you can secure your shades during the pre-order that starts today. Zoya nail polishes are available online at Zoya.com and at salons nationwide including ULTA. Visit the Zoya Salon Locator for a retailer near you. Zoya nail polishes retail for$8/ea for a .5oz bottle. Don't forget, you can try before you buy with the Zoya Color Spoon program.
What do we think of the Gems & Jewels polishes? Which base color is your favorite? Are you loving the bar glitter in the glitter glazes? What is your favorite layering combo? Do you plan to get the whole set or just pieces?
Disclosure: Product samples were provided by Zoya. For more info view my Disclosure Policy.